Interzum 21 prepares for hybrid event in May
December 3, 2020 | 9:13 am CST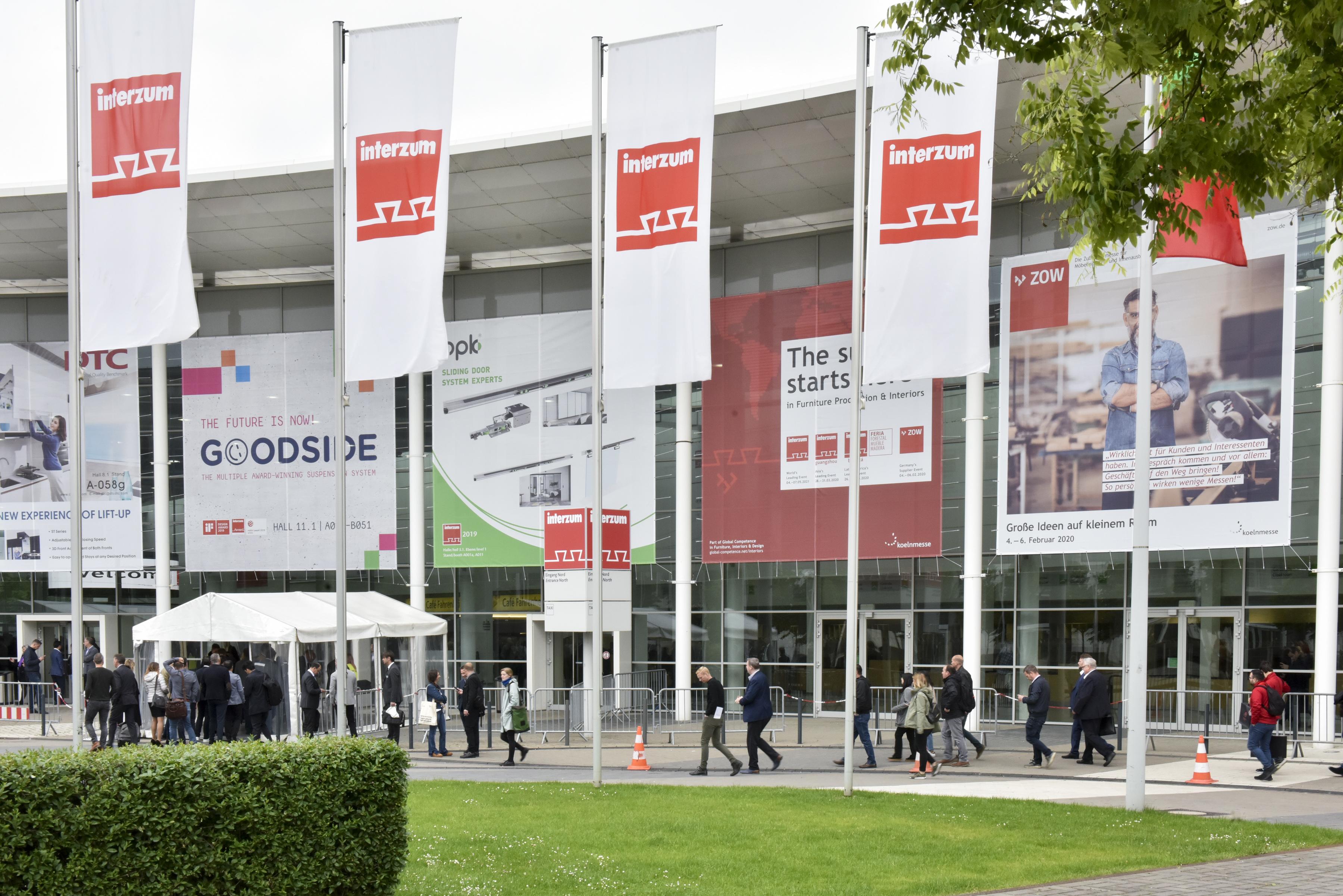 COLOGNE -- As 2020 comes to an ignominious end thanks to COVID 19, trade fair organizers are hoping for a return to pre-pandemic conditions based on positive news about vaccines and treatments.  Nevertheless, a number of early 2021 events such as KBIS and the International Builders Show in the U.S. have switched to virtual-only platforms.  Other events, scheduled to occur in Spring 2021, such as Neocon (Chicago)  and Ligna (Hanover, Germany), have been rescheduled for the Fall. 
Woodworking Network reached out to Matthias Pollmann, vice president of trade fair management at Koelnmesse, to discuss his organization's plans for
interzum Cologne, 
which remains slated for May 4-7.
What are your overall plans for interzum with regard to COVID?
Our goal is clearly defined: with the interzum fair from May 4-7, 2021, we want to create tomorrow's living spaces together. The challenge lies in the dynamic development of the corona pandemic and its consequences for the market participants. Even though the on-site experience of a trade fair is and always will be something very special and essential, the developments of recent weeks and in particular the latest feedback from our customers have shown that we have to think in hybrid terms. At hybrid events, what happens at the trade fair venue is online-compatible thanks to
interzum@home
and can therefore be streamed around the world; plus it can be enhanced with additional digital offerings and is available online beyond the duration of the fair. The trade fair is a model for success; we're not replacing it, we're expanding it.
Matthias Pollmann, vice president trade fair management at Koelnmesse
What are your plans for a hybrid event?
The strategic focus of
interzum@home
is on increasing digital reach. Digital components are the logical complement to the physical presentation in the halls of the exhibition center. This way, our trade fairs will reach a global audience beyond the protagonists at the venue. Broadly speaking: on the net, the main emphasis is on knowledge and content, whereas at the physical event in Cologne it's on the experience and socialising, but obviously always with fluid crossovers and connections. And networking is the link between offline and online.  However, that presupposes that our customers are willing to rethink their ideas about trade fairs. All in all, Koelnmesse is very much on trend with its expansion of interzum into the digital sphere. According to the Global Exhibition Barometer published by UFI, the Global Association of the Exhibition Industry, no fewer than 82% of exhibitors expect to see a push towards hybrid trade fairs and digital elements.
Which digital platform do you use?
The first digital trade fairs, Gamescom and dmexco, were blueprints for us: they taught us how to integrate digital elements into our communications offering and optimize them for our customers. Then, based on that knowledge, we developed our own digital platform:
interzum@home
. We also benefited from the knowledge we've gained from ambista – the global online business network for the furniture and interiors industry.
As digital exhibitors, interzum@home participants have the opportunity to present their products in the exhibitor showroom in the form of images and text and generate additional attention for their company by embedding video content, for example. On digital stages or in workshops, exhibitors present content on trends, innovations, products and companies to a relevant audience and can use special networking functions in chats, video calls and digital meetings to conduct a more in-depth exchange.
One important goal of the new platform is to facilitate digital networking, which is why
interzum@home
provides a wide range of options for screening new and existing contacts, connecting with them and gaining access to new target groups as a result. The new Discovery Graph tool provides an opportunity to network in the best sense of the word by visualizing all the participants and their links to one another, thereby enabling users to get in touch with interesting contacts in a targeted way. But there are also various filter mechanisms that can be used to find interesting contacts on both the visitor and the exhibitor side. Then, using targeted chats and appointment or contact requests, users can either arrange one-on-one conversations or invite selected groups to engage in an exchange.
Besides the opportunity to communicate directly with visitors,
interzum@home
also offers exhibitors a unique approach for generating leads: they can screen for certain visitor data in their exhibitor profile. That gives e.g. the exhibitor's sales team the chance to target all visitors who have viewed the company's profile on
interzum@home
. It's the most comprehensive networking solution ever – and the easiest. The result is a sustainable community platform that centres on the needs of the supplier industry and will continue beyond interzum 2021. 
What's the booking situation for interzum 2021 like?
Preparations for interzum 2021 are going ahead as planned. Even though the booking situation for interzum is fine overall, in times like these we all need to keep working strictly in line with the concept while nevertheless being agile and dynamic in our response to changes, regardless of whether those changes are positive or negative, because the corona pandemic is constantly confronting us with new challenges.
On the one hand, the way the pandemic develops will ultimately decide how interzum turns out, although it's already clear that the look and feel of the next edition of the trade fair will be very different from that of the last interzum – it's important to be honest about that. On the other hand, the development and availability of corona vaccines is progressing rapidly, which will certainly have a positive impact on the situation in the long term. To sum up, we at Koelnmesse have spared no effort to ensure the playing field is optimally prepared for the industry, and the unanimous signals we're getting are that the sector needs an interzum as an international platform for the industry, regardless of its form and size.
What can we expect in terms of precautions for visitors to the trade fair?
So as to make networking as safe and successful as possible even in corona times, we've developed a series of measures in compliance with the state of North Rhine-Westphalia's Corona Protection Ordinance and in close consultation with the authorities in Cologne.
Interzum's #B-SAFE4business concept is based on four pillars: Visit Safe, Meet Safe, Show Safe and Stay Safe.
Our #B-SAFE4business concept is based on four pillars: Visit Safe, Meet Safe, Show Safe and Stay Safe. In concrete terms, our #B-SAFE4business hygiene and safety concept enables us to regulate the processes that take place at the entrances and in the aisles of the exhibition halls. In general, the stands have to be planned in such a way that both the stand staff and the maximum number of visitors permitted in any individual case can maintain the required minimum distance to one another. The distancing and face covering regulations have to be complied with in the halls and at the booths. The used air in the halls is drawn outdoors and replaced with 100% new, fresh air in order to prevent aerosol transmission via our ventilation systems.
Generally speaking, the spaciousness and size of our exhibition centre and the use of our digital signage system are of great benefit to us when it comes to implementing all these measures. But if congestion does occur despite everything, we can use Koelnmesse's eGuard app to steer the distribution of attendees and visitor flows.
What exciting new trends can we look forward to at interzum?
As a business and networking platform, interzum 2021 will focus on the latest global developments and discuss model solutions. That kind of discourse involving various disciplines and market actors can only be really fruitful when it takes place at a trade fair. Special attention will be paid to mobility, materials, digitality and sustainability, as well as solution strategies for the continuing urbanization process, an area where concepts like shared spaces or mobile offices/mobile working are playing a growing role. 
How has COVID changed the design needs of private, commercial and institutional customers?
Because of corona, the homing trend that emerged in the early 2000s is reaching a new level. In the light of the pandemic experience, Homing 2.0 is setting new parameters. Designers, design labels and furniture manufacturers are called upon to develop solutions for this new framework and offer them to an international market. For the interiors sector, that's very definitely a growth market. As the leading international fair for the supplier industry and therefore a thinktank for the interiors sector, next May's interzum will provide the necessary platform for observing current trend developments and defining fundamental structural changes within the sector and society. But more than anything else, it will serve as a place to generate business for tomorrow and develop it for the day after tomorrow, in keeping with the guiding principle behind the event: "Creating tomorrow's living spaces together."
Have something to say? Share your thoughts with us in the comments below.