Ethan Allen convention celebrates 90 years of growth
June 27, 2022 | 4:00 pm CDT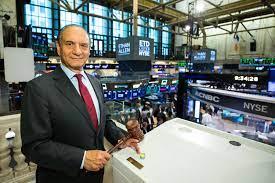 DANBURY, Conn. -- More than 5,000 Ethan Allen associates convened physically and virtually to celebrate the company's "90 Years of Innovation" on Thursday, June 23.
The day was declared "Ethan Allen Day" by the State of Vermont in honor of Ethan Allen, the American Revolution leader.
Livestreamed around the globe, the event included presentations from the company's manufacturing, logistics, retail, merchandising, marketing, and leadership teams. Under the theme "Vertical Integration: The Key to Our Service," the convention kicked off with a video greeting from Phil Scott, Governor of Vermont, who honored the company's Vermont origins while recognizing its global expansion over the past nine decades.
The convention highlighted the company's vertically integrated structure, its commitment to manufacturing about 75% of products in its North American workshops, its dedication to running a socially responsible business, and cutting-edge interior design technology. All of these are paired with the personal service of Ethan Allen's designers, said Farooq Kathwari, chairman, president, and CEO.
"Ethan Allen's vertically integrated structure has long been the key to our exceptional quality and service and will continue to propel us toward a strong future," said Kathwari. "It enables us to craft furniture to the highest quality standards, offers an incredible array of custom options, delivers it within competitive timeframes, and provides interior design service with state-of-the-art virtual technology."
Have something to say? Share your thoughts with us in the comments below.