Design and renovation pros report strong 3rd quarter
November 8, 2017 | 12:28 pm CST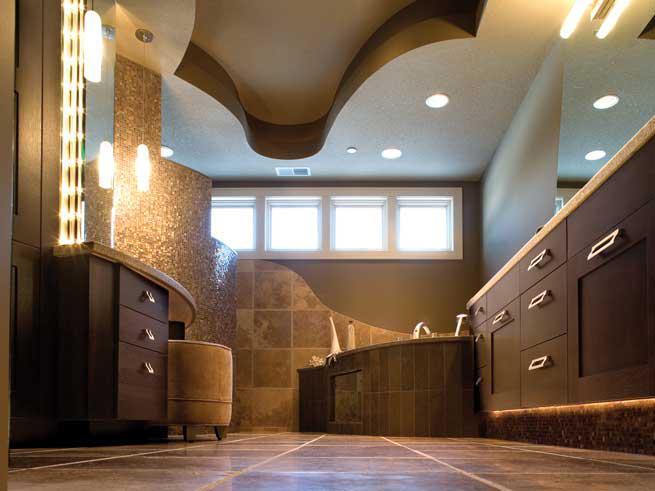 Photo By Chicago Kitchen and Bath Remodeling
PALO ALTO, Calif. - Design and renovation professionals had not only a strong third quarter but they have high expectations for future business, according to the Q3 2017 Houzz Renovation Barometer, which tracks confidence in the home renovation market among industry professionals.
"Residential renovation and design professionals report another strong quarter of new business activity and a very positive outlook in the near term," said Nino Sitchinava, principal economist at Houzz. "That said, widespread skilled labor shortages leave little wiggle room for businesses to absorb sudden demand pressures such as recent hurricanes in the South or more localized damage from wildfires in the West, driving up wait times."
The Houzz Q3 2017 Barometer reflected high quarter-over-quarter confidence for all industry sectors including architects, designers, general contractors (GCs)/remodelers, design-build, specialty building/renovation and specialty landscape/outdoor, with readings of 62 (The greater the index value relative to 50, the greater the proportion of firms reporting increases in quarterly business activity than those reporting decreases.) or higher. Expectations for Q4 are strong across all sectors.
Coupled with this positive business outlook are persistent labor shortages, as reported by 78 percent of GCs, remodelers and design-build firms. For homeowners, this translates to higher costs and longer project timelines. Fifty-six percent of renovation firms report increasing costs of subcontractors in Q3 2017 (versus 53 percent in Q3 2016) and 54 percent report increasing project lengths (versus 50 percent in Q3 2016) due to labor shortages. 
The Houzz Renovation Barometer Backlog Index increased slightly from Q2 2017 to Q3 2017, with project backlogs of five to eight weeks on average across sectors, reflecting significant wait times before companies can take on new projects. General contractors (GCs), remodelers and design-build companies have the longest average backlogs (7.1 and 7.7 weeks, respectively). 
Hurricane impact
Given the recent severe impact of hurricanes Harvey and Irma in the Houston metropolitan area and Southwestern Florida, Houzz took a deeper look at conditions among renovation professionals in these areas. 
Within the first two weeks of landfall, the hurricanes caused 28 percent of renovation-related businesses in the Houston metropolitan area and 41 percent in Southwestern Florida to suspend business operations in these areas. Among companies that suspended operations, 91 percent of those impacted by Hurricane Harvey kept their doors closed for a week or longer, and 65 percent of those affected by Hurricane Irma. 
The hurricanes also exacerbated labor shortages across the region and increased project backlogs by nearly two weeks, on average. Top business challenges exacerbated by the hurricane disruptions are the shortage of subcontractors (38 percent for both Irma and Harvey-stricken areas), managing cost-concerned consumers (23 and 46 percent, respectively), and managing consumer expectations (23 and 31 percent, respectively). A shortage of products and/or materials is also a top challenge for many (23 and 15 percent, respectively). 
Renovation-related companies estimate the average total cost of repairs and renovations to homeowners to be $13K for the hardest Irma-stricken areas, and a staggering $111K for the hardest Harvey-stricken areas.
Year-Over-Year Barometer Findings
The Barometer posted year-over-year readings of 67 to 75 in the third quarter of 2017, indicating high optimism in continued year-over-year gains in the home renovation market. These scores are in line with Q2 2017 scores (65 to 78). The year-over-year scores for architects increased from 65 in Q2 to 67 in Q3 and are now at the highest level since Q2 2016. 
The Houzz Renovation Barometer study is conducted quarterly and presents analysis of responses to an online survey sent out to a national U.S. panel of architects, interior designers, general contractors/remodelers, design-build firms, and building/renovation and landscape/outdoor specialties. The greater the index value relative to 50, the greater the proportion of firms reporting increases in quarterly business activity than those reporting decreases. N=2,241. 
Additional study highlights:
Millennials vs Boomers
34% of the population are Millennials, however they only represent 12% of homeowners. 
Baby Boomers spend an average of $20,000 on remodeling projects vs $11,000 from Millennials.
Millennials are more apt to spend on cosmetic interior renovations, trendy technology integration and outdoor living spaces. 
Kitchen and bath projects are still universally the most common renovation but Boomers will spend 3 times more than a Millennial.
Recent vs long-term home buyers
Repeat home buyers spend much more on renovations and engage in more reno projects. 
57% of reno projects are done by homeowners who have lived in their home more than 6 years. 
Sweet spot for home renovation
Homes built in 1960-1980 and under 2,000 square feet have the most expensive remodeling projects. Whole house renovations are the most common in this sector. 
Have something to say? Share your thoughts with us in the comments below.