Training and education adjust during pandemic
November 16, 2020 | 3:20 pm CST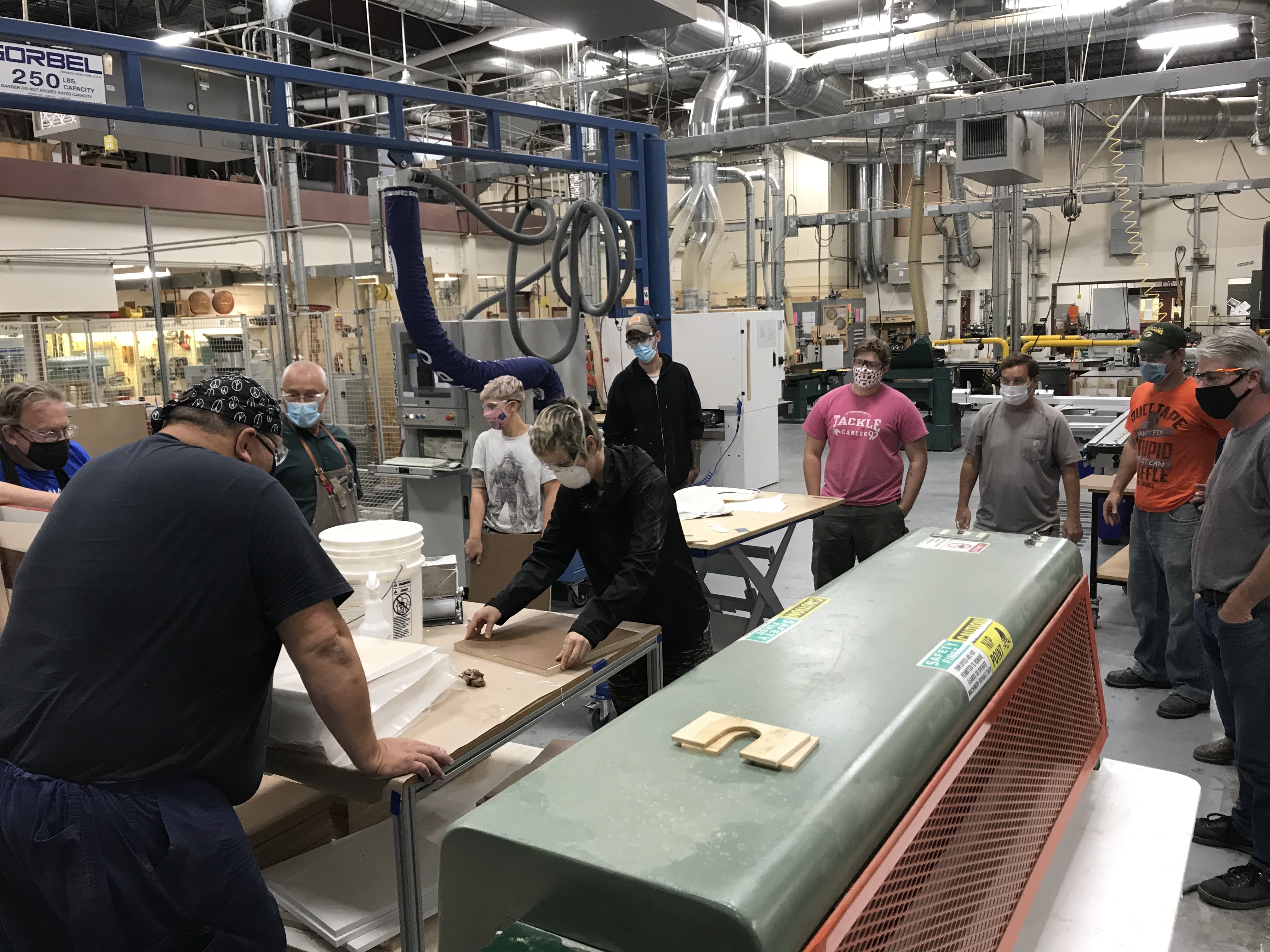 The Covid-19 pandemic has brought many day-to-day activities to a halt, but woodworking and technical training is continuing, both in person and online.
Madison Area Technical College in Madison, Wisconsin, is currently offering hybrid instruction. Students attend lab every other day. On their off days, students access videos and other learning resources online. When in class, students are required to wear masks and practice social distancing, said Patrick Molzahn, Cabinetmaking & Millwork program director. He has actually seen an increase in enrollment, and 80 percent of their students who had to delay graduation this past spring have returned and planned to finish by the end of October.
"Over the summer, we created over three dozen videos of our demonstrations to replace face to face instruction," Molzahn said. "Contrary to previous productions which were highly edited, these are longer in length, but have been extremely effective at conveying the concepts and processes for specific machine operation. After four weeks, students are on par with previous groups."
The hybrid schedule has allowed several students to obtain part-time work with area shops. They are getting paid and gathering experience, while obtaining the theoretical component from the school, much like a traditional apprenticeship would function.
"Our students access these resources though Blackboard, our online Learning Management System," Molzahn said. "One-page learning plans are used to guide students through the steps needed to learn a specific skill or machine. The process typically starts with a reading assignment from Modern Cabinetmaking, the most widely used reference by woodworking educators.
"After gathering essential background knowledge, students view a host of videos and online presentations. They then demonstrate understanding by completing a one-on-one checklist with the instructor to show they know how to operate a machine. Finally, they complete an exercise on that machine to specific tolerances."
At Madison College, Molzahn said that students have been very good about following Covid protocols. Anyone entering the building is required to complete an online health screening daily prior to arrival. Student workstations are separated by plastic barriers, and masks are required. There are numerous sanitation stations throughout the building.
"For the most part, our curriculum is being delivered as designed. We are refraining from group discussion and demonstrations," Molzahn said. "However, students report a high degree of satisfaction and all evidence indicates they are successfully mastering the material.
"At present, we will likely continue the same format through the spring of 2021. We hope that by next summer, instruction will return to normal and we will be able to provide a series of face to face workshops."
Pittsburg State University has made adjustments such as face masks and spaced-out seating, but they usually operate with smaller class sizes so fewer changes are required, as shown in this pre-pandemic wood boot camp photo.
Adjustments in class size
Charlie Phillips, associate professor and program coordinator, architectural manufacturing management and technology at Pittsburg State University said that Pittsburg State had closed for several months beginning in mid-March, but their department is operating in-person training this fall, carrying out a normal schedule of classes.
Phillips said they have made adjustments such as face masks and spaced-out seating, but they usually operate with smaller class sizes so fewer changes are required.
In some cases, classes have been recorded for online instruction for students that have had to quarantine or miss live classes.
Another adjustment has been in the class schedule. Some holiday breaks have been eliminated or changed. After a Thanksgiving break, classes and final exams will be carried out online for two weeks, and students will not return to the Kansas campus for that semester.
Back in the shop
At the MiLL National Training Center in Colorado Springs, students are back in the shop learning in person, but with a few restrictions, said Tim Kistler, superintendent of Peyton School District.
After operating online only, some students come to the shop Tuesdays and Thursdays, for example, and others attend on Wednesdays and Fridays. In the shop, everyone wears a mask, and students are spaced out. The state has mandated that only 10 students can be with one teacher at a time. There is enough room so that four teachers and four groups of students can spread out and work separately.
Peyton and Widefield School District have made a commitment to continuing live training at the MiLL, and Kistler said that he expects full-time training to resume after the first of the year. He also acknowledges continued support for the MiLL and its mission from woodworking industry partners.
Automation and Robotics Training Center at Motlow College has used layout, guarding, sanitation and masks as needed to continue in-person training, and is looking to create a hybrid virtual reality class that would let participants have actual hardware in their remote location and access the training center's robots.
Looking at hybrid virtual reality
Larry D. Flatt, executive director of the Automation and Robotics Training Center at Motlow College in McMinnville, Tennessee, said that the ARTC is not set up to do remote virtual reality training so all classes are live. The school has used layout, guarding, sanitation and masks as appropriate.
"The way our facility is laid out we have the luxury to meet social distancing guidelines and still have classes," he said. "The ARTC does industry certifications so we are restricted by our contacts with the corporate partners to two people per robot and/or trainer. So far this works well for us.
"We are looking for some grant opportunities to create a hybrid virtual reality class that would let participants have actual hardware in their remote location and access our robots.  (We don't have this) yet but we recognize the immediate need to accomplish this."
Flatt said that ARTC is moving forward with a full training schedule for 2021.
"The issue is getting industry to reengage due to things such as financial shortfalls from being closed or having restricted production, and corporate policies restricting travel.
"We are very optimistic that as we move past first quarter 2021 there will be a rising need for our training."
Reopening in stages
North Bennet Street School in Boston reopened for in-person, full-time program instruction on a staggered schedule, with precautions, protocols, and other interventions in place.
At this time, NBSS said that only full-time students, faculty, and staff will have access to the building. No guests from the public will be allowed. The school is only reopening for instruction in their nine full-time programs right now. They are also working on a plan to introduce an online component of their continuing education department.
With guidance from public health experts, industry professionals, and their own Covid-19 response team, NBSS has drafted a reopening plan that includes precautions and requirements to mitigate the spread of disease, interventions should someone in the community become sick, and multiple contingencies for working and learning remotely.
Virtual open house
Social distancing wasn't expected to keep prospective students from pursuing career options at Fox Valley Technical College in Appleton, Wisconsin. In typical years, the college would hold in-person open houses at all regional campus locations, but leaders made the decision to take the event online.
"Our goal is to continue to provide access to the variety of programs offered through FVTC, but to also keep prospective students and staff safe and healthy," said Dr. Christopher Matheny, executive vice president and chief academic officer for FVTC, in a statement. "Our highly engaging event will provide all the information needed to enroll in the next semester of classes or next summer or fall and provide social distancing required in this time of pandemic."
The virtual open house was planned for October 20. Information was to be made available on more than 200 degree, diploma and certificate programs offered at the Appleton and Oshkosh campuses and regional centers in Waupaca, Clintonville, Wautoma, and Chilton, Wisconsin.
This is the first time FVTC has taken the event online. Rather than using a platform such as Zoom, the college planned to use a web-based platform to allow multiple users from a variety of locations. During the online event, prospective students could take a virtual tour of the Appleton campus and chat with faculty, staff and current students. Free informational sessions included how to choose a degree, paying for college, how to be a successful student, and exploring starting a business.
Have something to say? Share your thoughts with us in the comments below.