Membership in the CMA Provides an Abundance of Resources
July 2, 2015 | 3:52 pm CDT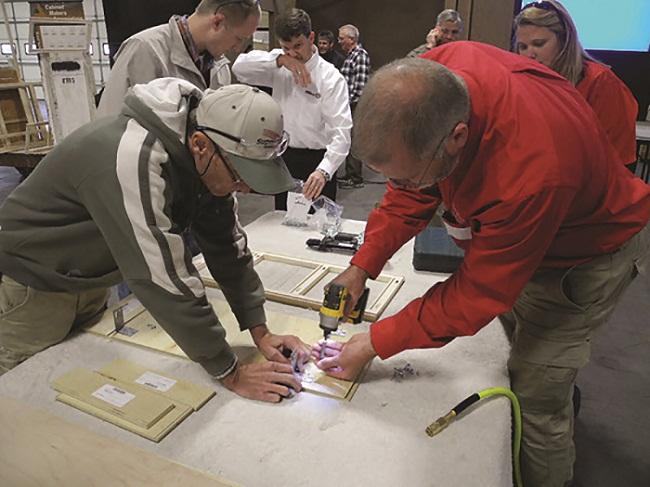 The Cabinet Makers Association offers a host of benefits to members, assisting residential and commercial cabinetmakers and woodworkers to share hard-won knowledge and experience.
CMA members believe sharing knowledge will improve business for individual members and advance the industry as a whole. CMA Member Benefits far outweigh cost of membership fees:
• CMA Shop Finder – consumers drop in their zip code to find the closest location of a member's business for the service or work desired
• Mentor Council – connect with other members that have years of experience in the industry to consult on your business 
• Recognition – Wood Diamond Awards celebrate the best in cabinetmaking
• Discount registration – receive special rates at all trade shows: AWFS, IWF, CMA regional events, and national conferences.
• PROfiles – quarterly magazine with member profiles, news, technique features
• Members list – access to members lists and restricted site areas
• eNewsletter – read the latest CMA and cabinet making news
• CMA Represents You – at wood industry committees and policy gatherings
The annual membership fee for regular members is $275. Sustaining CMA Century Club members, recognized online and in print, voluntarily contribute added support for special projects to create an enhanced membership experience for all members.
DISCUSSION FORUMS
CMA Forums deliver helpful advice, reliable and unvarnished equipment and supplies reviews, and secret sources for those unusual or infrequently ordered items.
The CMA Forums differ from other woodworking discussion boards in that they are open only to members. This keeps anonymous contributors from trashing competitor's equipment with unwarranted bad reviews or hyping their own goods and services.
The Forum is particularly helpful for finding resources for things like curved cabinet glass, exotic veneers, or specialty substrates that may not be sourced on a regular basis.
Members can post questions or requests for particular supplies or products and get responses from other members suggesting where to look and even asking others' experiences. This not only helps the member who is searching, but other members who read this information as well. 
CMA Forums also allow posting of completed projects or work in progress, with questions posed on technique or design reviews. Discussions on handling smudges with wood fillers, door cope/stick set, shoe shelf spacing, side mount slide techniques and latches suggest their practical nature. cabinetmakers.org/resources/memberforum
CMA BUYER'S GUIDE
The CMA offers a Custom Cabinetry Buyers Guide. Homeowners, designers, architects or contractors have several options when it comes time to purchase cabinetry for a home or project. Customer service, design process, pricing and environmental impact should be taken into account.
Cabinetry projects have many options available to fit the space, have the appropriate look, and fit one's budget. Dealing with a local cabinet shop can offer advantages in getting the style and look being sought within a budget, while working closely with someone who truly has the customer's best interests at heart. cabinetmakers.org/resources/cma-buyers-guide/
Who's in Charge: The Cabinet Makers Association Board
People Like You: Matt Krig of Northland Woodworks, Blaine, MN, was elected CMA president for 2015. Krig had previously been an at-large volunteer member of the CMA board. Keith Kreppein of Olde Saratoga Millwork, South Glen Falls, NY, was re-elected as CMA VP. David Buchsbaum of Beacon Custom Woodwork, Chamblee, GA, a former director-at-large will serve as CMA secretary and Scott Comstock of Woodperfect Custom Cabinetry, Forney, TX, was re-elected to continue to serve as CMA treasurer.
Also serving on the CMA volunteer Board of Directors as members at-large for 2014-15 are the following CMA members:
• Tracy Yarborough, past CMA president of Maple River Woodworks, Coward, SC.
• Mike Mitchell of Burger Boat in Manitowoc, WI.
• Leland Thomas of Taghkanic Woodworking in Holmes, NY.
Jim McDermott has returned to his role as executive director, succeeding Dave Grulke. McDermott is also a founding board member and past president of the CMA.
The CMA also recently hired Amanda Conger, formerly employed in the industry with Premier EuroCase and Stiles Machinery, for the newly created position of director of sales and marketing. Conger's role will be to increase the association's industry presence and to ultimately grow its membership base. 
Have something to say? Share your thoughts with us in the comments below.