That Other NeoCon: the Guerrilla Truck Show
June 16, 2015 | 10:35 pm CDT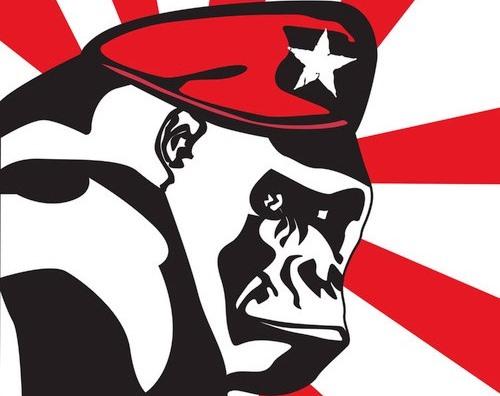 In the shadow of the mammoth NeoCon 2015 show, running now in Chicago, there was for many years an alternative scene for designers to show and see new work.
This was put together by Morlen Sinoway, considered locally to be the godfather of design in Chicago. Sinoway did more for up-and-coming furniture makers and designers, including myself, than anybody else in town. So I was happy to bump into him at this year's NeoCon, and get him to share the back story of his design show efforts.
Morlen says that back in 1966, he found that there was a gap in the design community in Chicago: There was no place for undiscovered designers to get their work seen. So he decided to do something about it, building a renegade design community. He found a temporary home for it in an arts building, the Chicago Antheneum.
Then, making creative vignettes inside crude rental trucks, Morlen and his gang would crash public events  and spaces, parking outside to expose his work and that of his comrades, to anyone that would take the time to tour his mobile galleries. After the years at the Atheneum, the venue matured, evolving into the Chicago Design Show - and later becoming part of the Chicago Merchandise Mart. That lasted another five years, until it took its most recent form, The GuerrillaTruck Show.
By 2005, Morlen had established his own gallery, Morlen Sinoway Atelier, in Chicago's Fulton Market district. This became the perfect home for what I considered the most fun and interesting design show of the year.
Morlen explained how in the first year they started with only a half dozen trucks, but over ten years it grew to over sixty, curated down from over four hundred applicants. Thanks to help from the City of Chicago, and a team of corporate sponsors, the streets around Morlen's Atelier would be closed off (from Carpenter Street west to Racine Ave.) and the trucks would be packed in, beer and food vendors would set up their tents, and all kinds of musicians and street performers would entertain.
The show was always scheduled for the same days as NeoCon to lure visitors from the Merchandise Mart to this more gritty, underground event. In the final years thousands of people from all walks of life came to see what creative streams were developing under the radar.
My company, New Breed Furniture Network, participated for three years in The Geurilla Truck Show, each year creating a different vignette experience. But more importantly, it was an opportunity to unveil our newest designs. During those events I was able to meet future customers, future business partners, and industry leaders.
We also enjoyed publicity and exposure that was impossible any other way.
"It was about letting the world know that Chicago has design talent," Morlen told me. "And about giving young people an opportunity to display what they do and voice themselves on their ideas."
Sadly, the Guerrilla Truck show is no more. As for the next phase, Morlen is optimistic and excited to see what the future brings for design in Chicago, he said " We sincerely feel the Guerrilla Truck Show was a conduit for a rebirth that brought hope to the Chicago design community.  It's better to go out on top than to just fade away." I am proud that I am able to consider myself a member of the "Guerrilla Alumni", and will always fondly remember the magical nights I enjoyed thanks to Morlen and his team.
---
John Lindsay is co-founder of New Breed Furniture, a rapidly growing business that recently opened a new factory in Kenosha, WI. www.nbfn.us
Have something to say? Share your thoughts with us in the comments below.