Robotics, Industry 4.0 in the limelight on SIBO Live stage
August 21, 2022 | 3:14 pm CDT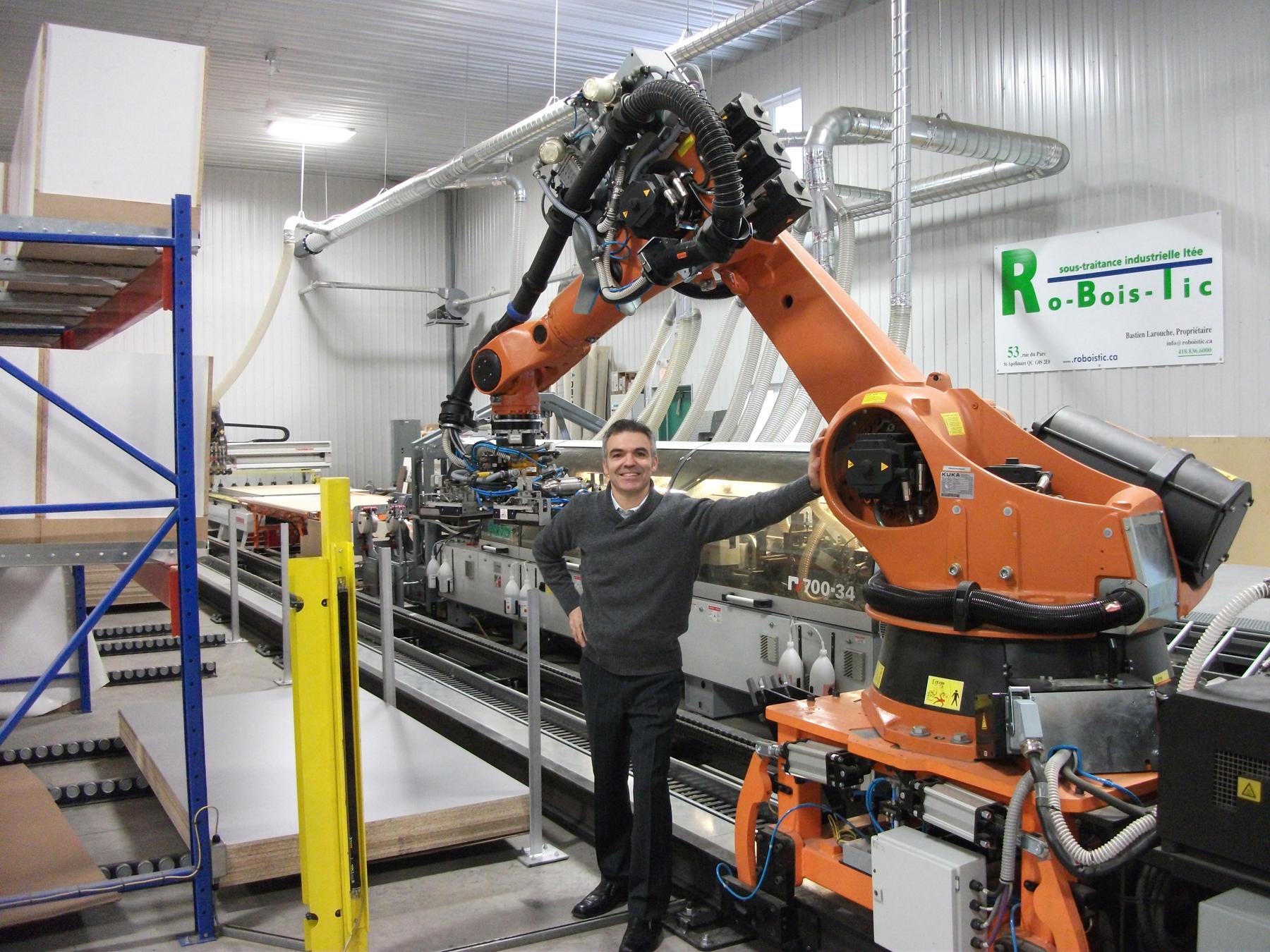 In addition to exhibits featuring the latest in woodworking machinery, tooling, software, hardware, materials and supplies, Salon Industriel du Bois Ouvré (SIBO) will offer a wide range of complimentary educational sessions on the exhibit floor. The show will be October 27-29 at the Centrexpo Cogeco in Drummondville, Quebec, the economic center of the province. The event is aimed at Eastern Canada's manufacturers of cabinetry, furniture, architectural woodwork, and other wood products. Educational programming will take place on the exhibit hall floor in an area dubbed SIBO Live.
Among the highlights of SIBO's educational programming is a keynote presentation by Bastien Larouche, founder and owner of Roboistic RMC (Robot Made Cabinets) in Saint-Apollinaire, Quebec. Larouche, an MBA and former plant manager of Teknion office furniture, launched Roboistic in 2012 as a one-man, one-robot operation to produce RTA cabinets. Development of the lights-out factory in Saint-Apollinaire was supported by Automatech Robotik and CNC Automation.
An entrepreneur by nature, Larouche's presentation will delve into key challenges he has overcome, as well as some important benefits achieved by implementing robotic automation. Roboistic mainly sells its cabinets to cabinet shops and developers of large housing projects. The company's products can be found throughout Canada and the United States.
In another presentation, Jean Michaud, a certified Architectural Woodwork Manufacturers of Canada( AWMAC) GIS inspector, will present an overview of NAAWS 4.0, the quality standards updated by the AWMAC in partnership with the Woodwork Institute. The standards address materials, assembly, installation, casework integrity testing, and more.
In his role, Michaud makes sure that the NAAWS are followed for architectural woodwork projects in which AWMAC's Guarantee and Inspection Service (GIS) are required as part of a contract between the architect and woodworking fabricator His oversight as a third-party inspector includes reviewing shop drawings, materials, and methodologies through on-site inspection to validate the quality of workmanship and installation.
Other SIBO educational sessions include:
Highlights from an Industry 4.0 study presented by Christian Galarneau, general manager of RH Solutions, which represents the Sectorial Labour Committee of the window and door, furniture, and kitchen cabinet industries.
A pair of presentations by representatives of Inovem, the research and technology transfer center of Victoriaville College's woodworking. One will spotlight Inovem's efforts to support Quebec wood products manufacturers to embrace Industry 4.0 and the other will focus on water-based finishing developments.
Key factors to consider when adopting advanced technology presented by Christopher Mancliere, senior software specialist of Planit Canada.
SIBO is owned and managed by CCI Canada Inc. which also produces WMS in Mississauga to be held November 2-4, 2023. Register to attend SIBO at siboexpo.ca. For exhibit space and sponsorship inquiries, contact Rob Roszell at [email protected].
Have something to say? Share your thoughts with us in the comments below.