Plant tours highlight KCMA fall event
March 1, 2017 | 11:16 am CST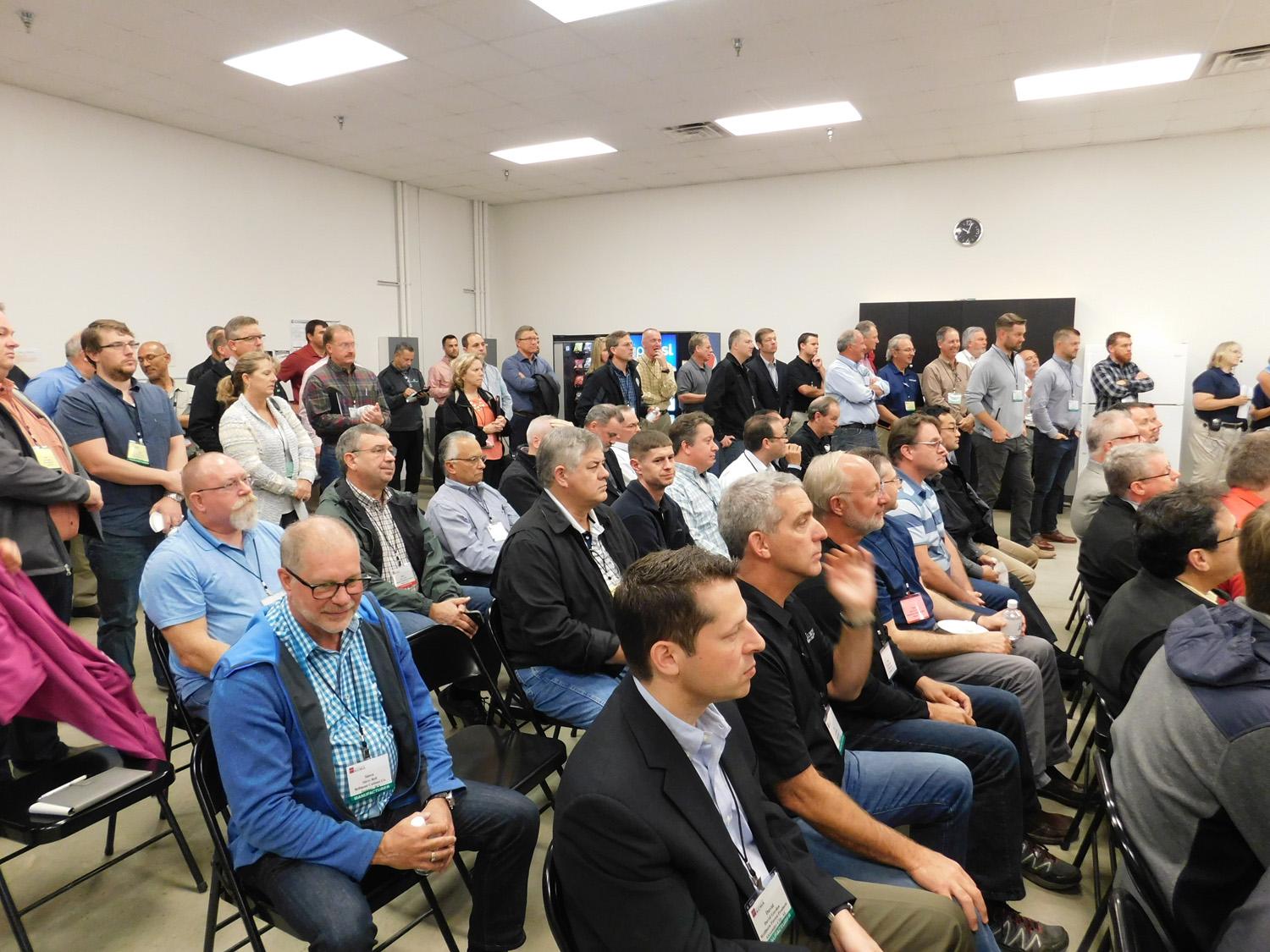 Impacts of EPA's formaldehyde rules on cabinet manufacturing, Lean production, and delivering new styles of cabinetry such as narrower stile-and-rail doors, were among key concerns as some 250 cabinetry manufacturers and their suppliers gathered at the 2016 Kitchen Cabinet Manufacturers Association fall conference in Greensboro, North Carolina.
Held in October, KCMA's conference was followed by two days of manufacturing plant tours, including a visit to The Corsi Group's brand new frameless cabinetry plant, Siteline; wood components firm Southern Finishing; and Marsh Furniture, a 110-year-old cabinetry firm that has reinvented its manufacturing process to batch-one production. Also included on the tours were visits to nearby hardware manufacturers Hafele, Grass, Tenn-Tex and Blum.
KCMA's 29th Annual Management Conference, Exhibition and Plant Tour event will be held Oct. 14-17 in Louisville, Kentucky. Contact KCMA at (703) 264-1690, info@kcma.org, or visit KCMA.org for more information.
Just-in-time production at Siteline Cabinetry, The Corsi Cabinet Group
Siteline Cabinetry LLC is the latest addition to The Corsi Group of companies. Devoted to the manufacture of frameless cabinetry, Siteline began production in the third quarter of 2015. 
The Corsi Group was founded in 1973, manufacturing custom cabinetry under the Corsi and Greenfield brands at plants in Elkins, West Virginia, and Indianapolis, Indiana, with Siteline's facility in Keysville, Virginia, now included in the lineup. While Corsi and Greenfield are "you draw 'em, we saw 'em" full custom offerings, Siteline is semi-custom, within an engineered standard, with over 10,000 variations. 
Pat Corsi told KCMA colleagues the 97,000-square-foot Siteline facility boasts ample availability of labor, logistics and is close by supporting vendor companies. Corsi added that while labor was plentiful, there were few experienced cabinetmakers among them. The plant has instituted a training program that covers skills ranging from entry level to more advanced manufacturing.
Products are produced to order; inventory flows in just-in-time, with batch-one assembly for the standard sized components. Finishing is done on a state-of-the-art Superfici line with a vertical oven. (Siteline was profiled in the June 2016 issue of FDMC magazine.)
Inside Southern Finishing's operation
Founded in 1978, Southern Finishing Co. says it has earned recognition for its finishing expertise, while providing wood components for large OEM, semi-custom, custom, and furniture producers. Headquartered in Stoneville, North Carolina, with plants also in Martinsville, Virginia, the company specializes in prefinished mouldings and accessories, including corbels, medallions, legs and posts, and can also provide custom specified color matches. Thousands of prefinished components are produced for the cabinet industry with an average three- to five-day turnaround.
During a tour of its Martinsville facility, Southern Finishing also showcased its in-house lab which it says enables the company to offer absolute color fidelity and consistency through its coatings formulations.
Cabinet manufacturing at Marsh Furniture Co.
Cabinet manufacturing at Marsh Furniture Co.
A dramatic turnaround has taken place at Marsh Furniture Co., which despite its name is primarily a kitchen cabinet manufacturer. Based in High Point, North Carolina, the company was founded in 1906 by Julius Everett Marsh Sr. and is celebrating its 110th anniversary.
KCMA attendees received a thorough briefing on Marsh Furniture's corporate revision that began 10 years ago – on its centennial.
"Like many of you, Marsh has reinvented itself," CEO Molly Marsh Brugh told KCMA plant tour attendees. "Our factory and manufacturing processes are transformed."
The company used value stream mapping to improve the efficiency of its operations, said Edwin Underwood, COO. "Marsh builds one kitchen at a time," he said, and looked to abandon its two block-long mass assembly lines. "These changes did not come easily," he added.
In what the firm described as its Lean Manufacturing Journey, and executed through several value-stream mapping efforts and Kaizen events, Marsh Furniture's multi-floor plant now features automated panel processing, cellular assembly, as well as a retooled finishing operation.
Today, Marsh Furniture produces approximately 10,000 cabinets per week at its 720,000-square-foot factory. The company also operates Marsh Lumber, a 135,000-square-foot dimension mill in Pamplico, South Carolina, and has 642 Marsh team members.
Marsh Furniture also operates five Marsh Kitchens retail locations throughout North Carolina and has 700 dealers located throughout the United States. Among its offerings are cabinets in an assortment of trending paints, stains, and glazes, and a broad array of door styles. Product species include maple, oak, cherry, birch, and ash in both traditional and full overlay configurations.
Visit to Hafele America's hardware facility
Among the suppliers on tour was Häfele America Co., which manufactures and markets a wide variety of products including: LED lighting systems, kitchen organization, decorative hardware, opening and closing mechanisms for doors and drawers, furniture fittings and electronic locking systems. Founded in 1923 by Adolf Häfele in the Swabian town of Nagold, Germany, the Häfele Group has more than 6,900 employees and locations in 38 countries around the world.
 Established in 1973, Häfele America Co. is headquartered in Archdale, North Carolina, where it operate a 250,000-square-foot fully automated distribution center along with custom panel and sliding door fabrication facilities. 
Grass America's cabinet hardware operation
Cabinet hardware supplier Grass was founded in Höchst, Austria in 1948. The U.S. subsidiary, Grass America Inc. was founded in 1977 in Kernersville, North Carolina.
According to the company, by 1982 the OEM demand for drawer slides grew to the point that U.S. manufacturing was necessary. In 1985, Grass America began stamping drawer slides and claims to be the first U.S. manufacturer of powder coated European designed slides.
A large percentage of its U.S.-made products are targeted to face-frame construction methods utilized in kitchen cabinetry. Grass America's campus features 190,000-square-feet of manufacturing and warehouse space and employs 215 people.
Part of the Würth Group, Grass worldwide is a global group of companies with 1,900 employees at 13 locations, with distribution locations in 60 countries. 
Tenn-Tex's plastics operation
Founded in 1986 by Rich Marsh and investors, Tenn-Tex Plastics manufactures plastic injection molded parts for the kitchen cabinet industry. The company got its start  producing glass door retainer clips for Pulaski Furniture, and has since expanded its product offerings to include shelf clips, glue blocks, corner braces and distribution drawer slide brackets. Among its most popular offerings is the QuikTray Rollout System offered in wood or plastic.
In 1998 Tenn-Tex built a new 40,000-square-foot manufacturing facility in Colfax, North Carolina. Tenn-Tex currently has 25 Injection molding machines that operate 24 hours per day, five days a week. 
Blum: From horseshoes to hardware
A farrier and carriage smith by trade, Julius Blum founded the company in 1952 to produce horseshoe studs and other products. Within a few years, the family-owned firm would expand its range to include hinges, roller runners and other hardware items.
Blum opened its U.S. subsidiary in 1977. Now located on a 70-acre site in Stanley, North Carolina, Blum Inc.'s 450,000 square foot building includes administration, manufacturing and distribution facilities; a $16 million upgrade is currently being planned. Products include concealed hinges, drawer runner systems, box systems, lift systems and organization systems. Tandem drawer runners are also manufactured in the United States. It has 390 employees at the location.
Blum Inc. also houses a tool and die shop, and a state-of-the-art cabinet shop. Since 1995 the company has also offered Apprenticeship 2000, a four-year program for which Blum selects students from local high school and provides community college class work with real world hands-on training. In 2012, the company's education program was awarded a WMIA Wooden Globe Award. 
Have something to say? Share your thoughts with us in the comments below.