Lean boosts production for cabinet door company
January 3, 2018 | 11:51 am CST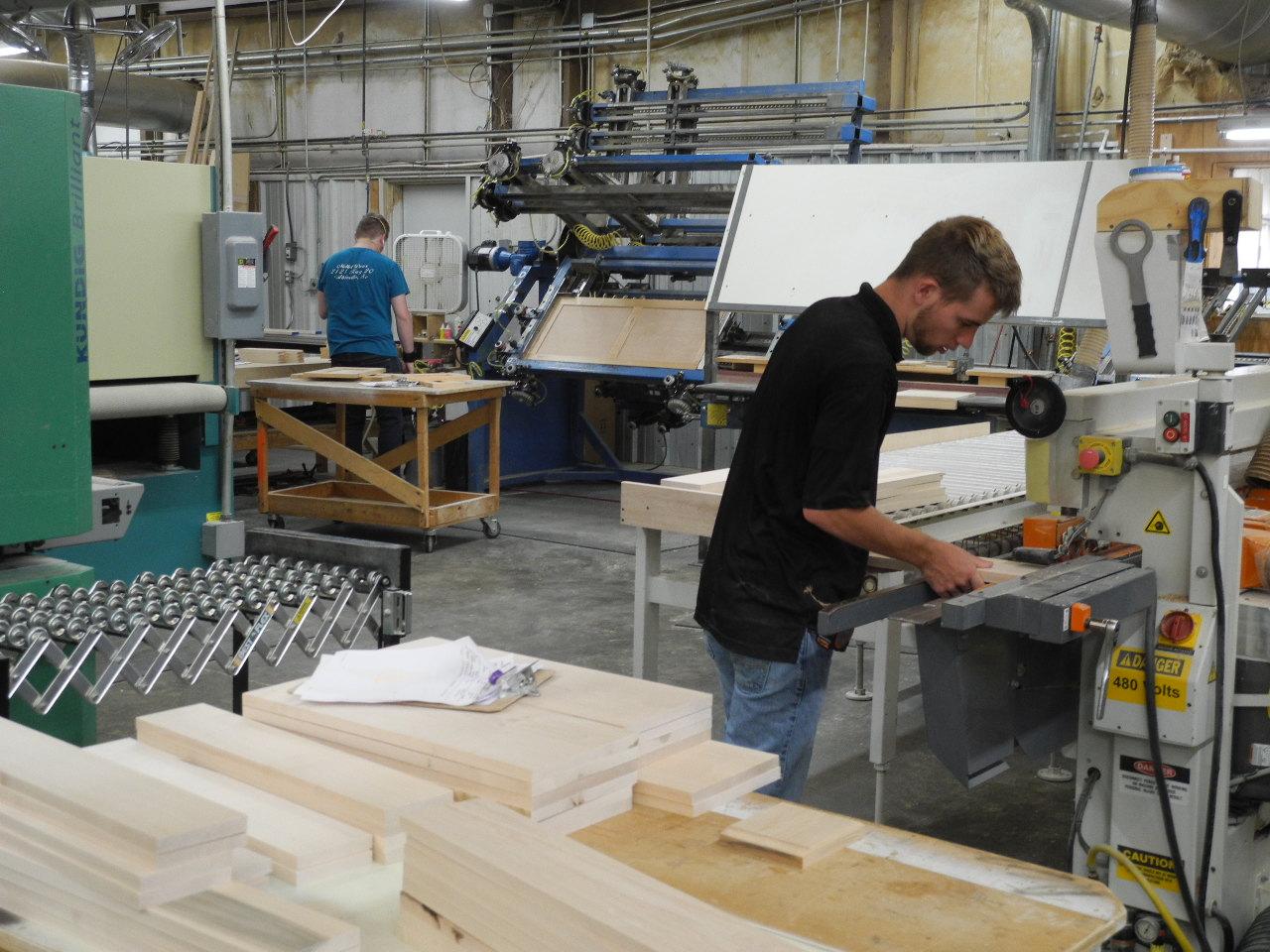 Sometimes lean improvement is hard to see, unless you know where to look.
"It doesn't look like there is much going on in the shop," said Elvin Martin, president of Mullet Door. "But we're actually doing more work."
Mullet makes cabinet doors in a shop in Abbeville, South Carolina. The company primarily serves cabinetmakers that choose to outsource their doors. Most doors are solid wood, but some MDF is also used if required.
Mullet Door was started in 1985, and Martin has owned the company since 2001. Over time, the company's cabinet door business became busier and busier, and he considered CNC machines to increase the amount of production.
"We were running terribly far behind," Martin said.
Martin attended a seminar on lean at SCM Group in Duluth, Georgia, and saw Jim Lewis and Brad Cairns of the Center for Lean Learning.
Lewis and Cairns visited the Abbeville operation in April 2016 for three days, primarily to observe, although Cairns made some immediate recommendations. He started right at the beginning of the process, where lumber is received. Previously, this area was full of stacks of unused lumber.
Cairns saw a "tons of parts and carts" in the shop.
Mullet reduced its lumber inventory sharply by making smaller orders and working with its lumber suppliers, ordering only what was needed for a specific job in the shop.
Cairns also recommended cutting down on the batch size for doors moving through the shop.
Mullet now focuses on smaller lot sizes. Even a larger order of 100 doors is broken up into smaller jobs of 10 to 15 doors, for example. Martin said that work flows more quickly through the shop this way.
Another change was getting rid of what employees didn't use regularly. The shop shut down completely for one day to make a major cleanup. The goal was to reduce clutter. They got rid of excess carts, and employees got rid of objects they didn't need in their work area.
"We're in a good place right now," Martin said.
Martin said he researched lean carefully, but once he made the decision he was committed and willing to hand over control of the process.
They also arranged the new shop layout by using colored pieces of paper on the kitchen table, then marked the floor with spaces that the machines would be moved to. Ultimately, almost everything got moved.
The new layout has space between processes and makes sense from a flow perspective. The new layout was accompanied by training on one-piece flow.
In the door shop
Mullet makes residential cabinet doors, primarily of solid wood. Martin said that maple is currently the species most often used, with alder, cherry and oak also popular. Shaker-style flat panel doors are the most popular style, accounting for more than 50 percent of overall work.
The process starts with an Extrema ripsaw. Ripped lumber then goes through an Extrema planer and a Cantek cutoff saw with Razorgage optimizer pusher system.
A Larick shaper cuts tenons on the pieces, and an Accu-Systems 1045 miter machines makes miter cuts. A Powermatic rip saw is also used.
Another change to create a more efficient flow was the replacement of a large clamp carrier with an RF gluer for glued-up door panels. Glued door panels go through a Larick 410 shaper for raised panel doors, then directly to sanding.
Also in the Abbeville shop is a Ritter shaper, Doucet cabinet door clamp and an Extrema three-head widebelt sander. The next step is a Voorwood shaper that is used for outside edges. Added recently was a Holz-Her Kundig finish sander with polishing heads. Two people can also do hand sanding, if needed. Mullet Door doesn't do finishing.
Since the lean transformation began, Mullet Door has added only three new machines: the new RF gluer, Kundig sander and Voorwood shaper.
Lean results
Previously, Mullet Door produced 75 to 100 doors a day in its shop. Today, the shop has increased production 30 to 35 percent, and with fewer people.
There are six employees in the shop. The company focuses on a single day of work. On Tuesday afternoon, for example, John Miller, office manager, draws up the work plan for Wednesday. Originally, the goal was 100 doors a day. Now, they can do close to 200 on certain days.
Employees agree that the current system is less stressful, and there is no feeling of having to rush to complete work. More of the planning and work is done in the office.
Miller said that everyone's ideas matter, and everyone at the company is part of the lean process.
"I never thought it would be this stress-free," Martin said. "Part of it is breaking habits, getting people to think. Once they started seeing improvement they bought into it."
One of the challenges to start was to get people to believe in the process before results started to show up.
Recently, Martin offered employees an incentive if they could reduce the turnaround time to produce a cabinet door by 10 percent.
"We asked if they were working harder now," Martin said. "They said no, they aren't working as hard as before.
"Guys on the shop floor are great. They've bought into this lean journey. They're working hard and are engaged. I couldn't ask for a better crew."
Customers have also benefitted from the improvement in the shop. Mullet can often offer shorter lead times on orders for cabinet doors.
"Nothing appears to be going on," Martin said of the shop. "If you look at a computer you can see something is happening."
But Martin said that reminding people how things used to be and how they are better now is a continuing challenge.
Today, they have much more room, and are producing more cabinet doors, with seemingly less effort.
"I never envisioned we would be doing what we're doing now," he said.
At a glance:
Mullet Door,
Abbeville, South Carolina
Product: Solid wood cabinet doors
Employees: 6
Mulletdoor.com
For more information:
Accu-Systems  Miter machine
Cantek America Inc. Cutoff saw
888-982-2683  cantekamerica.com
Doucet Machineries Inc. Cabinet door clamp
Extrema Machinery Co.  Ripsaw, planer, widebelt sander
Holz-Her US Inc., Div. of Weinig Group  Kundig finish sander
Larick Machinery Inc. Shaper
970-224-3061  larickmachinery.com   
Razorgage Optimizer pusher system
Voorwood Co.  Shaper
Have something to say? Share your thoughts with us in the comments below.