Stiles and partners unite with total production solutions for the mass timber industry
March 17, 2023 | 12:08 pm CDT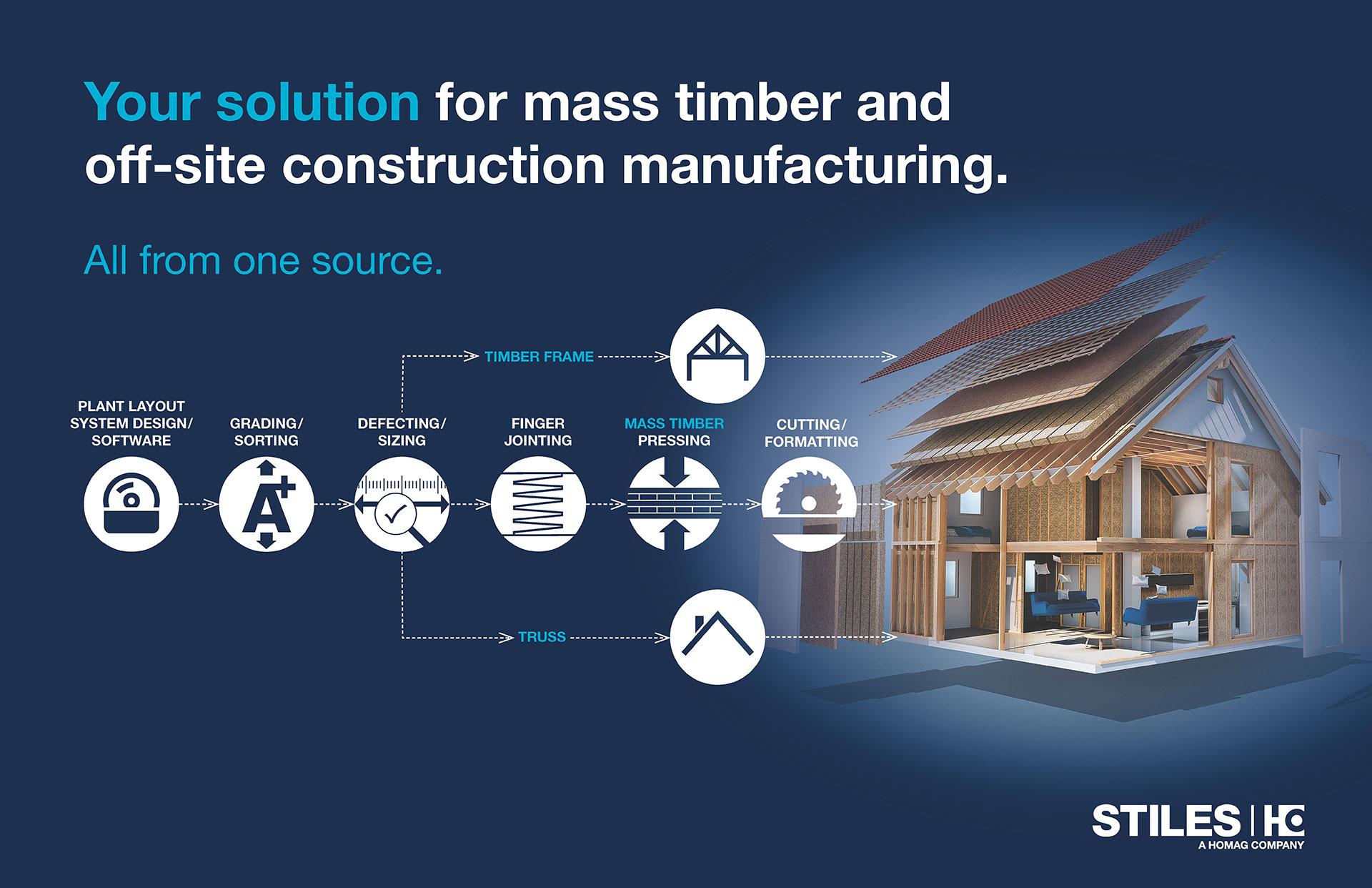 GRAND RAPIDS, Mich. – Stiles Machinery, Kallesoe Machinery, System TM, and MiCROTEC announce a joint booth at the 7th annual International Mass Timber Conference. The world's largest event for mass timber experts–which focuses on the entire supply chain–will take place in Portland, Oregon from March 27th to March 29th, 2023.
"It is the first time that there are four parties at one booth. It's a new experience for all of us, but we hope it will give our visitors a better overview of what is possible," said Jens Kallesoe, CSO at Kallesoe Machinery. With all partners in one booth, customers will be able to gain the necessary information and tools for their Mass Timber project. It will give customers the unique opportunity to get a quick and easy overview of a complete Mass Timber solution.
"We are excited to have created a unique booth that exemplifies the strengths of each partner and ultimately benefits our booth visitors," said Ken McFadden, Director of Engineered Solutions at Stiles Machinery. World-Class Manufacturing Solutions for Mass Timber
● Stiles Machinery is a leading provider of large-scale manufacturing solutions including: consultation, plant layout, production flow, project management, training, technical support, parts and service in North America.
● Kallesoe Machinery is the leading industry expert for custom press solutions. The company's state-of-the-art high-frequency presses combine flexibility and cost efficiency for top-of-the-line CLT and GLT production.
● System TM is the specialist for customized timber processing systems, covering automated feeding machines, high-speed cross-cut saws, automated stacking machines, as well as long- and short-length finger-jointers.
● MiCROTEC is the most innovative scanning and optimization provider for the sawmilling and wood processing industry, providing customers with world-leading wood scanning solutions.

All four partners work together to bring world-class manufacturing solutions for Mass Timber production to customers in the North American market. Long-standing relationships and countless joint projects speak for a smooth design, installation, and commissioning process. Outstanding service and maintenance ensure smooth production, a long machine runtime, and a return on investment.
Visit the four partners in booth #532 during the International Mass Timber Conference at the Oregon Convention Center from March 27 to March 29.
 
Have something to say? Share your thoughts with us in the comments below.