The missing piece to your marketing puzzle

The #1 priority at Woodworking Network is constant updating, refreshing, and growing the database of sites and people in the woodworking industry. And this is your #1 advantage to partnering with the Woodworking Network. Smart marketers know the answers to their most pressing questions can be found in the analysis of available data. The Woodworking Network comprehensive database offers you selections by plants (sites) and/or individual demographics. You can create aggregate data models for mass communications or drill down to specifics and append information to your existing customer data set to target specific segments.
 

Daily audience development activities give you clean, fresh, up-to-date data with access to more than 143,000 subscribers to our various products at more than 98,000+ sites.
When it comes to reaching the sites where North America manufactures secondary wood products, no other media company can match the Woodworking Network. All of the information within the Data Center is updated continuously, eight hours a day, every workday of the year.
 
How you can benefit from the use of Woodworking Network's database of more than 98,000 woodworking sites and plants:
Supplement your database with the Woodworking Network Data Center. 
 
Research: Woodworking Network can help you script an effective research questionnaire to extract specific, critical information from our audience, customized to help you gain market insight.
Generate sales leads, whether using a standard email product to deliver instantaneous results or delivering your own custom e-blast to the database, Woodworking Network can help you create a lead generating promotion.
​​​​
​​​​​Our audience chooses what they want to receive based on content and what's most important to them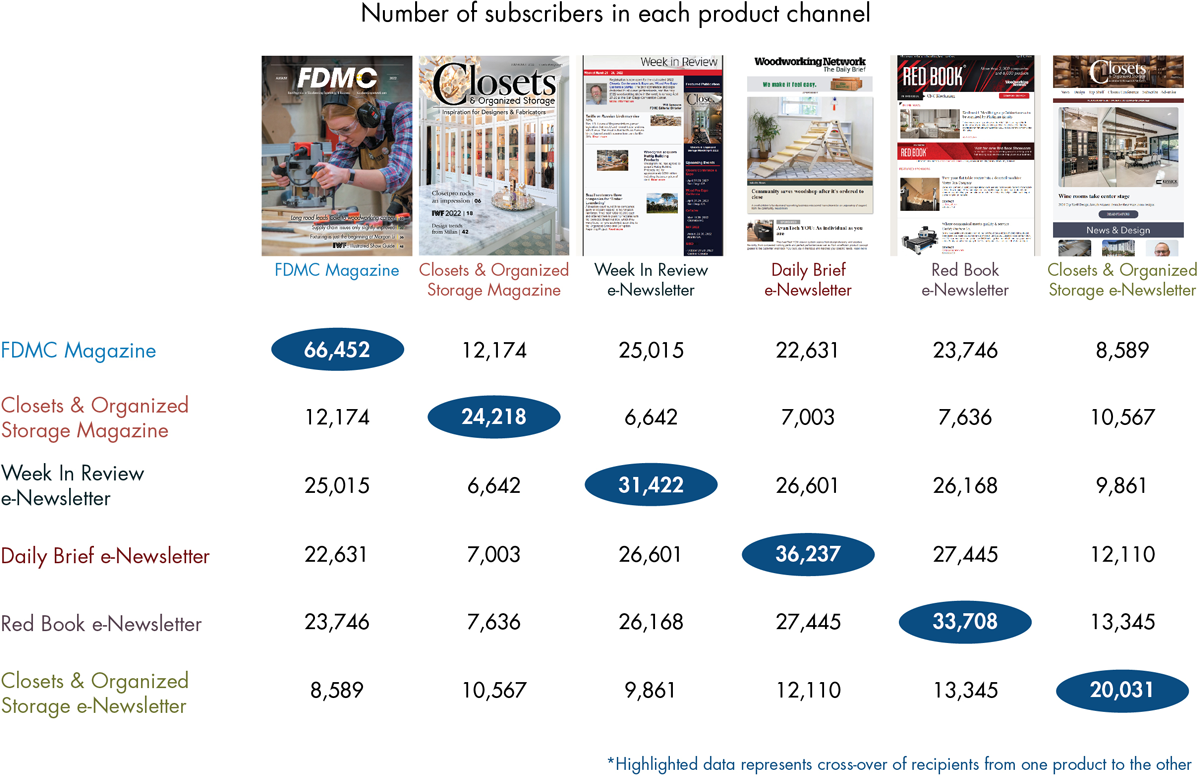 Above figures are averages and are not representative of exact delivery distribution   
YTD, July 2022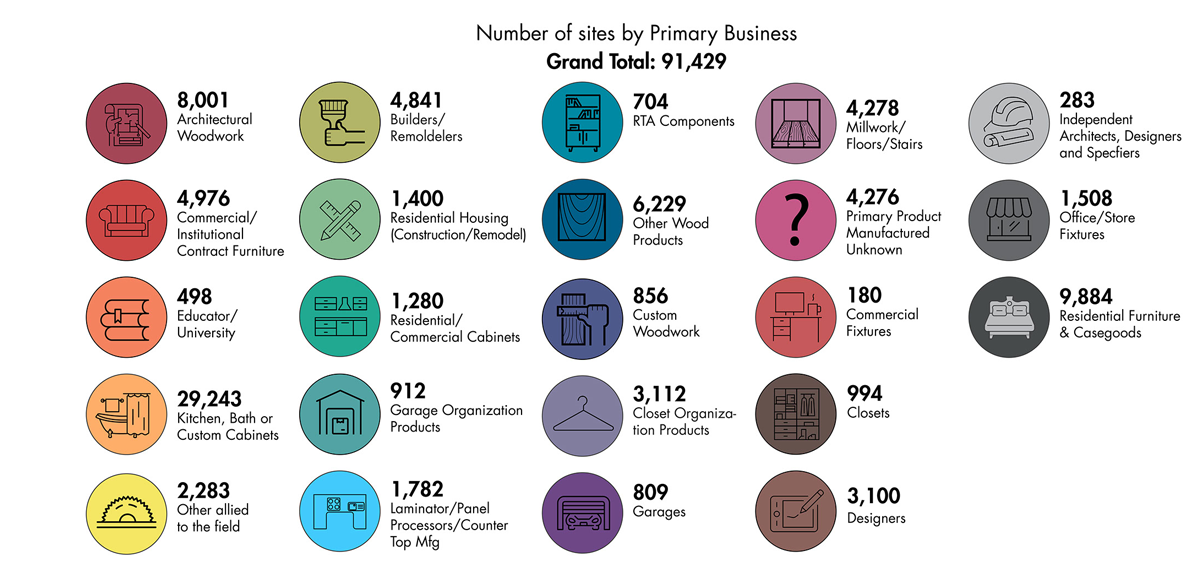 The data within the Woodworking Network Data Center also segments each site by primary business sector within the wood manufacturing industry. Robust data like this provides the opportunity to target specific sectors that are most important to you. 
YTD, July 2022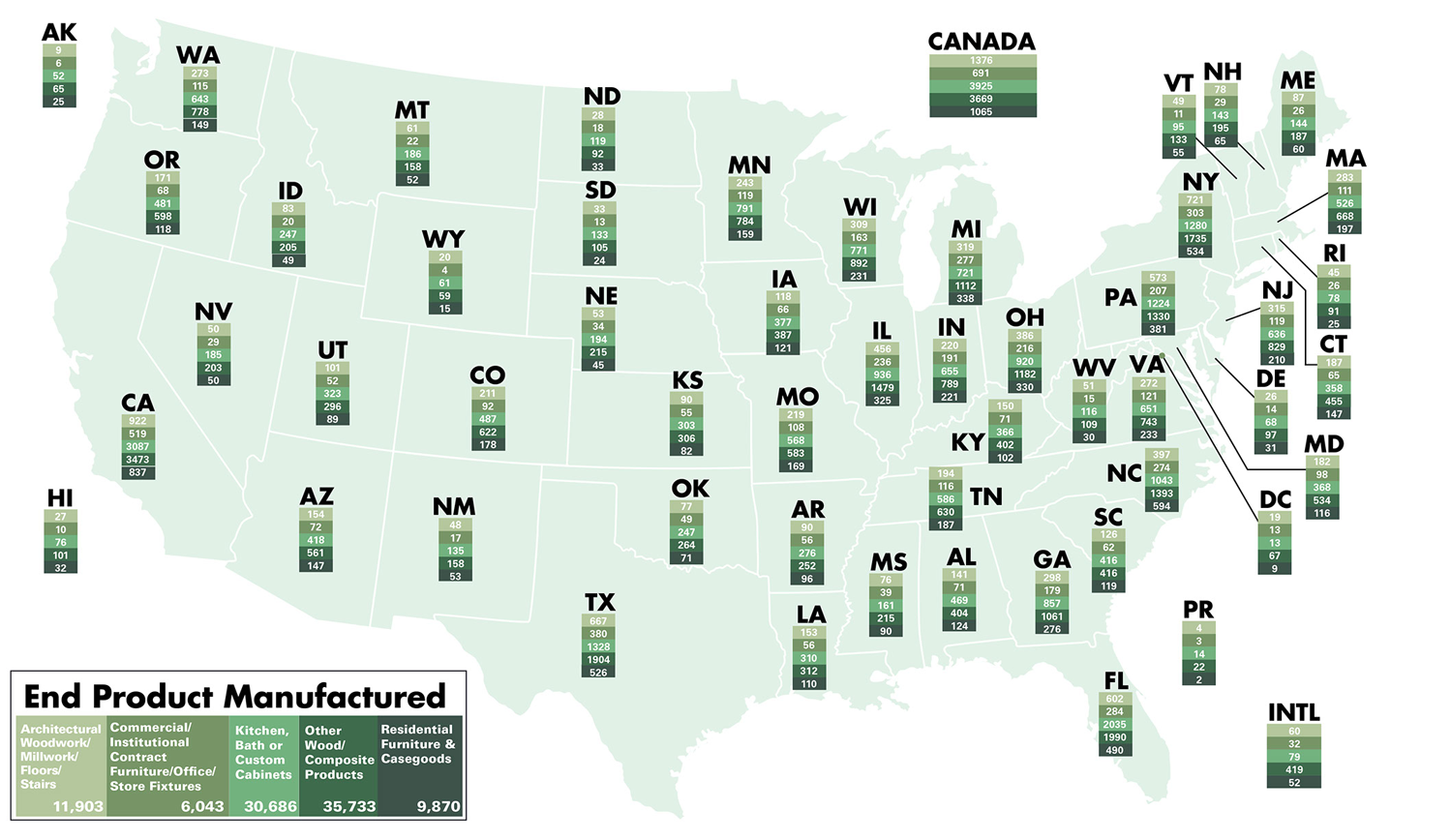 This map represents the number of sites/plants within top business classifications by state.​​​​​

Total Units by Classification:
11,903 Architectural Woodwork/Millwork/Floors/Stairs 
  6,043 Commercial/Institutional Contract Furniture/Office/Store Fixtures 
30,686 Kitchen, Bath or Custom Cabinets
35,733 Other Wood Products  
  9,870 Residential Furniture & Casegoods

YTD, July 2022    
You can reach the qualified woodworking professional via the Woodworking Network Data Center

Use the Woodworking Network Data Center to supplement your database and deliver intel to your sales teams to help them strategically plan their sales approach. 
Woodworking Network Data Center reports are delivered to you in an Excel file so you can easily embed the data into the mapping software of your choice.

Here's what your report will include:
• Company Name

• Number of Employees

Sample Data Report


• Address, Phone & Fax Numbers

• FDMC 300 Ranking, if applicable

• Primary End Product Produced

• SIC/NAICS codes, if available

Rate: $8,295 for the full Woodworking Network Site Database
Demo/Geo sorts are 15 cents/site with a $5,000 minimum