Woodworking Network (WWN) serves small to medium sized shops and large wood products manufacturers, standing as the leading information source for professional woodworkers, cabinet makers, furniture manufacturers, home organization, closet companies and more!

In this highly diversified North American wood products market totaling an estimated $104.5 billion, it's more important than ever to develop a powerful marketing campaign to achieve your objectives for reaching the professional woodworking executives of North America.


U.S. Market Size by Industry (in billions)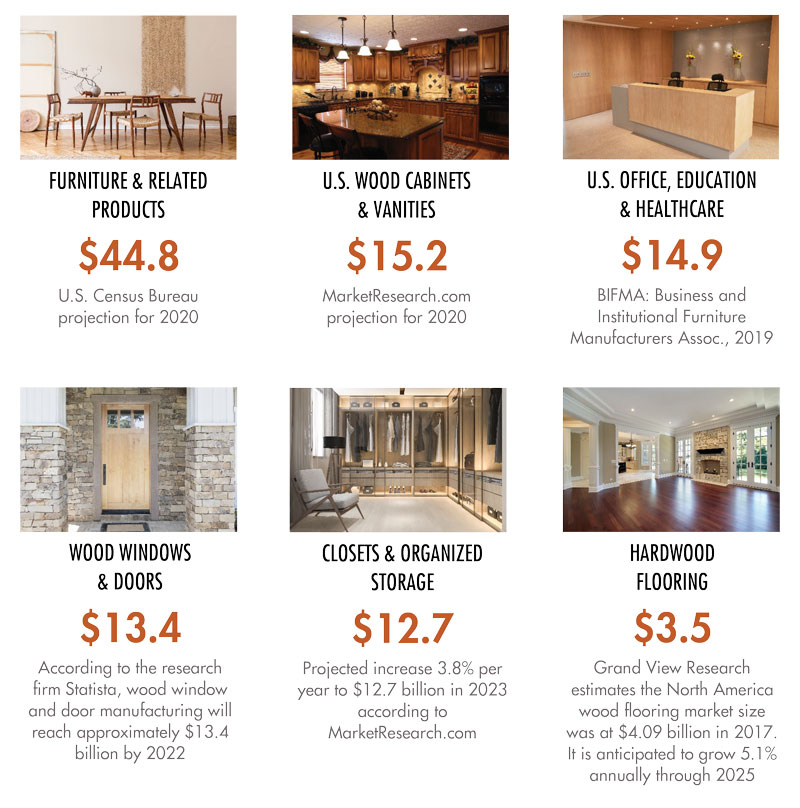 Woodworking Network has every tool you need to connect with this

multi-billion dollar industry…from the mailbox to the smartphone!
Marketing choices are plentiful in today's crowded media space. Choosing the right tools to carry your message is critical. Woodworking Network is the premiere supplier of marketing and communications tools to build brand awareness and preference among professional woodworkers. Nowhere else can you find the variety of options nor the database depth necessary to gain the market share your brands deserve. 
Whether it be print, digital, events, or data, Woodworking Network offers the most trusted resources and widely recognized communication channels for reaching manufacturers of:
Furniture 

Cabinets

Millwork

Store Fixtures

Closets & Organized Storage Solutions

and Other Wood Products.

Build the perfect marketing mix to deliver your brand message to the masses of woodworking executives and generate the qualified leads you are looking for with these great tools from the Woodworking Network.



The channels of the Woodworking Network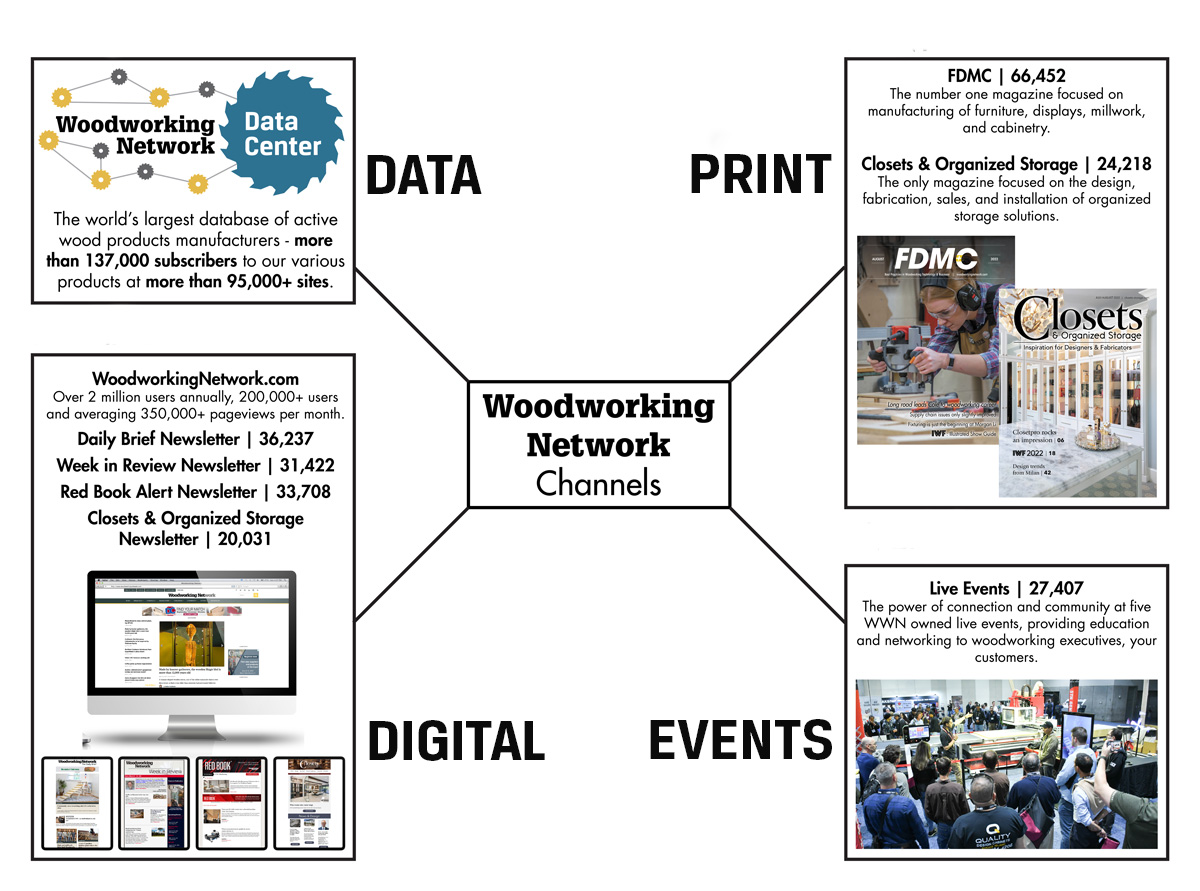 YTD, July 2022

Put your brands on the road to effective, efficient multichannel marketing with an individualized blend of print, digital interactive, face-to-face and data. Drive sales and build your brands by leveraging the unique strengths of each communications option.
Why advertise with Woodworking Network?
In addition to the outstanding reach and penetration of the market, all Woodworking Network products have tremendous brand strength, credibility, and respect among woodworking executives in North America. Combine that with an impressive array of media and communications tools at your disposal and you can be assured that only the Woodworking Network has what you need to deliver your desired results! No other media company reaches more professional woodworkers or provides a more comprehensive portfolio of business communication tools.
 
The 2023 media planner is arranged by the four platforms for media:

Each platform is unique in its ability to achieve specific results, and when you integrate several or all four platforms you can develop a powerful marketing campaign.
Take a close look at the variety and depth of the communications vehicles offered here. And while doing so, note that Woodworking Network's mission is to bring buyers and sellers together through educational resources produced specifically for professional woodworkers and the wood products manufacturing community.
Whether it be a print campaign in FDMC or Closets & Organized Storage, web advertising, sponsorships, custom media, or a choice of digital products, you are assured of success in getting your important message across to your targeted audience with a marketing campaign to illuminate your brand and help you increase sales!

Your most trusted source in reaching the wood products manufacturing industry