Seattle Central College's Wasserman named WMIA Educator of the Year
April 24, 2020 | 4:10 pm CDT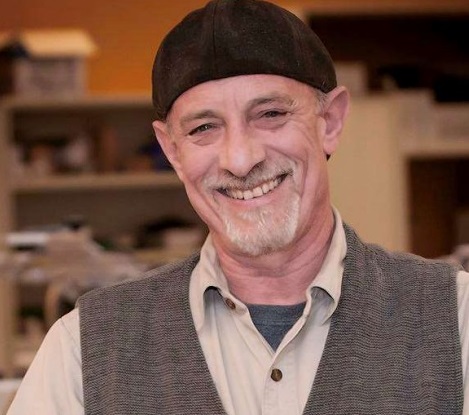 FAIRFAX, Va. -- The Woodworking Machinery Industry Association has announced that Jeffrey Wasserman, an instructor at Seattle Central College's Wood Technology Center in Seattle, Washington, will receive the 2020 Educator of the Year Wooden Globe Award.
The Educator of the Year Award is presented annually to an educational institution or company with a structured curriculum tailored to training individuals for careers in the woodworking industry. It is part of WMIA's Wooden Globe Awards program, which recognizes how investing in new equipment and technology can impact a company's productivity, efficiency, and profitability, as well as salutes the contributions of educators.
"Through our Wooden Globe Educator of the Year award program, WMIA is proud to continue our recognition of the positive impact being made by woodworking educators across the country," said Chris Hofmann, WMIA Education Committee chairman and Lamello product manager, Eastern U.S., Colonial Saw Co., Inc.
"At a time when fostering and training the next generation of woodworking professionals is so vitally important not just to our industry but to the nation's economy at-large, we cannot overvalue the contributions made by dedicated instructors and mentors."
Wasserman has been an instructor at the Wood Technology Center since 2003, in the core Introduction to Professional Woodworking Class, the cabinetmaking and architectural woodworking program, and an original community class on furniture design. His extracurricular work has included service as the faculty advisor to the Wood Technology Center Student Council and currently as the department's representative to the Faculty Senate of Seattle Central College. Throughout his career, his focus has been on the intersection of design and craft, and on forming a respectful collaboration between the two.
Starting four years ago, he registered the Wood Technology Center to participate in two national student design competitions: Design Emphasis, hosted by the International Woodworking Fair and Freshwood at AWFS Fair in Las Vegas, hosted by AWFS. To date, 10 students from his classes have been juried in as finalists, while five have won a combined total of $4500 in prizes, ink in national trade publications, and most importantly, confidence that comes from professional recognition.
In addition to organizing the students' participation in the competitions, Wasserman has been participating in education panels, hoping to help shape the narrative of modern industrial training, particularly the role of public schools in collaboration with industry.
"It is my honor to accept the Educator of the Year award from our supporters at WMIA," Wasserman said. "However, I do so on behalf of my fellow faculty, who with every student build a legacy of excellence in teaching.
 Wasserman received his first formal training at the Wood Technology Center in 1979, and earned a BFA in Furniture Design from the Program in Artisanry (PIA) at Boston University/Swain School of Design in 1986.
Two of Wasserman's students expressed strong support for his selection as Educator of the Year.  "Jeff has been a great role model for what is possible in this industry. He's inspired me to keep an open mind about where this path might lead me. He has encouraged me to push boundaries with design and take pride in what I can do," remarked Katie Roux. "Along with being very encouraging and thorough in his explanations, he has a unique ability to tailor his instruction to the current skill levels of students. He is one of the most passionate instructors I've ever had. He truly cares not only about his craft, but about teaching and inspiring us as well!"
Erica Cartwright added, "In my opinion, Jeff has the characteristics of a great instructor. What I see in him is his attention to detail, precision and process. He can deconstruct a complicated project component or process and carefully verbalize it into something anyone can understand. If I am having a hard time understanding a concept, Jeff can describe it in a way I can understand. He cares about the details, understands processes, values being precise, and is an expert communicator. Jeff should be selected for Educator of the Year because it's clear in his teaching that 'my success' is important to him!"
Wasserman, along with the winners of the Wooden Globe Awards for Innovation of the Year and Commitment to Excellence through Technology, will be honored during a reception at the International Woodworking Fair this August in Atlanta, Georgia. (The winners of the other two awards will be announced just prior to the reception.)
Jeff Maguire, owner of Maguire Machinery Group LLC, nominated Wasserman for this recognition. He said, "While there are several instructors on staff at the Wood Technology Center, it quickly became apparent to me that Jeff Wasserman was dedicated to, and invested in, his students' success. He didn't tell me about what he had done. He continually showed me what his students were accomplishing." See http://www.wmia.org
Have something to say? Share your thoughts with us in the comments below.