Wood Industry Market Leader: Bastien Larouche, Ro-Bois-Tic
November 26, 2013 | 12:08 pm CST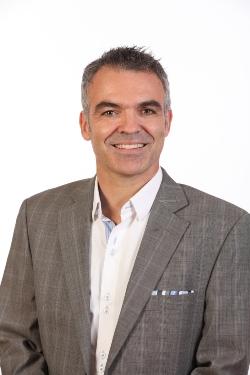 With more than 25 years of experience working in high-volume manufacturing environments, Bastien Larouche of St.-Apollinaire, QC-based Ro-Bois-Tic didn't envision having a career in the woodworking industry until his recent foray into the office furniture and kitchen cabinet markets.
Larouche began his diverse manufacturing career at Kraft Foods in the mid 1980s and more recently served stints as director of manufacturing for metal furniture maker Amisco and as plant manager of Teknion, a manufacturer of wood office furniture. In his mind, the challenges posed by each succeeding job along his career path, plus the MBA in business administration that he earned in 2003, helped prepare him to reach for the stars in August of 2011.
"During 2010 and 2011, I was actively searching for ways to have my own business, and starting a company from scratch was only the ''C'' plan," says Larouche.
Larouche met Tommy Gagnon, CEO of Automatech Robotik, in August 2011, and proposed renting Gagnon's robot to produce kitchen cabinets in a complete new concept: lights-out manufacturing, which is fully automated manufacturing requiring no human presence on-site. Ro-Bois-Tic provides OEM components to cabinet companies and other manufacturers. When Gagnon agreed, Larouche began a market study to build a solid business plan by December 2011.
"I was able to leverage the huge amount of capital to start Ro-Bois-Tic by March 2012," says Larouche. "The first production with the robot started in July 2012."
According to Larouche, starting a new company from scratch and making a real breakthrough in the kitchen cabinet sector has been one of his proudest achievements in the woodworking industry, and the decision to run his panel processing facility with the capacity of 8-10 ready-to-assemble cabinets an hour without any direct labor was one of the smartest he made.
In the near future, Larouche hopes to grow Ro-Bois-Tic by 100% per year to reach full capacity. Other goals include consolidating Ro-Bois-Tic's customer base through customer satisfaction and building a new plant (replication) inside a bigger market in Canada.
"I am looking to have half of my production devoted to office furniture and the other half to kitchen cabinets," he adds.
Outside of business, Larouche likes to spend his leisure time traveling in the United States and Canada with his family, as well as participating in outdoor activities such as camping, biking and playing golf.
Quick Glimpse
• Education: MBA from University Paris-Dauphine, MBA from UQAM, and a graduate degree in administration
• Number of years at the company: 2
• Number of years in the industry: 8
• Best advice received: Have a self-confident attitude and always look ahead, never back, except to learn from error.
• Who is the one person you've tried to emulate in business and why? Winston Churchill because of his courage & leadership in adversity
Have something to say? Share your thoughts with us in the comments below.