Darker Finishes Bolster Soft Maple at Hard Maple & Cherry's Expense
June 25, 2015 | 11:49 am CDT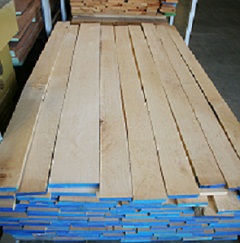 The soft 
maple outlook is optimi
stic relative to most species.  Cabinet and dimension plants are using more Soft Maple, and many expect sales to strengthen in the second half of 2015.
While painted and darkly stained cabinets are increasingly popular, manufacturers will still buy plenty of Sap/Btr because it can be used in all applications.  Exports aren't a large part of the Soft Maple picture, but a 1% YTD increase in Soft Maple exports vs. a 19% Hard Maple decline suggests Soft Maple is taking a larger share of the global Maple market.
Cherry once commanded a price double that of other tight-grained woods, but prices are now about on par with similar Hard and Soft Maple items.  Inconsequentually,  low prices are not generating additional domestic demand for Cherry. 
Cabinet and furniture plants that used to lightly stain cherry, are now darkly staining or painting unselected and brown soft maple, hard maple, birch or even lower-cost woods.  Cherry exports were up 10% on the year through April, but overall cherry markets will remain unhealthy until domestic demand picks up; which won't happen any time in 2015.
Have something to say? Share your thoughts with us in the comments below.