World's Tallest Timber Building Now Under Construction; To Rise 10 Stories
August 7, 2015 | 11:35 am CDT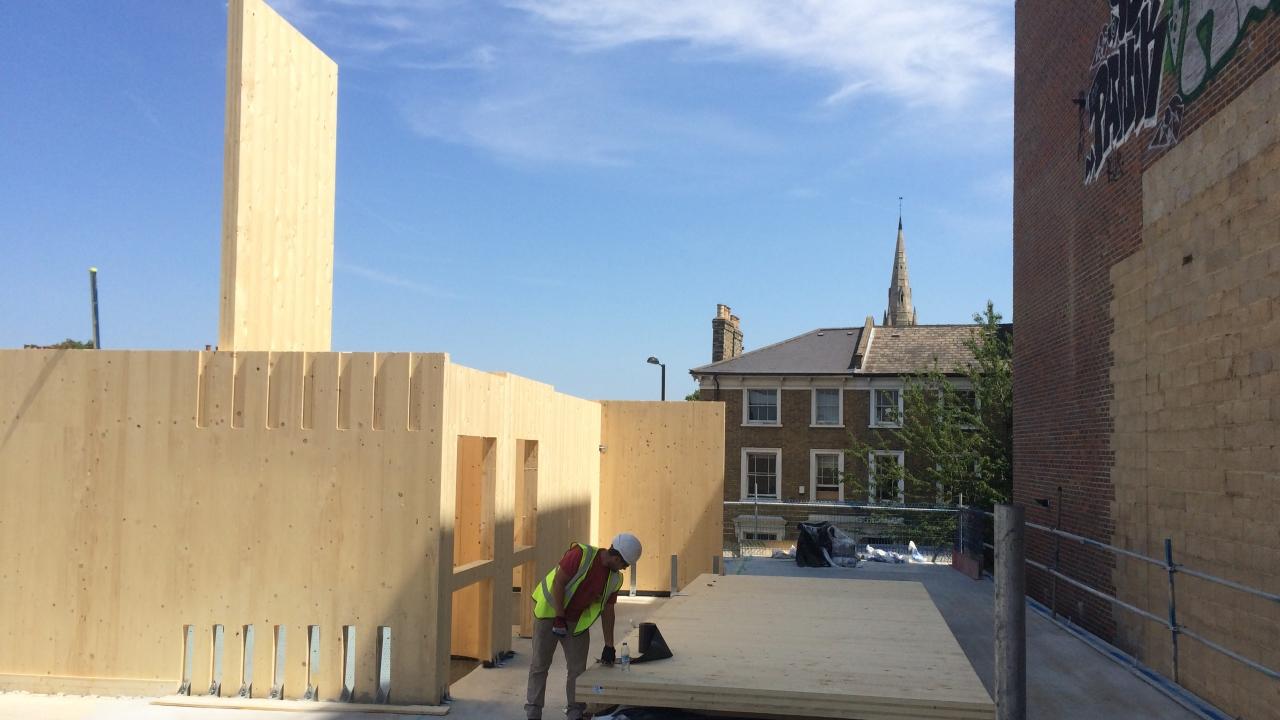 Cross laminated timbers are being used in mass quantities for the tallest wood building so far: a 121-unit, 10-story  apartment complex  in London. Architects Waugh Thistleton, CLT engineers Ramboll and developer Regal Homes, says the most exciting aspect of the project is the sheer size of the structure and its completion without the use of thousands of cubic meters of concrete.


To be covered with a brick facade, the project has seen more than 3,500 m3 of timber arriving at the construction site as work gets underway on a record-breaking cross-laminated timber (CLT) residential structure, which will become the tallest of its kind in the world.
The 121-unit development is estimated to use more timber than any other project in the world, making it, by volume, the largest CLT project globally.
---
The project residential capacity of 121 units will be 12,500 sqm (about 125,000 square feet), with over 3,460 sqm of commercial space.

CLT structures are the only sustainable solution to provide high quality, high density housing.

Ramboll's CLT experts have calculated that the building will save 2,400 tonnes of carbon, compared to an equivalent block with a concrete frame. By using CLT construction, the embodied carbon is 2.5 times less than that of an equivalent concrete frame. Taking into account that timber stores carbon by absorbing carbon dioxide (CO2) from the atmosphere, which is also known as 'sequestered carbon,' the structure can definitively be considered as 'carbon negative'.


Upholding its material integrity, Dalston Lane's external, party and core walls, floors and stairs will be made entirely of CLT.

The London borough of Hackney actively encourages timber construction, mooting a 'timber first' policy in 2012, and this building will join a number of other timber buildings in the area making this central London borough a world leader for timber construction.

Commenting on the site delivery, Ramboll Director and CLT expert Gavin White said:

"It is exciting to see this benchmark project get out of the ground. The height and size of the Dalston Lane building shows how versatile CLT is, as well as its potential in leading the future of sustainable construction. We have been working on CLT projects for over 10 years now, so it's heartening to see Hackney actively encouraging CLT construction, and we look forward to completing what will be a landmark building."

Commenting on the ground breaking nature of CLT use in residential developments, CEO at Regal Homes Simon De Friend, commented, "Regal Homes is proud to have pioneered CLT construction in London. Having already achieved great success with our first CLT structure, Banyan Wharf, Dalston Lane represents a landmark development for the company, and a pivotal moment in our history as our first project in the private rented sector."

Andrew Waugh, director at Waugh Thistleton, said: "CLT structures are the only sustainable solution to provide high quality, high density housing, and as such this project given its scale and ambition is a seminal piece of architecture"
 
Have something to say? Share your thoughts with us in the comments below.