'Most advanced' engineered wood building in the U.S. opens at UMass
April 27, 2017 | 12:06 pm CDT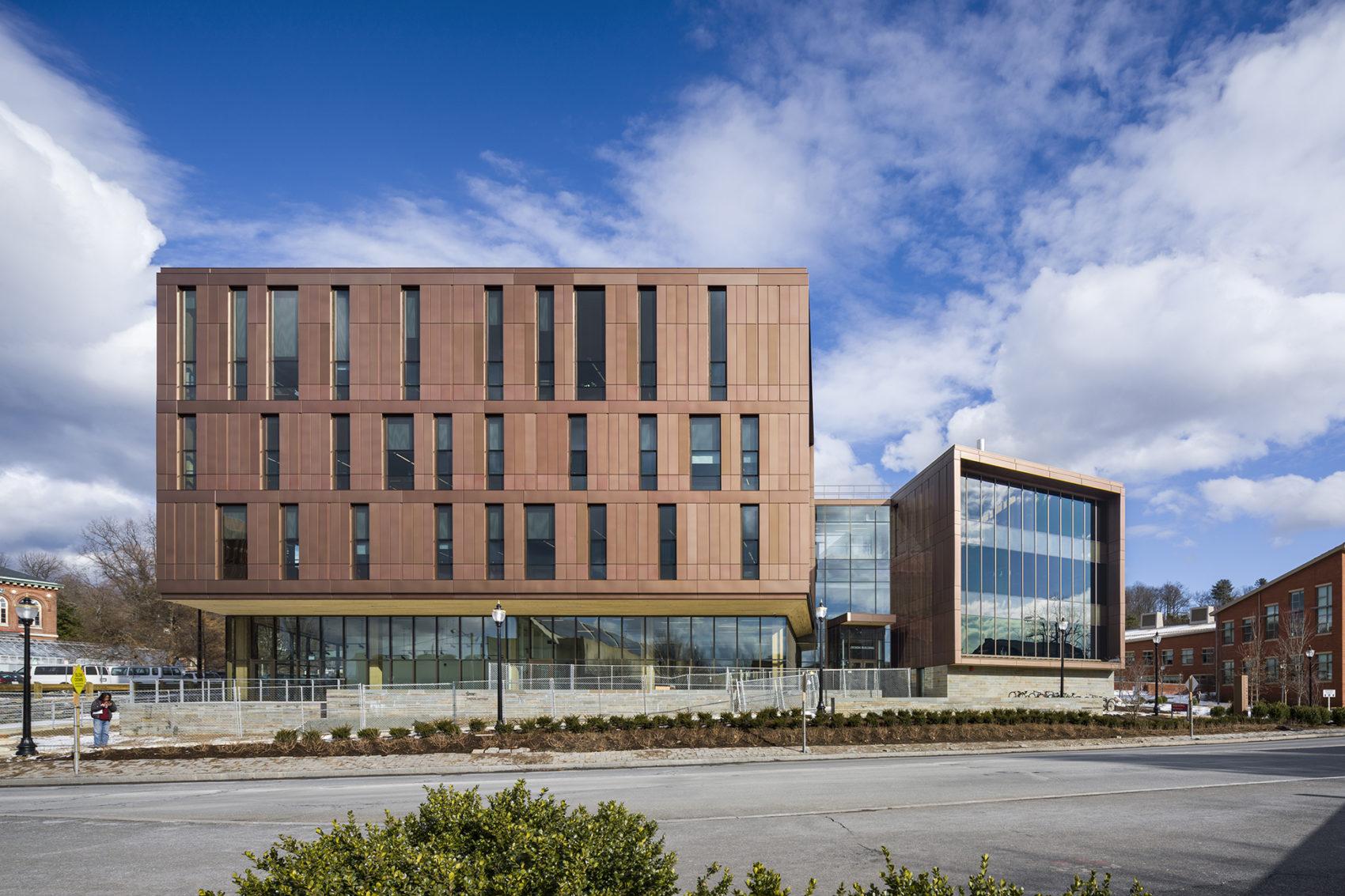 Photo By University of Massachusetts Amhurst
AMHERST, Mass. – An 87,000-square-foot engineered wood building has opened on the campus of the University of Massachusetts. UMass says its new Design Building is the largest modern wood building in the U.S. - and the most advanced cross-laminated timber (CLT) building in the country.
Designed by Boston-based architects Leers Weinzapfel Associates, the $52 million building is among the first in the U.S. to use a wood-concrete composite floor system. The four-story building features a glulam frame, CLT shaft walls and stairway, and a wood-steel truss system.
Photo by Leers Weinzapfel Associates
The building saves the equivalent of over 2,300 metric tons of carbon when compared to a traditional energy-intensive steel and concrete building, says the university.
"The Design Building reflects the university's commitment to sustainability and innovation in education," said Chancellor Kumble Subbaswamy. "It is a landmark building that offers an optimal space for team projects and experimentation and serves as an educational tool for students exploring every aspect of architecture, design, planning and construction."
Photo by Leers Weinzapfel Associates
Home to the architecture, building and construction technology, and landscape architecture academic units, the building intentionally features exposed structural elements and service systems for teaching. The building's disciplinary program is organized around an interior courtyard of exposed timber, an exterior landscaped courtyard and outdoor classroom.
CLT is quickly gaining momentum around the country as advocates say it can be used to construct buildings of equal strength and fire-resistance as those made of steel and concrete. It has also fueled the passions of architects and environmentalists, who believe it to be a much greener method for housing the world's growing population.
Due to its benefits for carbon capture and reduced CO2 emissions in construction, CLT has sparked interest worldwide. Proposals for new projects include a 100-story tower in London, a 40-story building in Stockholm, and a residential complex in Vancouver.  An 18-story CLT wood structure, a student residence at the University of British Columbia, is nearing completion.
Photo by Leers Weinzapfel Associates
Have something to say? Share your thoughts with us in the comments below.