Custom woodworker taps Chicago's urban forest
September 20, 2016 | 2:19 pm CDT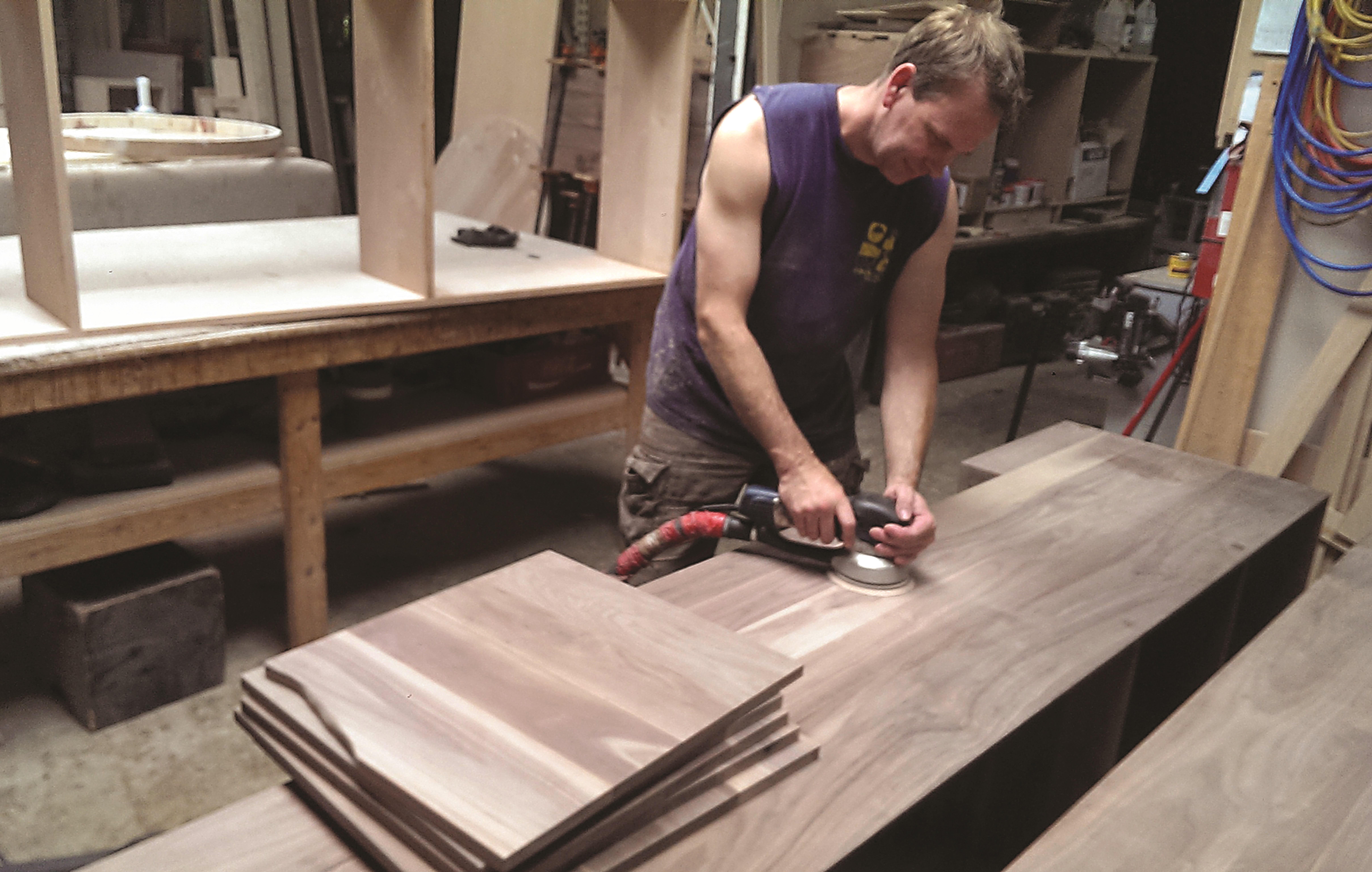 i2i Design of Wood Dale, Illinois, is among a small but growing group of custom woodworking businesses focused on crafting products from the urban forest.
Ken Wier and his wife, Lynn, co-owners of the niche business, use wood milled from community trees felled throughout the greater Chicago area due to insect infestation, storm damage, urban development, old age or other life-ending causes. The growing company's raw material base ranges from backyard white oaks and curbside elms to parkland maples and ash sourced from wherever the deadly emerald ash borer has invaded.
Ken and Lynn Wier started a custom woodworking business focused on crafting products from the urban forest.
In the process, making furniture, wall cladding, doors and other wood products, i2i Design saves valuable urban logs from being chipped and added to the waste stream.
The environmental benefits of repurposing urban forest woods appeal to companies and individuals looking to demonstrate their commitment to a healthier planet. Regular corporate customers of i2i Design include Starbucks; Mariano's, a popular Chicago-area grocery store chain now owned by Kroger; and Freshii, an up-and-coming eco-friendly, healthy eating restaurant franchise.
i2i Design also tackles unusual residential projects that capitalize on a tree's story. For example, a suburban couple contracted i2i Design to create a dining table, chairs and bench from an old oak tree that was removed to make room for their new home.
"Customers like the fact that we're reusing something instead of just cutting it down and chipping it up," Lynn Wier said. "They love the whole story of giving a tree a second life. Having a cherished tree become heirloom-quality furniture makes for a great conversation piece."
Ken Wier said his "coolest project" to date was an 18-foot conference table for a Chicago advertising agency made from two walnut boards each 24 inches wide and 3 inches thick with the live edge meeting in the middle. The table was mounted on a concrete base.  "The table was so large it wouldn't fit in the elevator or up the stairs," Wier said. "The elevator company had to remove the ceiling from the cab so that they could get the table up to the fourth floor."
Kitchen island made from urban wood. Regular corporate customers of include coffee shops, grocery stores and restaurants.
Career shift
Ken Wier's woodworking career path has a very familiar ring – it started in a garage.
He developed an interest in woodworking while taking shop classes as a youth and later working in a friend's furniture shop. When he lost his job as a print salesman during the 2001 recession, he took advantage of his downtime to hone his woodworking skills by working on projects and "picking up tips and information from friends."
Wier founded i2i Design in 2002 and fabricated furniture and other wood products using more traditional hardwood sources for the first four years. A big break came in 2006 when he was contracted by Uncommon Ground, a Chicago cafe, to fabricate a wide assortment of furnishings. In a twist from the usual, the contract specified using locally sourced urban wood, which dovetailed with the restaurant's emphasis on using regional organic ingredients.
The project included white oak dining tables, a large maple community table, a sliding "barn" door and a fireplace surround assembled with a variety of urban wood scraps to form a mosaic pattern.
Ken Wier admitted he "was skeptical at first" about working with urban wood. "The wood seemed a bit more rough and raw compared to typical lumberyard stock. But I grew to like the unique character and colors of the local tree wood. I also came to see reclaimed urban wood as a niche to differentiate my business because so people are becoming more concerned about the environment and looking for ways to be more environmentally friendly."
Wier's personal commitment to the environment is evidenced by his use of Franklin Titebond water-based adhesives, which has the added benefits of being formaldehyde free and FDA approved, and water-based finishes from General Finishes.
"The general impression among customers is that they think using urban wood is going to cost more to use," Lynn Wier added. "But it doesn't and it's much more beautiful and has a lot more character than graded woods."
Forging an urban wood network
Wier said he owes much of his company's success to finding good suppliers of urban wood. Horigan Urban Forest Products of Skokie, Illinois, provided him the kiln-dried hardwoods used in the Uncommon Grounds project.  Through owner Bruce Horigan, Wier met Rocky Levine, owner of Icon Modern, a Chicago-based company that specializes in furnishing customers with products made from urban wood, as well as wood salvaged from deconstructed buildings. Through his association with Icon Modern, Wier has done work for dozens of Starbucks stores throughout the Midwest.
Table and door craft from urban wood at Uncommon Ground. I2i fabricated a wide assortment of furnishings, and the contract specified using locally sourced urban wood.
Lynn Wier, who manages the company's office, website and shoestring marketing budget, said the projects for Starbucks range all over the board from a single large community table to outfitting an entire store with tables, seating, counters and wall cladding. Table tops fabricated for Starbuck are stamped "Reclaimed Urban Wood." Wier stamps his other products "Reclaimed American Wood."
Ash is the most frequently requested wood specified for by Starbucks and also happens to be Ken Wier's favorite urban wood. "It cuts and finishes easy, has very little movement and for its weight is very strong," he said.
More of late, Ron Meyers of Meyers Woodworking & Lumber of Batavia, Illinois, has become a major go-to source of urban lumber and live-edge slabs for i2i Design's projects. Like Horigan, Meyers is a member of the Illinois Wood Utilization Team, an ad hoc group working on developing and promoting urban wood use throughout the state. Meyers has been milling lumber from urban trees for about 28 of the 30 years he's been in business. In recent years he has nearly given up custom cabinet making to devote his full energy to putting his Wood-Mizer portable sawmill through the paces. Over the years he has built his business allying with tree care industry professionals and municipal managers, plus word-of-mouth referrals through businesses and homeowners.   
"Knowing what Ken of i2i Design and other woodworking customers are looking for comes from asking questions and my past experiences," Meyers said. "Ken and I often talk about past, present and upcoming projects to help guide me to find what they need. Some logs are more valuable to me based on my client's needs not on my personal choices."
"Ron is a great resource," Ken Wier said. "I'll let him know what species future projects will require so that he can find them, mill them and dry them so that they are ready when needed. Ron has also been great about letting me know if he comes across something out of the ordinary that he thinks would be of interest to me."
i2i to the future
i2i Design operates out of a 7,500-square-foot shop, its third location since Wier moved the business out of his garage in 2003. The company has five employees, including the Wiers, and fabricates its products using an arsenal of traditional woodworking equipment: planer, bandsaw, widebelt sander, etc.
The Wiers have worked to grow the food niche within its urban wood niche. i2i Design exhibited in May for the third consecutive year at the National Restaurant Association Show in Chicago. The star attraction at the company's booth was a "wonderful elm slab" with a hole that allowed booth visitors to put their hands into it. "We would constantly see people walk around the corner, see the slab, and stop to look even if they weren't interested in furniture," Lynn Wier said.
Backyard oak. i2i Design saves valuable urban logs from being chipped and added to the waste stream.
Exhibiting at the restaurant show has been well worth the investment for drumming up new business. That's where the Wiers met representatives of Arooga's Grille House & Sports Bar, a rapidly expanding Pennsylvania-based franchise. The scope of work includes routing Arooga's logo into wall cladding. It's got Wier thinking about buying a CNC router instead of continuing to outsource that type of work.
The one big problem with that, Lynn Wier pointed out, is that i2i is maxed out of space. "We've already been thinking about possibly having to add a second shift to keep up with our orders. Adding new machines will mean having to move again. We're hoping the business will continue to grow, but not too fast."
Have something to say? Share your thoughts with us in the comments below.