Woodworking Network Magazine Launches October 1, 2014
August 19, 2014 | 3:30 pm CDT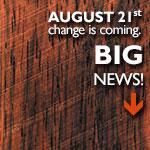 Dear Industry Colleagues,
New things are happening at Woodworking Network. In April this year we completed a comprehensive study to learn more about the woodworking professional. What we found out is woodworkers have more in common than differences. Even when we looked at volume producers vs. smaller custom shops they shared the same characteristics:
• You love being a woodworker because its creative and your work makes customers happy.
• It's a tough way to make a living but you are always looking for new ways to make it easier.
• You use all types of media to find new products and solutions.
• Your top choices for finding information are trade magazines, woodworking websites, e-newsletters and tradeshows.
We also found that the number of volume wood product producers is decreasing and custom is increasing. The research showed 83% semi to all custom products vs. 17% volume producers.
All of this information helped us decide to once again change with the marketplace and deliver a brand new magazine…Woodworking Network. The new magazine will keep the great content you love from Custom Woodworking Business, Closets and Wood Products but will expand its coverage into key market segments such as Cabinets, Closets/Home Organization Systems, Furniture, Architectural Woodwork, Panel Processing, Finishing Operations, Technology, New Products and so much more!
The new magazine will be delivered to more than 63,000 woodworkers, the largest database in the industry.
The new magazine will be printed on better paper and it will once again have a spine (YAY)!
Coming in January our website Woodworkingnetwork.com will debut its new look and design. The new responsive design will automatically adjust its size to your viewing screen whether it's a smartphone, laptop or tablet!
Sincerely,
Laurel Didier
Executive Director, Business Lead
847-634-4365
[email protected]
Have something to say? Share your thoughts with us in the comments below.