Spike TV Furniture Designer Joins 2015 Cabinets & Closets Expo
February 12, 2015 | 10:30 am CST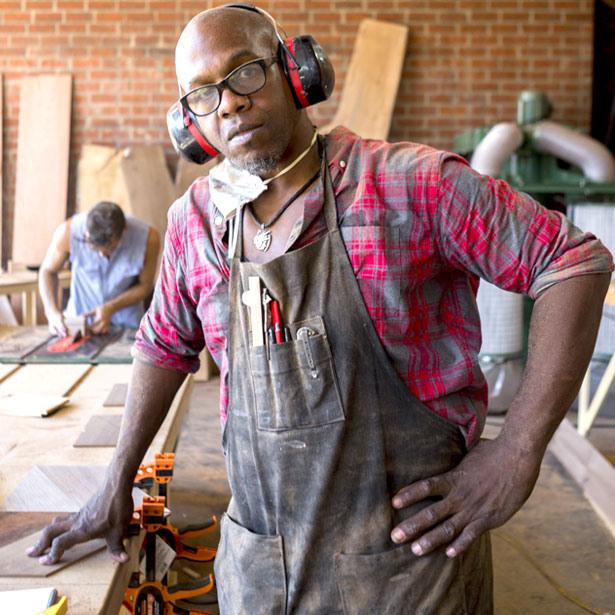 CHICAGO, IL  — Each week on Framework, Spike TV's new furniture design competition series, Chicago furniture designer Brian K. Ellison competes to design and build an artistic and functional furniture piece from unexpected materials in a 24-hour time period.
Ellison, owner of BKE Design, Chicago, has successfully met this challenge through the first 6 weeks of Framework and to date remains in this 10 week competition that began with 13 contestants in January.
In April, Ellison will take on less time-sensitive responsibilities during the Cabinets & Closets Conference and Expo being held April 14-16, Schaumburg Renaissance. He will be part of an industry panel on custom design and will also help event sponsor, Woodworking Network, present industry awards in cabinet and closet design.
"It's great when the skills and expertise of craftsmen and designers in our industry are acknowledged through shows like Framework, " said Bill Esler, Woodworking Network associate publisher, "Brian is an accomplished and successful designer and we look forward to his contribution at our conference."
The annual Cabinets & Closets Conference and Expo is the total storage solutions event for manufacturers, designers and specifiers of custom cabinets, closets, garages and other organization products. The 2015 event, to be held April 14-16, is expected to be the largest regional Cabinets & Closets to date.
BKE Design provides custom design of commercial and residential spaces, furniture, lighting and handcrafted wood items.
Contact: Carroll Henning, chenning@vancepublishing.com, 847-415-8024
Have something to say? Share your thoughts with us in the comments below.