Tenex Capital Acquires Techniks, Merges It With NAP GLADU
January 20, 2013 | 7:48 pm CST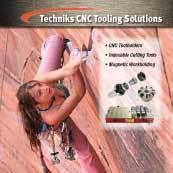 NEW YORK - Techniks, a wood and industrial tooling company, has been acquired by Tenex Capital Management, and merged into another Tenex tooling company business - NAP GLADU.
Techniks, based in Indianapolis, designs and distributes industrial tool holders, cutting tools and accessories. Founded 15 years ago, it markets products under the Techniks, Nexus and Earth Chain brands.
The merged companies will form a new tooling holding company, Quintec, serving customers engaged in cutting and machining metal, wood, plastics and composites throughout North America. NAP GLADU and Techniks will operate as standalone companies within Quintec.
Tooling supplier NAP GLADU, which designs, manufactures and services broad families of integrated custom cutting tools for the wood, metal and advanced materials markets, was acquired by Tenex in July 2012.  New York-based Tenex Capital Management is a private equity firm specializing in obtaining controlling interest in middle market companies.
Bill Van Sant is now executive chairman of the board for the newly formed Quintec.  Brad Stack will continue as president of NAP GLADU; Nick Tuttle and John Stagge, Techniks co-founders, will assume the new roles of co-presidents at Techniks. Dan Cook will become chief integration officer of the new Quintec company.
"Synergies that will be shared by Techniks and NAP GLADU will result in a company that is differentiated by speed to market, innovation, technology and superior customer service,"says Van Sant.
Have something to say? Share your thoughts with us in the comments below.