Casegoods Maker Eddy West Closes Its Doors
February 13, 2015 | 3:56 pm CST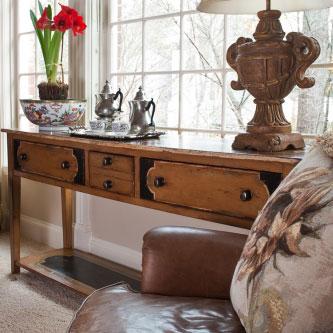 TOCCOA, GA - Custom casegoods manufacturer Eddy West is closing its doors this month after 20 years in business. The company announced its decision in an open letter posted on its website.
In part, the letter from owners Craig and Juliann Eddy states, "We have truly lived the American Dream. We had an idea, just a thought. With that and a trip to Santa Fe, New Mexico we turned it into a product and with a great deal of blood, sweat, and tears we developed a complete line of furniture. This product line that started in a small showroom of 10 x 20 with 12 pieces grew to eventually fill a 10,000-square-foot showroom with over 300 plus products in the line."
The economic downturn led to a decline in business, and a "roller coaster ride". The couple sold their 90,000-square-foot manufacturing plant in December and had planned to move to a smaller, more cost-effective facility to manufacture the residential furniture. "Unfortunately," the letter by Juli states, "something so simple became an impossibility because of logistics, government regulations, and a whirlwind of other things. So we are currently a company without a building. With a March move out looming in our future and a manufacturing facility is not a weekend move, we have had to make the very difficult decision to have a necessary ending.
"As of February, Eddy West will cease to exist."
Have something to say? Share your thoughts with us in the comments below.