KCD Software Releases KCD Cabinet/Closets Version 10
February 27, 2015 | 12:36 pm CST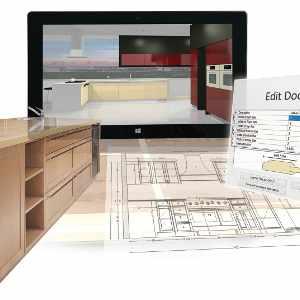 KCD Software has released KCD Cabinet/Closets version 10. On the front end, KCD has rolled their KCD Touch optimized software for tablets, laptops and PCs into version 10 and expanded its capability for mobile use from design and pricing cabinets, all the way through the building production stage.
On the back-end, the new proprietary technology developed in partnership with award winning Cabinotch® provides cabinetmakers with a distinct industry advantage. Version 10 best software production practices include; Traditional cut listing, Cabinotch precision-cut North American hardwoods and CNC manufacturing.
Custom design and build features in KCD have gone a layer deeper. For instance, in addition to perusing over 100 new door styles in version 10, cabinetmakers can now easily edit the individual door details like stile and rail dimensions for a truly custom look.
Version 10 generates superior job nests using the CNC Manager. Cabinetmakers using CNC can specify multiple jobs together, individual parts and replacement parts. They can specify the grain rotation and quantity for each piece. So, in addition to having an extremely easy to use interface, KCD Software's CNC Manager gives cabinet shops the control to achieve a better yield every time.
Unit menus have exploded with new additions to the Frame and Frameless libraries and the Osborne Wood Library (included) plus new valance styles, hutches, countertop styles (with "smart" custom profiling), appliances, closet features, and more.
Added mobile features make using a PC tablet on the jobsite a groundbreaking organizational tool – saving job site pictures with handwritten notes, cabinet designs and pricing – all in one place. Cloud-friendly feature makes the entire job file accessible at once to a production team.
"In soft-launching version 10, the Development Team worked hand-in-hand with hundreds of custom cabinetmakers to maximize their capabilities," says Ken Frye of KCD Software. "It's great to see them [the cabinetmakers] ramping up in every aspect of their work — using KCD to compete with imports and big manufacturers in a way they couldn't before."
KCD Software is an award-winning software manufacturer celebrating 30 years in the industry. Core values of fairness, innovation and customer satisfaction drive KCD's commitment to making great design, price and build software for cabinet and closet makers.
Have something to say? Share your thoughts with us in the comments below.