12 tips to create money-making products: WOOD 100 Strategies for Success
October 17, 2016 | 12:44 pm CDT
There's no lounging on the job for these top innovators. Check out the strategies these WOOD 100 companies have when it comes to new product development.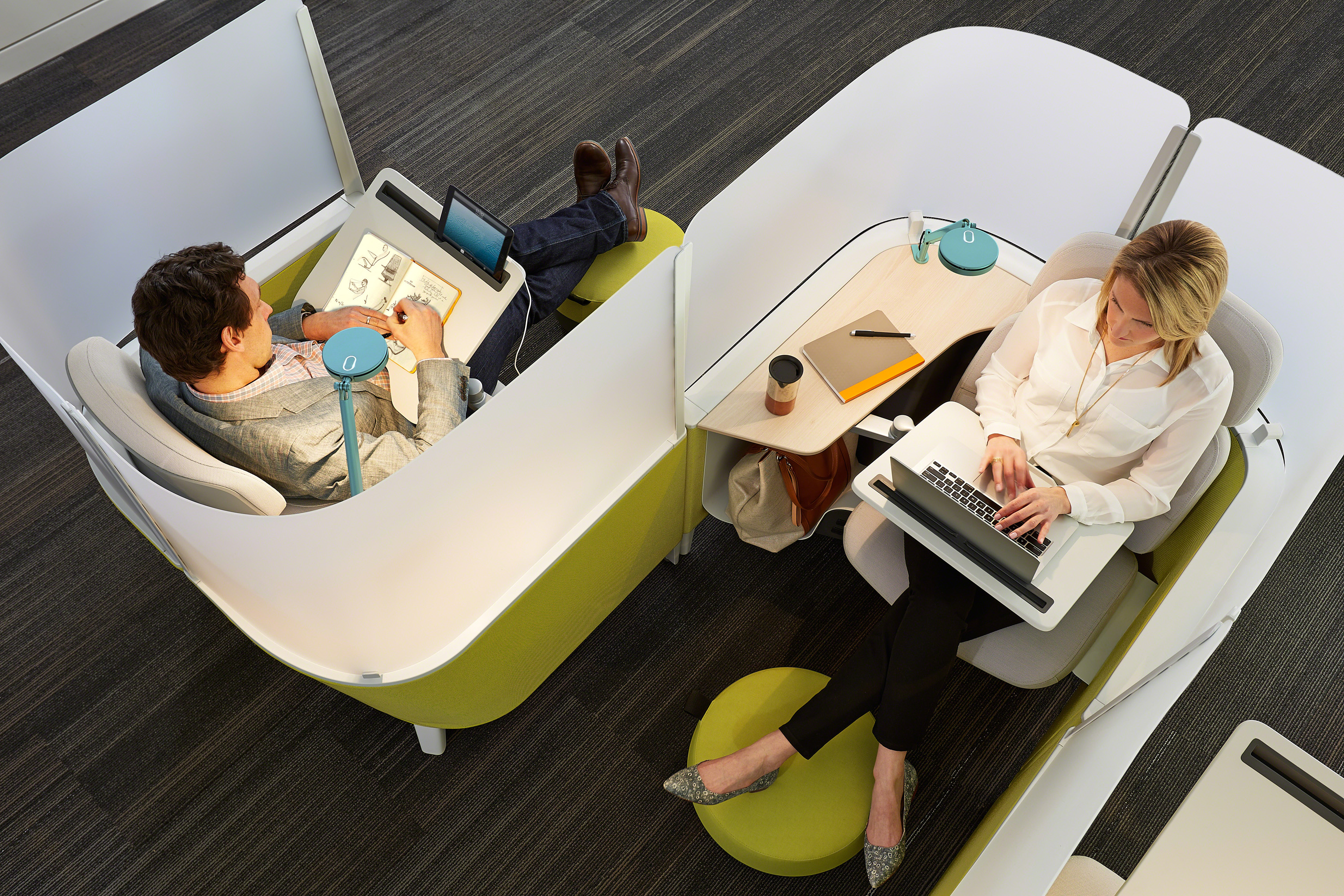 Steelcase, Grand Rapids, MI —  The contract furniture giant said its Brody WorkLounge is "the first and only microenvironment designed for the brain and the body" — enabling people to remain focused on what's important.
The Brody WorkLounge, which debuted in 2015, was developed from research which showed that in a typical day workers and/or students will "switch tasks every 3 minutes, get interrupted every 11 minutes and take 23 minutes to get back on task," thus making productivity hard to maintain, Steelcase said.
The furniture is part of the Intelligent Office concept of embedded technology. For example it could be adapted with a sensor, which would activate a red light around the chair's perimeter, signaling that the unit is occupied, Steelcase said.
Arbor Mills, Lockport, IL —  The luxury kitchen, bath and other room cabinetry manufacturer has consolidated its interior cabinet organizing systems under the brand name BIN. "This is an extensive systematic coordination of related accessories for cabinetry," explained Daryl DelSasso, president.
The functional storage and workflow system optimizes a single drawer or group of drawers and cabinets into organized storage solutions, with the ability to adjust as a person's storage needs evolve. It includes 60 individual components for base, wall and tall cabinets, and drawers.
Arbor Mills also improved the finishing capabilities within the plant, including investments into a plural component finishing system. 2015 sales rose 8.3%.
Here's some more product ideas:
Wellborn Cabinet, Ashland, AL
The cabinet giant is also making a name for itself in the closets industry, with new products introduced regularly. "Wellborn Cabinet continued key product development to meet the demands of our customers and the continued delivery and support of our product," said Krislyn Wellborn, PR/social media specialist.
Premier EuroCase, Denver, CO
Success for the full-service panel processor "comes from our ability to maximize our manufacturing capabilities, and leverage our investments in technology that address emerging industry trends," said Andy Wilzoch, founder & president. Capitalizing on the popularity of its Reflekt high-gloss product, the firm launched two lines – UltraMatte and Ion – without making another large investment in the technology. "This allowed us stay a step ahead of our customers' expectations as well as our industry rivals by introducing the new materials as they are gaining popularity as the latest trends in interior design," he said. 
The Maui Closet Co., Kahului, HI
President Debra Finkiewicz attributes new product development for helping spur sales grow 8.2% in 2015. As a manufacturer of closets, wall beds, shoji-style doors and more, Finkiewicz said the company is "always looking for new ways to design and manufacture. We refer to the new trends in products, and work to keep all in track with our clients needs." To raise market awareness, Maui Closet skinned its new installation van with photos of completed jobs. "It is great advertising."
TC Millwork Inc., Bensalem, PA
The store fixture manufacturer has developed Smartwall, a UL-listed display and perimeter wall system that incorporates thin wall standards and brackets to power shelves with low-voltage, LED lighting. "Those shelves are wireless to the end user, so there are no visible connections," said Jeff Kubach, creative director.
Carlisle Wide Plank Floors, Stoddard, NH
The Manhattan Collection is the firm's first luxury wood flooring in a herringbone pattern. "We've seen an increased demand for patterned floors among our clients, though many want to use patterned flooring as a way to accent a particular room or design element in their home versus using patterned flooring throughout," said Dean Marcarelli, vice president & CMO.
A&A Millwork,  Minneapolis, MN
Sales grew 9.1% at the company, which specializes in historical wood mouldings, windows and doors. "We increased our sales focus on our high demand and unique ability products," said Nicole Aune, director of sales & marketing. The firm also reviewed those items which fit the category, "and put high focus with our sales team on these products, as well as increased our marketing efforts."
A-dec, Newberg, OR
In launching its new line of dental furniture, A-dec said it consulted with dental professionals to optimize the furniture for improved workflow and efficiency, including integrated LED lighting and USB ports. "The furniture is an innovative fusion of technology and materials that will set the standard for the dental practice of the future," said Ciarán Hynes, director of Dental Furniture Project Management. "It is designed to grow with the practice, and evolve along with technology and work styles."
Willa-Hide, Greenville, TX
The company has become the fastest growing concealed cabinet manufacturer in the country, with products developed to hide firearms, jewelry and valuables, with many different options available.

 Bush Business Furniture, Jamestown, NY
The contract furniture manufacturer says its Easy Office concept is an open office solution for one to 100 people. It comes in seven pre-packaged configurations, with pre-installed connectors, and in straight or L-desk formats.
Stikwood, Sacramento, CA
The company continues to develop new styles and finishes for its peel-and-stick wood plank paneling, used in residential and commercial applications. Sales have been growing since the product debuted in 2012. They're so good that the firm is expanding into Michigan, with plans to invest $4.2 million in a distribution facility.
Read more 2016 WOOD 100: Strategies for Success

Marketing Initiatives
Go-to-Market Strategies
Business Strategies
Productivity Enhancements
Technology Integration
Product Innovations
Customer Service
Return to WOOD 100 Main Page
Read the special Leadership Edition of FDMC online
Have something to say? Share your thoughts with us in the comments below.