Wood Products that Grab Attention: WOOD 100 Strategies for Success
August 28, 2015 | 1:09 pm CDT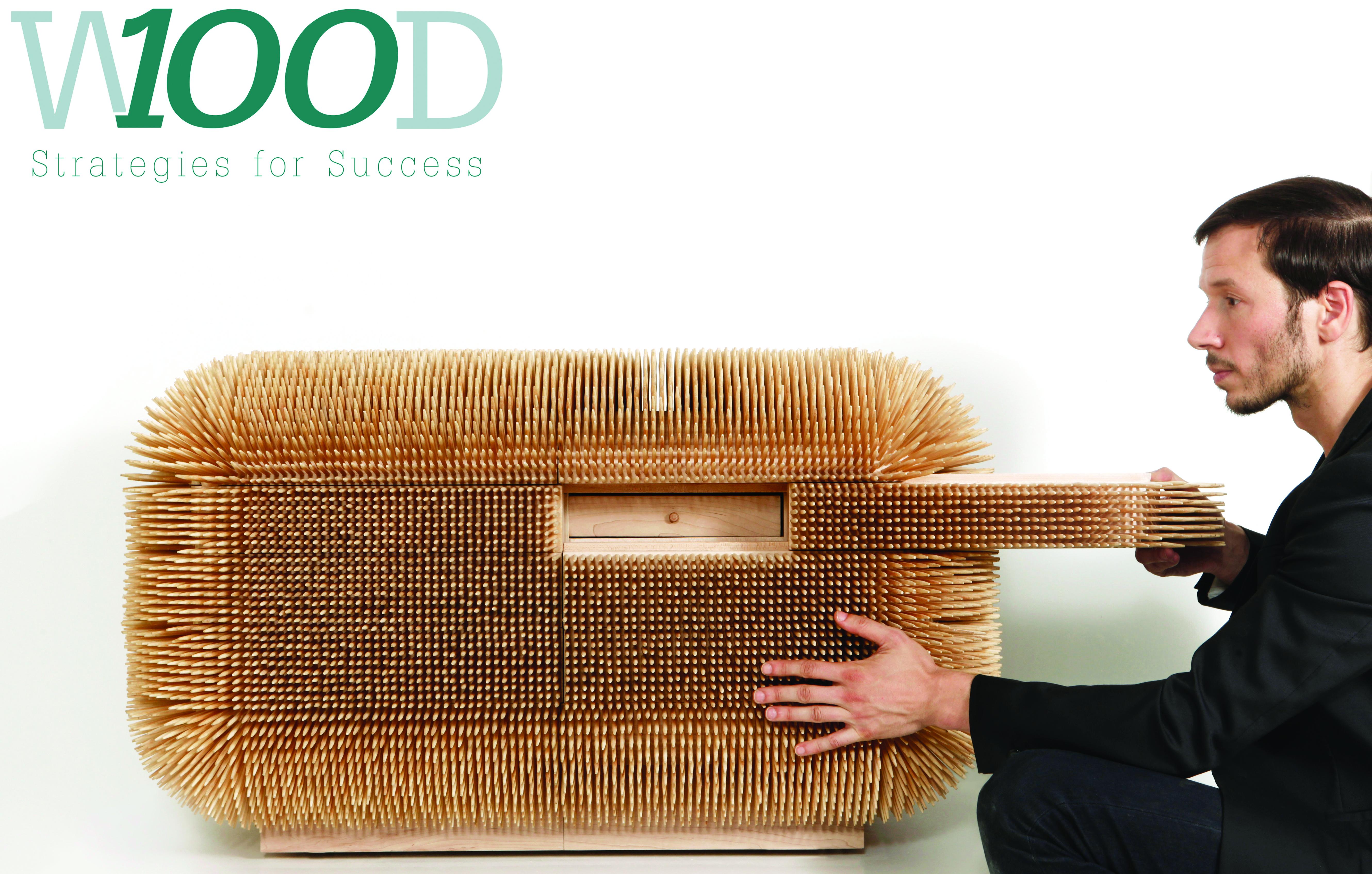 A good idea mixed with a dash of ingenuity and persistence can form a recipe for success. Check out some of the memorable woodworking projects that have taken the ordinary and made them extraordinary.
 
Sebastian Errazuriz, Brooklyn, New York — Chilean-born artist and designer Sebastian Errazuriz is known for the unique, and this Magistral Chest (pictured) certainly fits the bill.
Made from bamboo and hard maple, the chest is 24-inches X 23-1/2-inches X 62 inches (open) or 40 inches (closed). It slides open to reveal hidden drawers and when closed, 10,000 corn dog skewers give it a look reminiscent of a sea urchin or porcupine.
From concept to finish, the project took almost eight months, Errazuriz says. The woodworking was about 16 weeks, including more than five weeks for a team of four people to fit the skewers. Presented at the Cristina Grajales Gallery, the Magistral Chest was part of a cabinet series encouraging viewers to rethink traditional boxes.
Also read about Sebastian Errazuriz's Wave Cabinet
Beahm & Son Ltd., Evans City, PA
— Attention to detail is a hallmark of the custom cabinet shop. Founded in 1972 by Don Beahm, and run today by Rick Beahm and sons Ethan, Derrick and Cody, the 24,000-square-foot facility offers a complete suite of custom interior renovation services.  
"Every job is personal to us," Cody says. "All of our projects are considered works of art. We specialize in the fine points. Even our moulding is cut and assembled to the most stringent specifications.
"The attention to detail also extends to the lighting."We started by using Xenon halogen lighting, which was bulky, obtrusive and hot," says Cody. "Then we switched to LED and always spent way too much time making it fit into our designs."
In 2014, the company began using the low-voltage iluma Under Cabinet Lighting System from i-lighting with good results. "[The lighting's] sleek design blends right into the carpentry for virtually invisible results, with the LEDs using approximately 80% less energy than incandescent bulbs," Cody adds. 
More Top Products:
Birdie Miller Designs Inc., Stockton, NJ
For Owner Birdie Miller, service and ingenuity go a long way. To give his European-style cabinets a traditional look, the custom cabinet and furniture maker created the Eurobutt II, a European-style concealed butt hinge (EuroButtSystemsHinge.com). Sales for the custom woodwork firm grew 10.0%.
Wellborn Cabinet, Ashland, AL
Smart Design helps bring the concept of larger designs into smaller spaces, while still maintaining functionality and organization.  Wellborn says the Smart Design accessories are not limited to the kitchen, but can be used in cabinetry/storage solutions throughout the home.
Schenk/Stijle, Calgary, AB
Stijle is the manufacturing arm of Schenk Architectural Imports, a supplier of products for the cabinet, furniture, and millwork markets. Schenk won a 2015 Visionary Award for its Borke-Smoked Larch-deeply textured real wood panel. Made with wood veneers, the texture is embossed into the board using high pressure and heat, creating a unique look, says Karl Schenk, president.
Sedia Systems, Chicago, IL
The contract furniture company's JumpSeat Wall fold-down chair provides short-term seating. Made from plywood and mounted 6-inches off the floor, it measures less than 4-inches when closed. 
ClosetMaid, Ocala, FL and SVP Worldwide, LaVergne, TN
The two joined up in 2014 to launch a modular organizational system called Inspira Studio. Targeted for sewers and crafters, Inspira Studio's eight-piece furniture-style collection includes five large, stackable cabinets, two smaller mobile cabinets, and an adjustable activity table.  The flagship piece of the stackable cabinets, the thread cabinet can hold up to 300 spools and features a full-extension frame.
KI, Green Bay, WI
The contract furniture maker's AirCarbon chair was recognized as a Top 10 Green Product at Greenbuild. The chair features a thermoplastic material, developed by Newlight Technologies, that combines oxygen from air with concentrated methane-based carbon emissions. KI says it will introduce AirCarbon into other product lines.
Kohler Co., Kohler, WI
The kitchen and bath products firm launched Taylor Vanity Collection, featuring five vanity design styles that can be customized for drawer/door configurations, hardware, organizational accessories, color, finish and more.  "Simple luxuries like electric outlets that are integrated into the vanity make a huge difference," said Jeff Mayerl, furniture product manager. 
Nucraft, Comstock Park, MI
Already known for its sleek, technology-integrated furniture, the contract furniture maker was a hit with its offering of the Kai conference table. Designed by Joey Ruiter, the award-winning Kai table features a knife-thin profile with a 5/16-inch polished aluminum tabletop that appears to be floating in space, and easily removable power-data modules. 
Read more WOOD 2015 Strategies for Success:
Marketing Initiatives
Go-to-Market Strategies
Business Strategies
Productivity Enhancements
Technology Integration
Product Innovations
Customer Service
Return to WOOD 100 Main Page
Have something to say? Share your thoughts with us in the comments below.