How to Market Your Wood Products: WOOD 100 Strategies for Success
August 28, 2015 | 3:50 pm CDT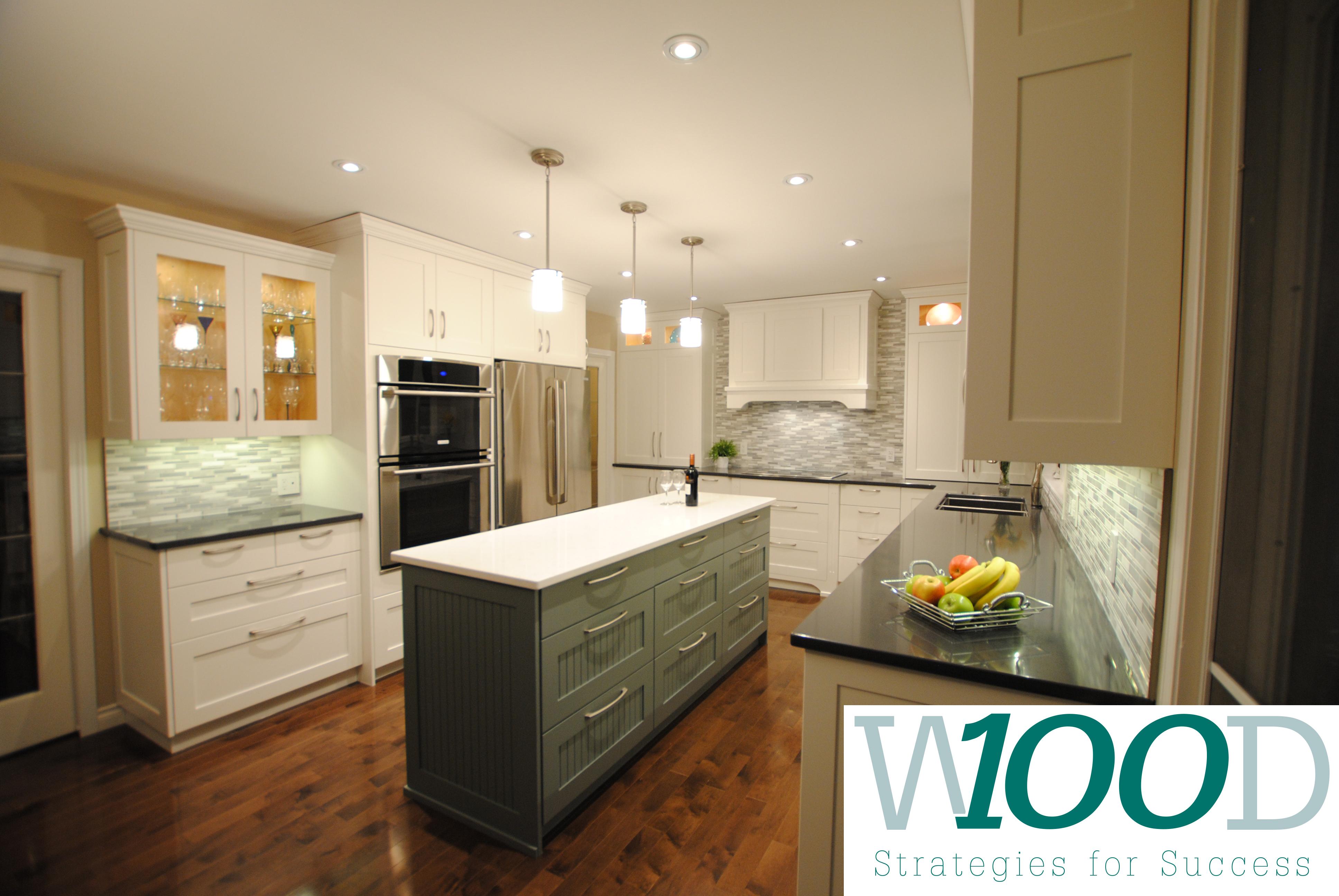 Doing your homework is key in developing a successful marketing strategy and getting your company's brand before customers, whether as a franchise or independent firm. Community service efforts, improved digital marketing and participating in TV and local showcases are just some of the ways these wood product manufacturer stay in the forefront of customers' minds.

Elias Woodwork, Winkler, MB — A manufacturer of cabinet doors, drawer, RTA custom cabinet boxes and more, Elias Woodwork prides itself on its product quality and customer service. That, combined with targeted marketing, helped spur the component maker's 2014 sales 10.5%.

"We expanded our targeted marketing efforts, particularly in digital marketing," notes Jeremy Funk, marketing manager. Elias also revamped its website and improved customer communication. "We are currently shipping products to cabinet makers, commercial millwork shops and refacing companies all over the United States and Canada. International trade has become an essential part of our business and we plan to continue to cultivate the relationships necessary to sustain growth."

Elias Woodwork's efforts don't stop there. Machine upgrades, including CNCs, sanding and flatline finishing systems, have increased production volume in the 250,000-plus square-foot production facilities while decreasing lead time on the company's ever-expanding line of cabinet components and accessories.
Masco
Masco Corp., Taylor, MI — One of the world's leading manufacturers of cabinetry and home improvement products is also among the most generous — a fact not lost on its customers.

The producer of Merillat, KraftMaid and QualityCabinets, Masco and its foundation partnered in 2014 to award more than $1 million in product and cash grants in support of its veteran initiative, "America's Heroes: A Million Thanks". According to Masco, the money helped fund more than 50 veteran-based organizations nationwide, including: the American Red Cross, Furnishing Hope, Hiring Our Heroes, HomeAid America, Homes for Our Troops, Motor City Blight Busters and Texas Wounded Warrior Foundation.

In announcing the donations, Masco expressed its appreciation of the service and sacrifice of U.S. veterans, military troops, and their families. The company also reaffirmed its commitment to supporting these men and women in their transition from soldier to civilian, in the communities where Masco and its brands do business.

Returning the support, customer sales helped Masco post net gains in 2014 of 4%, to $8.5 billion. The Cabinets and Related Products segment remained relatively flat, posting net sales of about $1 billion.


Closets by Design Seattle, Fife, WA —  There's no sleeping on the job for this closet franchise, which manufactures and installs panels and shelving for closets, home offices, entertainment centers, wall bed cabinets and garage systems.

Originally an independent closet manufacturer, the company was approached a few years ago to become a Closets by Design franchise.
The franchise decision has proven to be a profitable one, with the additional marketing resources being one of the biggest advantages, Manager Kevin Jepson, Manufacturing Group LLC, told Woodworking Network. "It was," he added, "the missing piece of the puzzle."
More Top Marketers:
Pacific Crest Custom Cabinetry, Ridgefield, WA
Proudly promoting that its cabinets are "Made in the USA!" this Northwest manufacturer's website says "our customers and our employees are too important to provide inferior products from foreign countries." With more than 100 employees, manufacturing is done at a 180,000-square-foot facility.

Gunlocke, Wayland, NY
The contract furniture maker has a long history of philanthropy and community partnerships. Examples include the donation of funds and furniture to Noyes Health system and furniture to the EquiCenter therapeutic horsemanship center, both New York-based non-profits.

Bassett Furniture, Bassett, VA
Net sales for the residential furniture maker grew 6.0%, due in part to its marketing and service efforts. A combination of digital tablets used by the design staff to assist both in-store and in-home sales, as well as the website, "seamlessly and efficiently navigate the consumer through their personalized Bassett design solution."

Closet Factory VA Beach, Virginia Beach, VA
The closets manufacturer/franchise opened doors through its participation in the Tidewater Builders Assn. 2014 Homearama event in Suffolk, VA. "Homearama provides us a unique opportunity not only to be face-to-face with a large number of people, but provides an up close and hands-on look at the work we can provide," owner Jeff Bruzzesi told Woodworking Network.

Olon Ind., Georgetown, ON
The mouldings and components maker's visibility got a boost when its 108,000-square-foot plant in Jeffersonville, IN, was showcased on Fox Business' "Manufacturing Marvels." Highlighted were Olon's five-piece door production plus its NEXGEN Signature laminate line. At the time, President and CEO Don Hambly said "the timing couldn't be better and it aligns perfectly with our strategy to strengthen and grow our U.S. facilities and American-made products."

Morantz Custom Cabinetry, Lauderdale Lakes, FL
The custom cabinetry shop grew a whopping 16.2% due in part to its targeted marketing. "We increased our marketing to snowbirds in Montreal and Toronto as well as New York," says Harold Morantz, president. "We also reworked our web site and made sure to handle clients issues within 24 hours."

Savannah Millwork, Savannah, GA
Combining the services of its Millwork, Cabinetry and XYLO Frames sides enables the custom millwork firm to market itself as a full-scale solutions provider.

Salt Wood, Charleston, SC
"We launched the new website to showcase our modern, yet rustic handcrafted furniture and make the shopping process easier for our customers," said Vann Cochran, owner. Information on the crafting process also is included.

Steelcase, Grand Rapids, MI
The contract furniture giant rebranded and further aligned its healthcare and education divisions as Steelcase Health and Steelcase Education. FY15 sales rose 2.4%.

W.W. Wood Products Inc., Dudley, MO
"A continued focus on new product lines to maximize our ability to capture market share," helped the large (880 employees) residential cabinet firm's sales grow 20.6% in 2014, says Ken Carmode, vice president sales & marketing. Products are sold under the Aspect, Eclipse and Shiloh brands.

Conestoga Wood Specialties, East Earl, PA
The wood components firm revamped its website, making it more customer focused, including an "Add to Compare" feature that enables customers to search and compare cabinet doors and drawer fronts by material, construction and/or design.

TechCraft Style, Toronto, ON
The Canadian RTA manufacturer expanded its presence with the launch of a U.S. website, "part of the company's ongoing efforts to provide high-quality furniture pieces for consumers within the United States living in homes, apartments and condominiums  with a limited amount of living space."

Haworth Inc., Holland, MI
Promoting its sustainability, the contract furniture giant reiterated its intent to remove 56 chemicals of concern from its products by the end of 2015. Haworth has ensured products are no longer designed with the chemicals of concern and is working with its supply chain to ensure their parts don't contain the chemicals. The acquisition of the Poltrona Frau Group and the opening of a new Asia Pacific factory and showroom also helped 2014 global sales rise 27% to $1.8 billion.

idX, Earth City/St. Louis, MO
Retail environments specialist idX Corp. expanded its global presence in 2014 with the launch of a new division in India. "As the Asia retail market continues to mature and grow, the addition of idX India supports our strategic plan toward becoming the preeminent fixture supplier to that region," idX CEO Terry Schultz said in announcing the company's expansion.
 
Read more WOOD 2015 Strategies for Success:
Marketing Initiatives
Go-to-Market Strategies
Business Strategies
Productivity Enhancements
Technology Integration
Product Innovations
Customer Service
Return to WOOD 100 Main Page
Have something to say? Share your thoughts with us in the comments below.