Ruffsawn Finishing plant tour examines water-based wood coatings
February 24, 2017 | 2:52 pm CST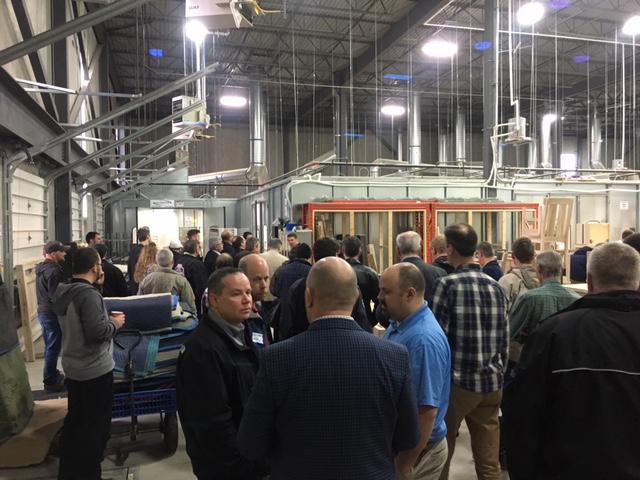 GUELPH, Ont. -- Approximately 50 members of the Bluewater Wood Alliance toured Woodlawn Furniture Market, Inc.'s  32,000 square foot  RuffSawn finishing facility in Guelph February 22 to explore conversion to water-based finishes. BWA executive director, Mike Baker, said his group's tours are meant to be learning experiences.
"Our plant tour focus groups are devoted to continuous improvement whereby the tour host presents a challenge to the group," said Baker. "Associate members are 'cherry picked' by the host according to their area of expertise to participate in the exercise. These are facilitated so that the host is also able to share their business model and best practices. Solutions to challenges are brainstormed by the group creating a 'Kaizen' style of interaction that stimulates insight into visiting member's own operations back home."
BWA's next tour is scheduled for April 5 at Humber College in Toronto.
The BWA will participate in an educational session at WMS 2017  November 2-4, featuring a panel of its members discussing best practices.
Based in southwestern Ontario, Canada, the BWA aims to bring like-minded wood products companies together for joint projects in skills development, technology transfer, export development and experience exchanges in a bottom-up driven association. 
Funding for operations is partly provided by the Ontario Ministry of Natural Resources and Forestry. The Bluewater Wood Alliance works with federal and provincial funding agencies to develop infrastructure and project funding, including working with educational institutions on the secondary and post-secondary levels to provide training and skills development for the industry.  To learn more contact BWA executive director,  Mike Baker: manager@bluewaterwoodalliance.com.
Have something to say? Share your thoughts with us in the comments below.