'Sandrew,' the cobot, increased throughput at Andrew Pearce Bowls
December 28, 2022 | 4:16 pm CST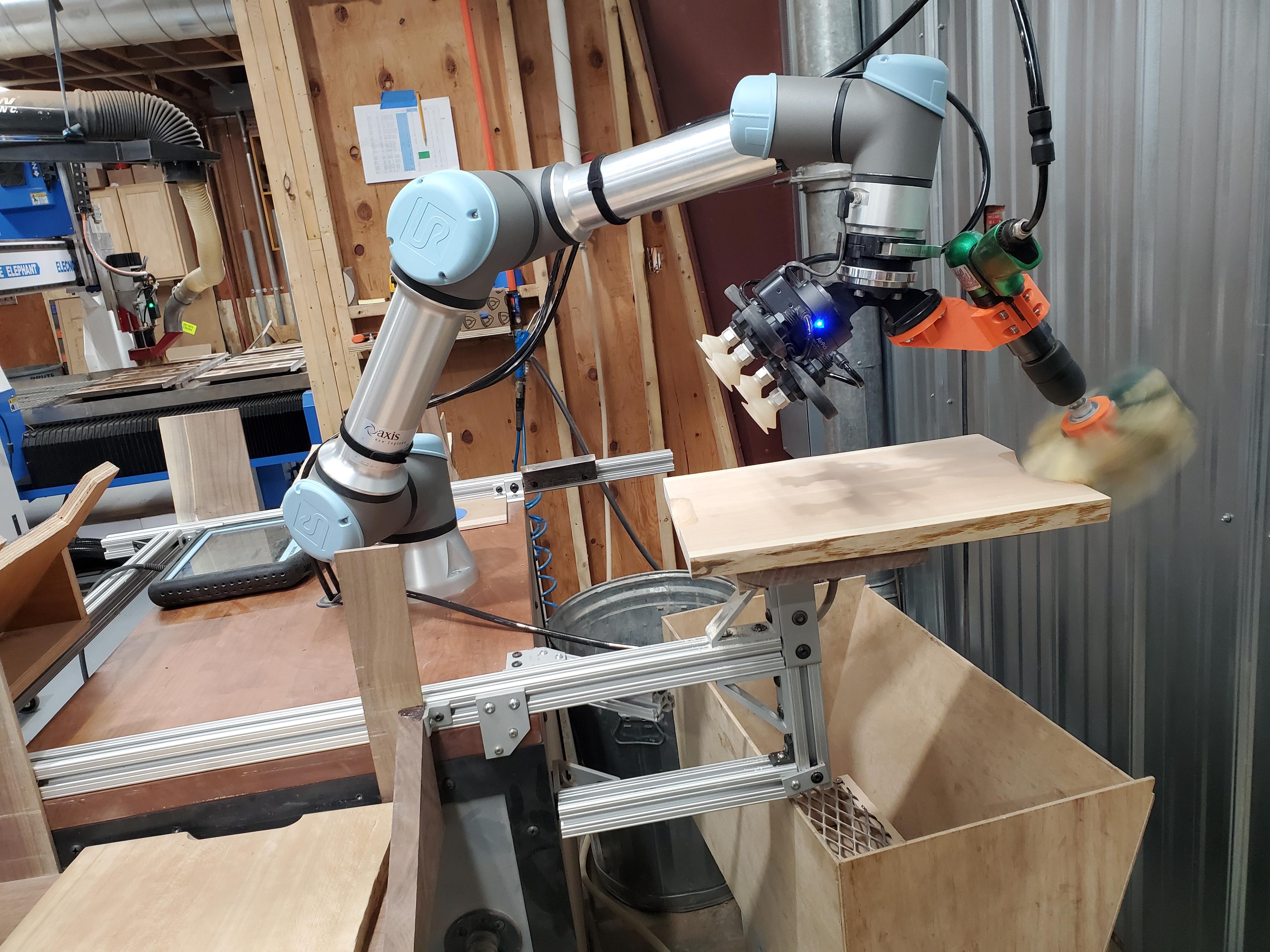 Photo By Universal Robots
The picturesque forests of Vermont, where artisan woodworking traditions run deep, do not at first glance seem like fertile ground for a robotic deployment. 
"We did have some reservations originally about bringing a robot into a company that prides itself on hand-made products," said Mike Welch, production manager at Andrew Pearce Bowls in Hartland, VT.  But then came the company's newest "employee," Sandrew.
The company, which makes wooden bowls and other wood table products, started looking into automation when a manual, human, sander was promoted to a finish turner, leaving open a position that turned out to be challenging to fill. "It's hard to recruit somebody to stand at a downdraft table and sand cutting boards for eight hours," said Alex Drew, application engineer at Andrew Pearce Bowls. "Sanding was becoming the choke point in our production."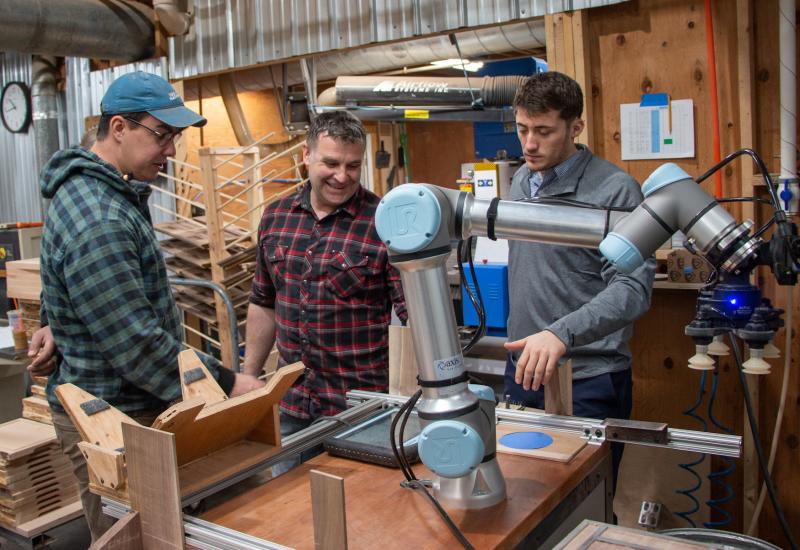 To address the company's initial hesitation about bringing a robot into the wood shop, the team met with Motion AI, a local distributor of robots made by Universal Robots. The team witnessed a demonstration on how collaborative robots (cobots) can handle sanding tasks. "We realized that by having a robot taking over the sanding, it just becomes another tool that does not replace any of the 'Old-World' techniques that we use in our handwork," said Welch. "It's like the table saw and power planers replacing the hand saw and hand planes, I don't think that anyone considers it not hand-made to use those tools."
The cobots from Universal Robots were not the only automation option Andrew Pearce Bowls considered.  "We ended up with UR cobots because of the non-proprietary software and the digital and analog outputs that allowed us to add additional peripherals in the process of fixturing and tooling," said Welch. "And ultimately, the online teaching and learning through UR, Robotiq, and our local provider, Axis New England (now Motion AI), gave us a lot of resources so we felt comfortable we weren't going to be left out in the dry not knowing how to operate this."  
Performance metrics
Andrew Pearce's production manager has looked closely at the metrics of how his UR5e cobot is performing. "We essentially end up saving about 20% of the time the sander would spend on the board handling the finish sanding," he explained. "It's not replacing them, it's just cutting down the amount of time that they're taking getting it from a rough to a finished product, which translates to about 40% increase in throughput."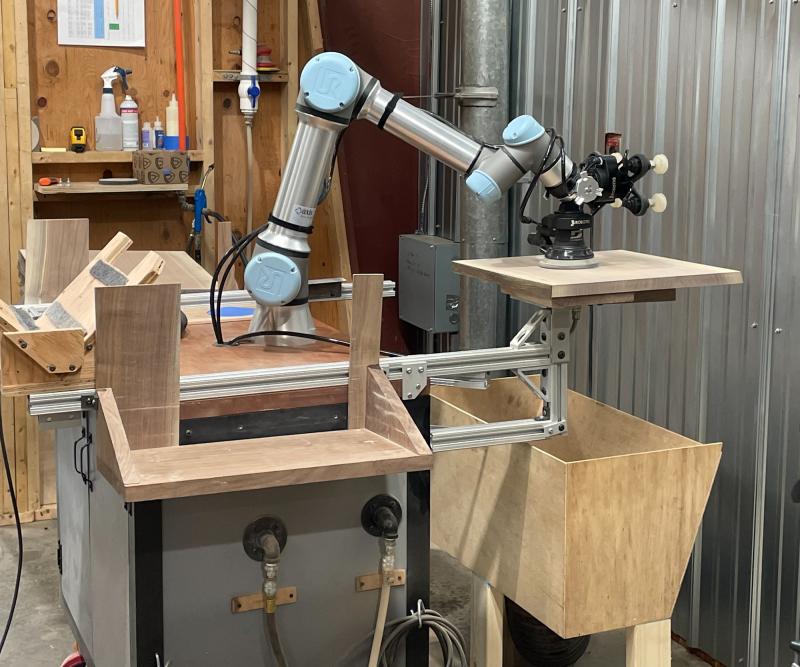 Looking at the company's all-in costs of the robot and implementation, Welch estimated that the return on investment (ROI) on the robot is about two months.  "The UR robot has become very integral in our business plan this year," he said.  "We grew by over 20%, so we are hoping to continue that growth next year, and having the UR application is going to help us achieve that."  
The UR5e cobot is a 6-axis articulated collaborative robot with a 5kg payload and a reach of 850mm. The cobot comes with 17 built-in safety features that based on a risk assessment enable the cobot to operate side-by-side with employees without the need for safety guarding. 
The UR5e is equipped with the AirPick gripper and Sanding Kit from UR partner Robotiq, the gripper, and the kit is both UR+ certified which means they have been vetted and tested by UR to integrate seamlessly with UR cobots. Included in the Sanding Kit are air control accessories, an orbital tool, sanding media, the software controlling the UR cobot's force/torque sensor, and a mounting bracket, all controlled through a "URCap"; a software "handshake" between peripherals and the UR cobot arm, accessible directly through the cobot's own teach pendant. 
The software allows the user to 'teach' the robot its sanding pattern. Andrew Pearce's application engineer admits he had no robotics experience before diving into this project. "Setting the waypoints for the sanding patterns is simple," said Drew.  "You just set your corners and then decide your speeds and your pattern, hit play and it goes."  
"I think anyone thinking about using a robot to help them in woodworking should look into it," said Drew. "It's been a tremendous help for us, and it's freed us up to do other things, to spend our time in other areas that are maybe more important than just finish sanding. It gives us the time to just take a step back and try to make everything a little bit better."
Quick product change-overs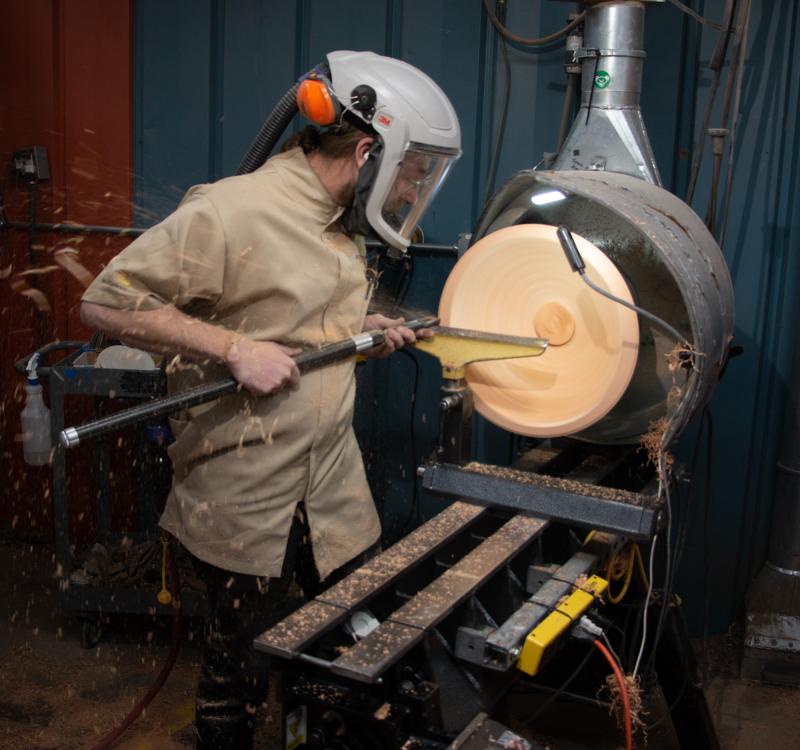 The team at Andrew Pearce built fixturing that enables the UR5 to change its own sandpaper. As seen in this video, fixturing allows the robot to slide the sandpaper off and through suction pick up a new piece of sandpaper.
The cell also includes a V-shaped flipping jig that allows the cobot to flip the board over 45 degrees so it can pick it up and sand the bottom side as well without any manual intervention. "It can move through complete cutting boards, 10-15 at a time, depending on how many we can fit on the infeed and outfeed side," said Drew. 
He added that changeovers are easy to handle as well, which is important because of the variety of products the company makes. "We do anything from cutting boards that are 17x17 inches, all the way down to small ornaments. We were able to make fixturing so we only need one vacuum table and we can add all the different parts on top of it," he said. "Changing from one product to the next is super simple.  The program stops, you put whatever you need to work on in the infeed table, and then you just open a new program and run it." 
Figuring out the fixturing was one of the more enjoyable parts of the process, said Drew. "It's kind of like solving a puzzle. You have this product that you need to get from Point A to Point B, and you know all the steps that it needs to do in between because we're doing those manually, so figuring out how to get a robot arm to hit all those points was kind of fun to do," he said.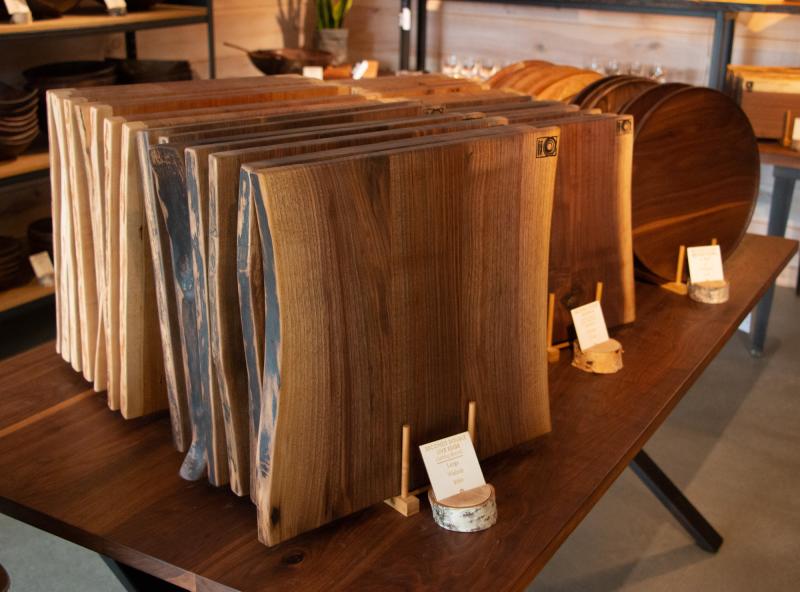 Before the Andrew Pearce team deployed the UR5e, they traveled to Boston for a training class with Motion AI where they learned the basics of how to maneuver and interact with the robot and integrate the peripherals needed.  "Within 30 minutes of unpacking the robot, we were programming movements. I was surprised at how straightforward it was," said Welch. 
When his team ran into issues, they had multiple avenues to turn to for help. For instance, the workers initially struggled with handling larger parts that caused the robot to go into forced stops due to singularities, which are a configuration in which the robot end-effector becomes blocked in certain directions. An issue they solved through the UR forums and support from UR and Robotiq coaches that helped adjust the fixturing.
"We could reach out to people at UR directly, they were more than willing to help us out, but there were also resources online," said Drew. Online resources include the UR Academy which offers free training modules. "These modules taught us a lot about what we needed to do. We also found UR forums where we could discuss issues with other people who were maybe stumbling through the same things," said Drew. 
One of the resources that the company turned to was Jake Tomkinson, an automation engineer with Motion AI, who regularly stops by to check on the team and their new robot and witnesses the improvements that they have made. One such example of this automatic grit changer as well as addressing singularity issues when handling large pieces. "It's extremely impressive what they've done," he said. "When I come here, every single time it's different.  The team is constantly tinkering with things; always making the robot cell more efficient." 
Employees interact with 'Sandrew'
At first, the employees were skeptical of their new cobot colleague, but quickly started to appreciate the UR5e and named it 'Sandrew' in an internal naming contest. The application is set up in a user-friendly way that enables the workers to operate the cobot as well. "When I interact with Sandrew, I can maneuver the arms, I know how to turn him on and off, clean up the pads, and I can find the programs," said Derek Bell, a finish sander at Andrew Pearce Bowls. "I can focus on the main product instead of worrying about the corners and the edges of the boards and focus on the repairs that need to be done, so the product can be brought out and numbers made," he said. He added that he's noticing a difference in the boards handled by the UR5e. "The boards are nice and smooth, that's how I always can tell that they've been touched by Sandrew." 
Soon, finish sanding will not be the only task that Sandrew can add to his resume. The team at Alex Pearce Bowls has added another UR+-certified product to the UR5 cobot; the Flexx Reference from Flexxbotics, a software/hardware solution featuring a locking mechanism with a relative offset that eliminates the need to update the UR cobot's waypoints and moves every time the cobot or the work cell shifts. "With Flexx Reference, we'll be able to put the robot on a mobile base and move the robot over to load and unload our laser marking machines. Maybe we'll also add a UR10e to do CNC machine tending at some point," said Welch. "We see so many new possibilities in the shop and future openings down the road that would allow for more automation now."
Have something to say? Share your thoughts with us in the comments below.