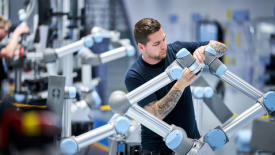 Seventeen years after it was founded by three young researchers in a basement, Universal Robots reached a 1,000-employee milestone.
Delcam will demonstrate applications in woodworking for machining with robots on stand C09 in Hall 12 at LIGNA 2015 exhibition to be held in Hannover from 11th to 15th May.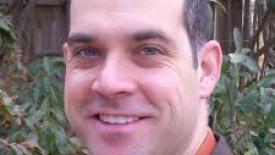 David Scheffrahn was named VP Sales at CNC cutting machinery maker Multicam. His background includes more than 15 years of sales of robotic capital equipment for Motoman, ITW Building Components Group, and Rethink Robotics.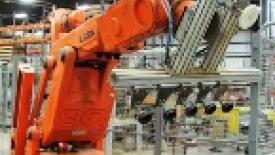 Award Hardwood Flooring, Wausau, WI, will sell its complete plant at auction. Automated materials handling includes a bevy of robots, high volume sanding and finishing lines. A sizable inventory of hardwood lumber is offered.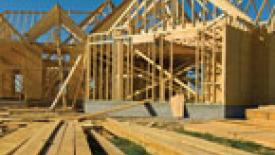 $50 billion in rebuilding and reconstruction for Hurricane Sandy damage, approved by the U.S. House, tops wood industry news this week. But Walmart's pledge to U.S.-made furniture and a pine beetle wood star were among most viewed items at WoodworkingNetwork.
Are robots in the wood manufacturing workplace helping or hurting job growth, and thus the overall economy?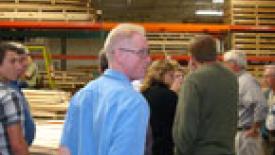 A group of 142 wood industry representatives took part in a tour of technology of seven woodworking facilities as part of the Wood Component Manufacturers Assn. Fall Conference and Plant Tour Event, held Sept. 30-Oct. 2 in the Minneapolis, MN, area.