5 Apps That Woodworkers Will Really Want to Try
June 22, 2015 | 10:24 pm CDT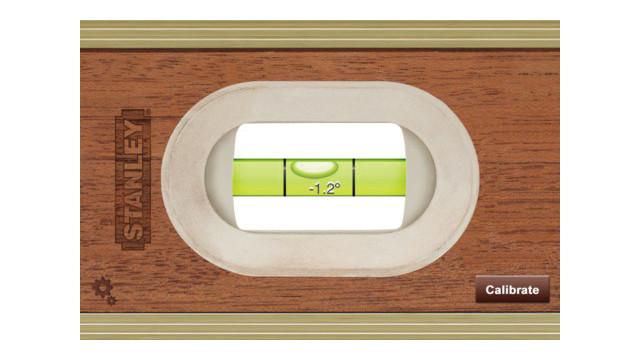 Stanley's Level App
(available for the iPhone and iPad) gives you a portable level in the palm of your hand. The app asks you to calibrate your device for the first use. Once completed, the digital level is available anytime, anywhere. Just like a real level, the bubble will indicate when you're straight. For ease of use, numbers indicate how close to center you are - the farther from 0°, the farther from straight you become.
This app is available in two styles, so you can choose the one that fits your mood: classic Stanley cherry wood level, or the modern yellow Fatmax Level.
For fast projects or unexpected needs, you will always have the level device right in your pocket. 
Plumb Bob 5th
(available for iOS and Android) is an instrument to check if an object is perfectly vertical/plumb and has been used since the time of the ancient Egyptians. Now, we bring it to you right on your iPhone/iPod touch/iPad with Plumb Bob 5th. Professional design, maximum accuracy, different levels of sensitivity from normal to very high, it suits any types of your needs, such as: hanging pictures, carpenter work, brick layer or building construction.
Features include a 3D simulated plumb; support multiple angle units: degree, radian and gradian; quick calibration function; magnify the level reading by supporting different sensitivities (more sensitivity = small reading = subtle changes detection). You calibrate Plumb Bob by 1.) putting your device on a flat surface or table (its back/edge lies on the surface/table); 2.) Press "calibration" button located at the upper-right of the screen. To make your device work more accurately, always calibrate the plumb bob before use.
Photo Measures
(available for iOS and Android) The app helps you save and share measures and dimensions on your own photos. Take some photos of a room and note down the dimensions on the photos to remember the exact layout. Most of the apps described here are free, but this one costs $6.99 or $4.99 for iOS and Android respectively. There is a free 'Lite' version available as well for Android that allows full use but adds a watermark on all images.
It's a quick way to capture a client's quarter when early in the cycle of estimating or developing a proposal.
Benjamin Moore Color Capture
(available for iOS and Android) Matching paint colors is easier with the Benjamin Moore Color Capture app. Snap a picture of any color wall, fabric, or painted furniture and this app get its match from Benjamin Moore's more than 3,300 paint colors.
It organizes the pictures by associating them with their Benjamin Moore coordinating colors. You can add notes to colors, look at color combinations and save colors. And of course, since it's free, it helps you find your nearest Benjamin Moore retailer.
Autodesk Homestyler
(available for iOS and Android) Just snap a photo of your space to transform your iPhone or iPad into a virtual fitting room. Try out wall colors, décor items, and furniture products from real brands. Read about latest trends in how-to articles, get ideas and find inspiration from stunning interior design projects done by professional designers. Take the guesswork out of home remodeling with Autodesk Homestyler!

Snap a picture of a room to create a 3D home design base. Place high-quality 3D models of real furniture products in the rooms. Clear out existing items to try out new elements. Add realistic models of actual branded rugs, paintings, mirrors and more look in the space to help client quickly visualize it.
Have something to say? Share your thoughts with us in the comments below.