Precision Cutting Technology Gave Cal Door Consistency in its Door Production
June 3, 2015 | 3:10 pm CDT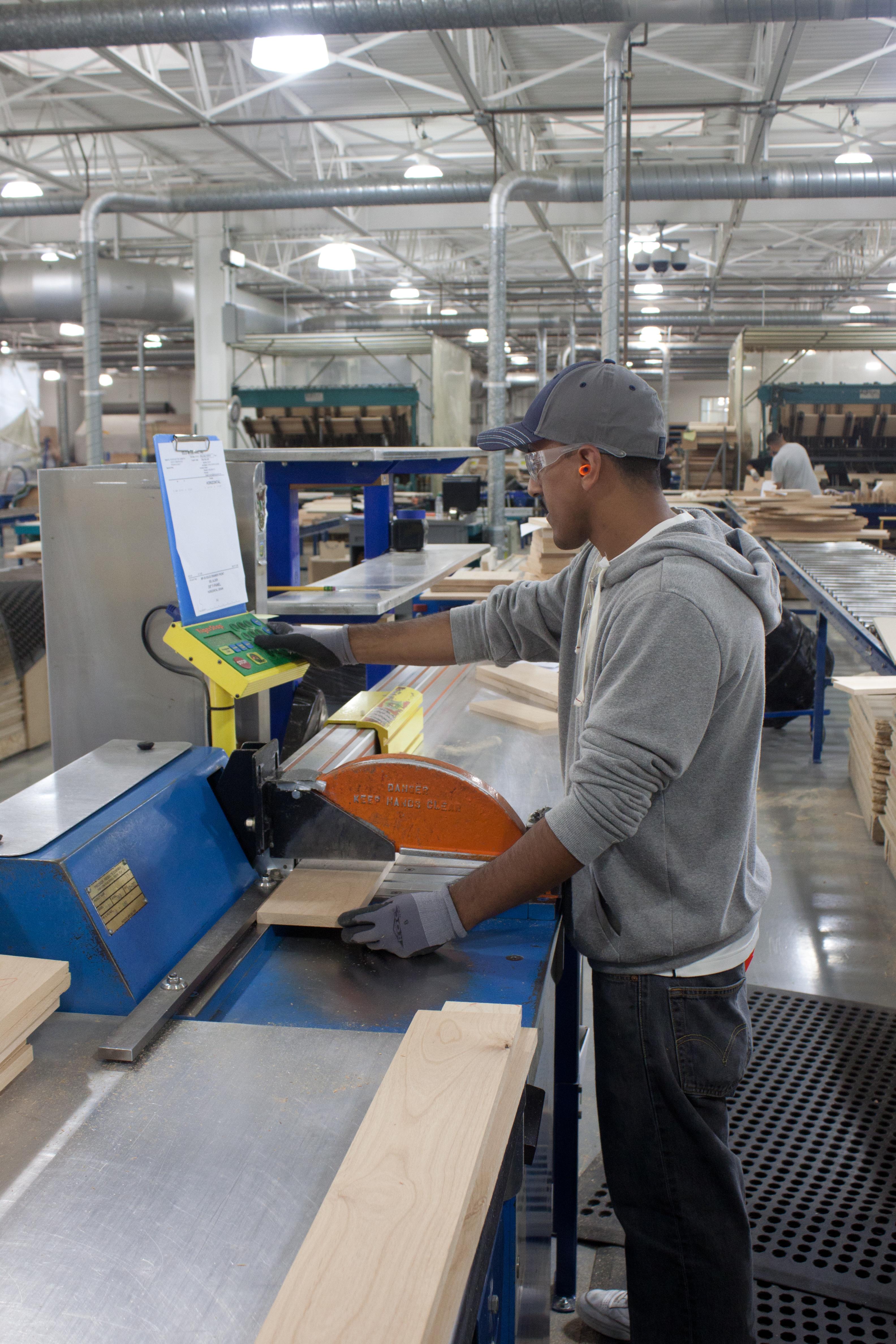 Photo By Cal Door
A wholesale manufacturer and major supplier of high-end cabinet components, Cal Door credits its success to a combination of old-world craftsmanship with cutting-edge technology. The company has also shown resiliency in the face of economic adversity.
"We weathered a serious slump with the mortgage crisis and after-effects to housing and remodeling but have recovered and now employ 350 in our two facilities," says Operations Manager Mark Souza.
A lot has changed since the company's founding in 1988 by Edward Rossi. Originally called The Cabinet Door Co., the name was changed to California Door Corp. by Rossi, son of the original owners, and by the early 1990s it became known simply as Cal Door. With annual sales of approximately $40 million, Cal Door produces a wide range of solid wood and RTF kitchen cabinet door and drawer fronts from its headquarters/manufacturing facility in Morgan Hill and a 150,000-square-foot state-of-the art plant in nearby Salinas.
Chief among the workhorses at the shops are TigerStop automatic stops and pushers, used with industrial pop up saws. The TigerStop equipment enables Cal Door to achieve precise settings of the stop requirements, positioning of the wood and cutting —all in one sequence.
"TigerStop has been a valued part of our operation for many years, beginning with the introduction of TigerStop equipment in the early 1990s to our Morgan Hill facility," says Souza. "TigerStop is part of our company's success story and history, and we have 28 industrial pop up saws between the two Cal Door locations." 
The TigerStops are used for cutting cope and stick frame doors, and frame and panel stock, miter and applied moulding doors, as well as V-grooving panels.
Consistent Accuracy
One of TigerStop's greatest values to Cal Door's production is that it minimizes variables, thus ensuring that stock is consistent from the very first stage. "It helps us be able to calibrate our doors to the thousandths of an inch," Souza says. "The accuracy of the TigerStop is key to the thicknesses of doors."
Souza adds, "A machine problem will transpose to a product and affect its quality. We believe that being proactive helps the need to be reactive when it comes to machinery."
It is that accuracy, along with its attention to detail, that helps set Cal Door apart from its competitors.  "Accuracy is very important in all aspects of our operation and TigerStop has helped us achieve the accuracy that the business demands. We will routinely check all aspects of the production, from our complex machines and equipment, down to the accuracy of our tape measures. We take pride in our checks and balances."
Standard and CNC machines are used throughout the facilities.  Along with the TigerStops, also used to make the solid wood door and drawer fronts are: Omga saws, Martin shapers, Voorwood shaper sanders, a Jenkins automated arching system, Wadkin and Kentwood moulders, Accu Systems, and Taylor and Carslon clamps.  Also at the shop, a Holzma panel saw and Burkle press, along with Komo and Heian CNC routers, are used in the manufacture of RTF products. Sanding is performed on Timesavers as well as Heesemann and Roba-Tech systems.
In addition to its machining capabilities, another factor in Cal Door's success is its ability to quickly adapt to current style trends. Cal Door's product line is roughly 80-85 percent high-end, custom oriented work, with a typical turnaround of five to seven days, says Souza. The RTF line also has evolved dramatically, from a basic slab to a look resembling a painted door. 
The web has also helped grow business. Once primarily a regional firm, Cal Door ships its products nationwide.  "Exposure on the internet helped things take off and we are always finding ways to tap into the benefits and be internet savvy," says Souza.  "We also have a much more diverse product line [and] having our catalog online has helped. We've expanded so much of what we offer and we have a much greater reach."
He adds, "We look at our business as establishing a partnership with our customers who recognize the value of outsourcing. We learned valuable lessons from the lean times. We retrained our staff. We diversified our products and we extended our reach. Quality has remained a core value and TigerStop has helped us in that regard."
"The accuracy of the TigerStop is key to the thicknesses of doors," says Cal Door Operations Manager Mark Souza.
  Cal Door produces a wide range of solid wood and RTF kitchen cabinet door and drawer fronts from its headquarters/manufacturing facility in Morgan Hill, CA.
Have something to say? Share your thoughts with us in the comments below.