WPE Texas keynote focuses on Lutz Woodworks' cutting-edge technologies
February 11, 2020 | 1:18 pm CST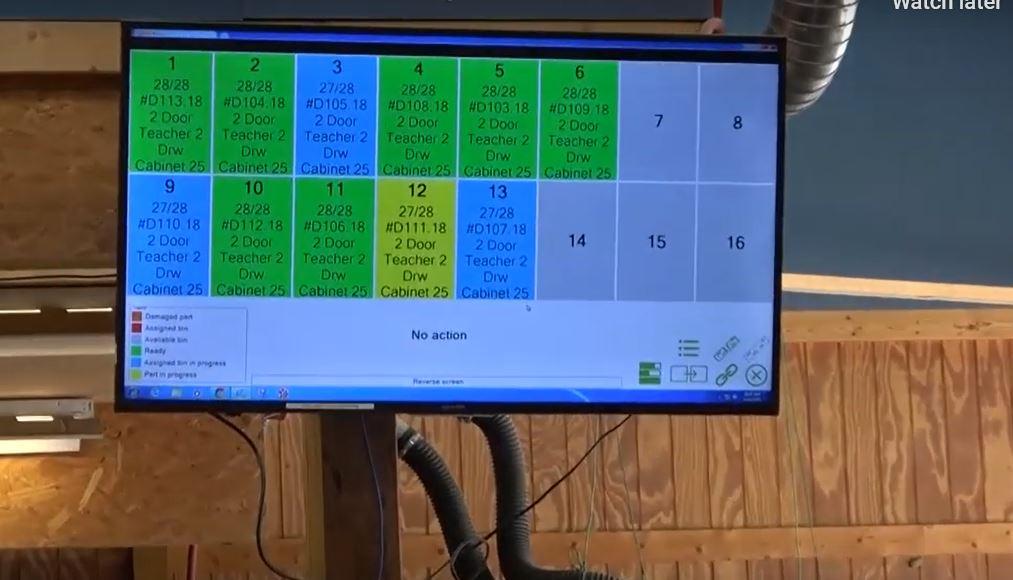 ARLINGTON, Texas -- Greg Lutz, owner of Lutz Woodworks and a past president of the Architectural Woodwork Institute, will discuss how his company stays at the forefront of technology in a free keynote speech at Wood Pro Expo Texas.
Lutz's presentation will highlight why and how Lutz Woodworks of Wylie, Texas, implemented manufacturing execution system (MES) software to track and document the transformation of raw materials into laminated case goods for schools, healthcare facilities and other institutional clients. He will also share the key benefits his company has realized with MES including how it has help boost productivity, reduce "search time" of parts and improve process flow from the production floor to the jobsite.
The keynote address is scheduled for 9 a.m. Friday, March 13. It leads into the final day of Wood Pro Expo, co-located with the Cabinet & Closets Conference and Expo, at the Arlington Convention Center.
Lutz noted that his company has been using bar coding for all of its parts for years. The MES software builds on the company's bar code system and helps streamline the management of individual and family of parts from when they are sized on a CNC router or panel saw through edgebanding, boring, assembly and shipping.
"Before we implemented MES, our team had to sort through all of the left sides, right sides, bottoms and tops that were all stacked like a shuffled deck of cards." Lutz said. "Sorting parts for each cabinet assembly took a considerable amount of time and it was difficult to ensure no parts were missing."
Production employees also benefit from visual cues. For example, when an assembly employee scans a bar code label, an image of that product is displayed on one of seven 42-inch video monitors strategically located throughout the plant. The employee can then see exactly what the finished assembled unit will look like from all angles with a 3-D view that can be rotated.
"What's really interesting is the number of employees on the shop floor doesn't fluctuate a whole lot," Lutz said. "What does fluctuate is the number of installers we need based on the size and number of projects we're working on. Once we get a project through drafting, the processes and efficiencies of our machinery and software, and use of bar code scanners and TV screens in the shop, ensure that production is never an issue. The real challenge is managing the unknowns that can happen on the jobsite."
In recognition of jobsite challenges, Lutz's drive to automate has not been limited to the confines of his company's 15,000-square-foot facility. Examples abound:
He's invested in laser measuring devices for collecting accurate jobsite dimensions.
Laptops and tablets are used for jobsite review of shop drawings and contract documents.
The time and date of when finished products are off-loaded at the jobsite are documented by scanning the same bar code which was used when the product was loaded for delivery.
"I think communicating with the contractor using onsite technology and providing shipping and delivery documents completed by scanning bar codes gives the  contractor added confidence that he is working with a company that understands the necessity of technology in today's construction environment," Lutz said.

In addition to discussing and answering audience questions about his manufacturing operations, Lutz plans to present a preview of his latest foray into technology: holographic marketing. He'll be joined on stage by a 3D holographic image of himself.
"I think people are going to see this type of hologram advertising coming up more through all industries," Lutz said. "They're making the holograms more interactive. Try having one greet your guests as they enter your facility. It's really slick stuff."
"We're not just following in the shadows with everyone else," Lutz added. "We like to be out on the front lines with technology."
View the full Wood Pro Expo schedule and register.

About Cabinets & Closets Conference & Expo and Wood Pro Expo Texas
The Cabinets & Closets Expo and Conference (CCCE) is the annual national event for cabinet and closet professionals and is co-located with Wood Pro Expo Texas (WPE), a regional marketplace for the woodworking professionals. The events are organized by Closets & Organized Storage and FDMC magazines respectively, both part of Woodworking Network. 


Both the Cabinets & Closets and WPE lead off with a separate full-day executive conference on Wednesday, followed by the two-day expo featuring woodworking machinery and supplies. Additional educational programming is offered on both days of the expo. Tours of local manufacturing plants and the popular Top Shelf Design Awards networking reception are also key components of the event.

The 2020 CCCE and Wood Pro Expo Texas are scheduled for March 11-13 at the Arlington Convention Center, Arlington, Texas.

For information about exhibiting, and sponsorship opportunities, contact Patrick Filippelli of Hall-Erickson Inc. at [email protected] or phone 800-752-6312. 
Have something to say? Share your thoughts with us in the comments below.