Woodworking Network Editor's Choice Highlights of 2015
November 24, 2015 | 3:47 pm CST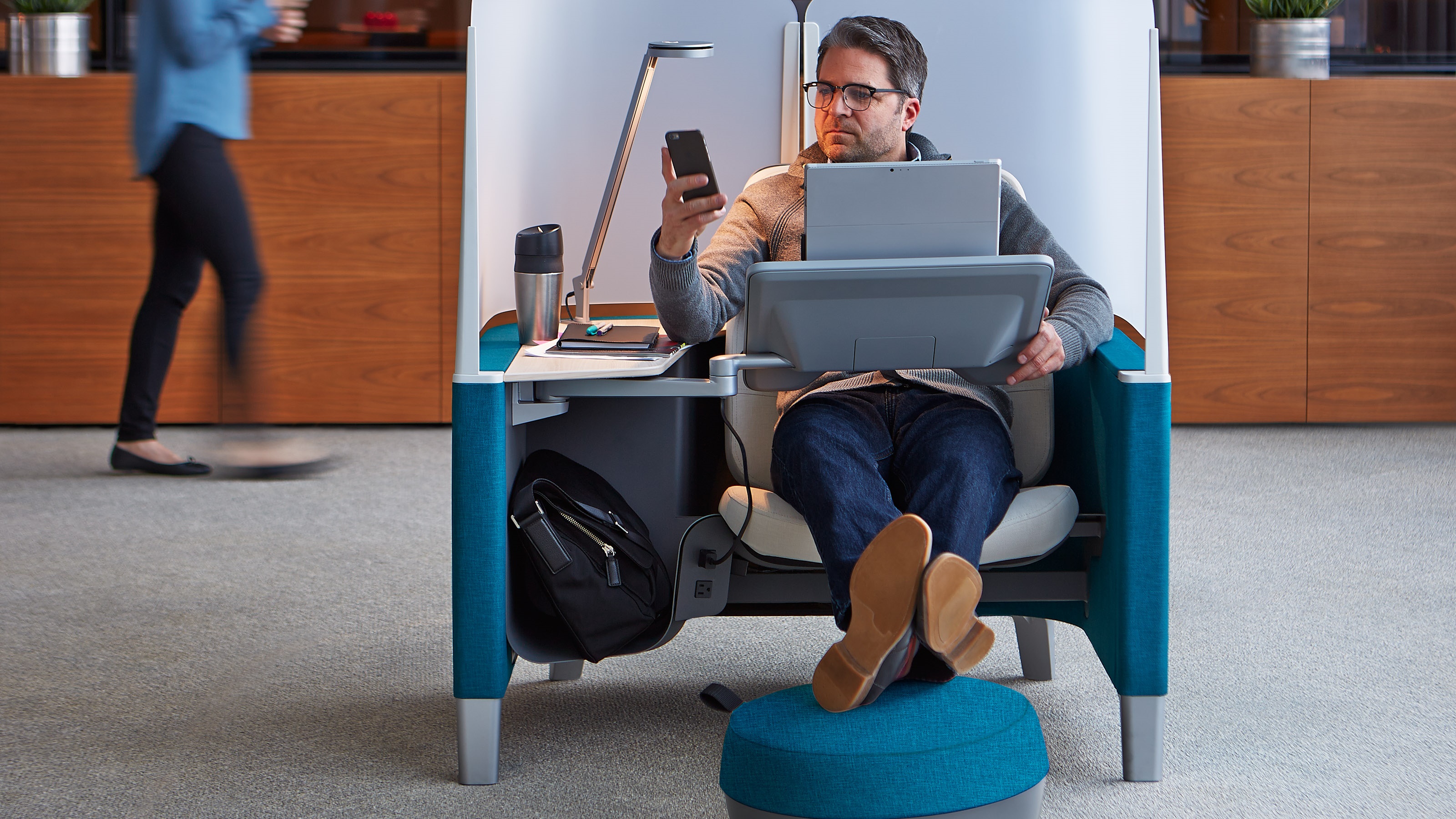 Woodworking Network Editor's Choice projects in 2015 ranged from unique and innovative to cool and inspiring. Top highlights include a cocoon-like design for office furniture, a 50,000-year old Kauri table and a kinetic wave cabinet.
Business Environments Charge Ahead
Maintaining focus within the busy flow of the workplace emerges as a prevailing need for workers in open office environments. Featured at NeoCon 2015 were a number of office furniture systems to address this issue, including the Brody WorkLounge from Steelcase Inc.
The cocoon-like design of Brody helps reduce outside distractions. And while likened to a pod seat in the business class section on a plane, the self-contained workplace integrates just about everything a worker needs — power, a personal storage area and personal lighting — in a compact  and ergonomic design. The seat, for example, cradles the body in a reclined position, allowing the upper and lower back to be supported, Steelcase says.
The Personal Work Surface is angled, which allows for the positioning of the computer or other technology to be at eye-level, thereby reducing neck and shoulder strain. The built-in arm support helps to relieve pressure from the shoulders.  The furniture is part of the company's Intelligent Office concept of embedded technology. bit.ly/1X5WUVN
Ancient Kauri Table a Standout
A wood table selling for $100,000 may seem pricey until you consider it is made from the oldest workable wood in the world – 50,000-year-old kauri. Bob Teisberg, owner of the sole U.S. ancient kauri distributor, Ancientwood, La Pointe, WI, says the 42-inch by 94-inch Kahiko (Ancient One) table is one of a kind.
The tabletop was constructed with two book-matched pieces of ancient kauri, with the natural edges facing the center. The base consists of engineered wood and carbon fiber. To enhance the 3D shimmer inherent in the wood it was polished using 1,000 to 1,200 grit before the finish was applied. bit.ly/1OebbNZ
Kinetic Cabinet Makes Waves
Fantastic and functional are just two of the words that come to mind when viewing the furniture "sculptures" of New York artist and designer Sebastian Errazuriz. His kinetic Wave Cabinet is no exception. Available in Baltic birch wood and white laminate, the cabinet is composed of a multitude of slats, each of which pull the one adjacent to it, for a variety of configurations.
See the Wave Cabinet in action plus a slideshow with more photos at bit.ly/1LkBSvL. Also go to MeetSebastian.com and Facebook.com/sebastian.errazuriz. Follow on Instagram @sebastianstudio, Twitter @holysebastian.
 
Have something to say? Share your thoughts with us in the comments below.