Woodwork Career Alliance launches online skill evaluator training
March 6, 2021 | 4:29 pm CST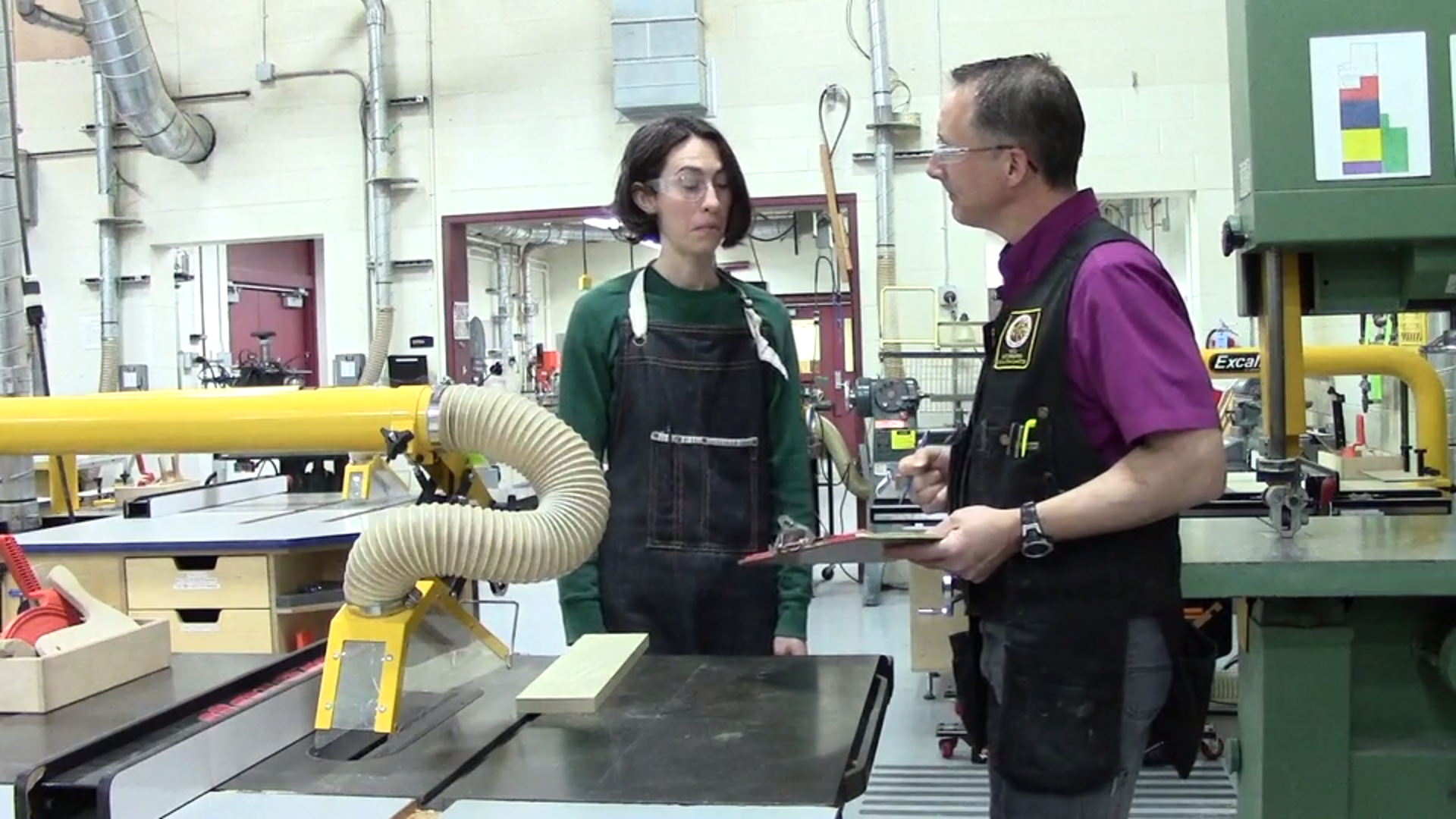 NELLYSFORD, Va. -- The Woodwork Career Alliance of North America's online accredited skill evaluator (ASE) training program, which debuted last fall, is a game changer in more ways than one.
For starters, it paves the way for more high school and postsecondary woodworking instructors throughout the United States and Canada to attain ASE status. This in turn opens doors for more students to participate in woodworking programs that incorporate the WCA's industry-recognized skill standards and credentialing program.
WCA skill evaluators
play a vital role
Accredited skill evaluators are at the heart of the WCA's Passport credentialing program. They evaluate the skills of candidates pursuing their credentials based on the WCA's Skill Standards, recognized throughout the U.S. and Canada. The skill standards cover a wide range of woodworking equipment and operations from using a tape measure and basic layout to running a table saw and CNC router.

High school students enrolled in WCA EDUcation member woodworking programs are eligible to earn a Sawblade Certificate if their instructor is an ASE. In essence, the instructor evaluates a student on his or her use of a jointer, table saw, portable hand sander and drill press. Once the student has successfully completed those evaluations, the student is required to pass an online test to receive the Sawblade Certificate.

More advanced high school students can build on their Sawblade Certificate by striving for a Green credential, the first rung of the WCA's credentialing program for woodworking professionals. To achieve Green, the student or professional must complete additional machinery evaluations and amass 800 hours of shop experience. Woodworking professionals can progress from Green to Blue, Red, Gold and Diamond.

The individual Passport holder's achievements, accumulated as skill points, are recorded in the WCA's online registry. The record of the Passport holder's skillsets can come in handy when applying for a job within the woodworking industry.

The WCA's credentialing program brings a new level of professionalism to the woodworking industry.

Metalworking, welding and automotive are among other trades that have developed credentialing programs to recruit, train and retain qualified candidates into their ranks.
The ultimate beneficiary is the North American woodworking industry. Wood product companies of all sizes and types stand to gain an influx of talented young men and women who have been trained to safely and properly set up and operate equipment based on the WCA's measurable performance objectives. And while the initial roll-out of the online training program is focused on educators, it will ultimately allow wood products companies to accredit their training personnel as WCA skill evaluators as well.
The Impact of Online Training
Up until now, ASE candidates were greatly limited to when and where the training programs were offered. For example, WCA has traditionally scheduled training at the AWFS Fair in Las Vegas and the International Woodworking Fair in Atlanta. In recent years, several sessions have also been held at The MiLL in Colorado Springs.
One of the reasons Wisconsin has more schools with ASE instructors than any other state is because of the relative accessibility and frequency of training programs conducted by Patrick Molzahn. Molzahn is a WCA accredited chief evaluator and director of the cabinetmaking and millwork program at Madison Area Technical College.
Most instructors of high school and postsecondary woodworking programs are not as fortunate as their Wisconsin peers to have training classes scheduled within driving distance. In addition to the inconveniences of time and place, many instructors cannot afford the costs associated with traveling to a location to get their training to become an ASE. Without the ASE designation, they are unable to enroll their students into the WCA's Passport credential program that includes evaluating and testing their students to earn a WCA Sawblade certificate and for more advanced woodworking students to work toward their Green credential.
The barriers that have limited instructors from pursuing their ASE status has also reduced opportunities for the WCA to grow its Passport credential program in schools throughout the United States and Canada. The situation became even more pronounced as the novel coronavirus pandemic largely put a kibosh on face-to-face training.
That Was Then; This Is Now
Greg Larson, vice president of the WCA, said the online ASE training program he was instrumental in helping to develop addresses most concerns.
"We were working on the ASE online training program long before the pandemic hit," said Larson, who is also owner/director of the New England School of Architectural Woodworking. "We knew that we had to make it easier for more educators to take the training."
"The biggest benefit for the candidate far and away is the ability to get trained anywhere in the world and at his own pace," Larson said. "We've also added more material to the training session, so it's more in-depth. Plus, the ASE manual is now the online training program. Anyone who is already an evaluator can get access to the training modules just by asking and use them as a reference or as a refresher whenever they want."
While there certainly are trade-offs between live and online training, Larson said, "I think by far, the positives outweigh the negatives. I know some people will miss the live interaction with the trainer but on the upside we still get the opportunity to see them in action and have a more personal one-on-one interview with them than we could when we had a live session involving a half-dozen or so instructors at once."
Staci Sievert, technical education teacher at Seymour High School of Seymour, WI, was among the first educators to take their ASE training online. She rated the training program as "excellent" and looked forward to putting her status as an ASE to use in the classroom. "The more we can get our students' learning aligned with industry standards the better it will be both for the students and for industry," she said. "All tech ed students can benefit from being certified as it means they have met benchmarks for taking accurate measurements and safely running equipment to industry standards."
The ASE Online Training Program in a Nutshell
The process of becoming an ASE begins by an educational institution or woodworking company joining the WCA as an EDUcation or MANufacturing member respectively. Among the many perks of the $250 annual membership fee is a voucher for one free ASE training class.
Next, the candidate fills out and submits the online ASE application along with a current resume and two references who can attest to the candidate's skill set.
Once qualified, the candidate takes the online ASE training course. It consists of 11 modules ranging from what an evaluator is and how WCA credentialing system works through an overview of the WCA's Skill Standards and how to conduct an evaluation. After completing the 11th module, the candidate takes a quiz.
After passing the quiz, the candidate is tested on measurement operations, including using a tape measure and caliper. The candidate then video records him or herself performing the five tool operations that make up the Sawblade Certificate, including:
Jointer – Edge jointing first edge
Table Saw – Ripping
Table Saw – Edge rabbet/single blade or dado set
Portable Hand Sander – Sand solid lumber
Drill Press – Drill holes completely through material
The candidate's video-recorded operations are reviewed by a WCA training coordinator, who also schedules an online meeting to talk to the candidate about his/her application and test results. In addition, the candidate is shown a series of short sample evaluation videos and asked to point out what's right or wrong in each.
After being formally accepted as an ASE, the candidate views instructional videos about the WCA's online registry where Passport holders' credentialing records are maintained. The new ASE's first official duty is to enter his or her Sawblade evaluation results in the registry.
Have something to say? Share your thoughts with us in the comments below.