Woodwork Career Alliance launches drive to enlist manufacturing members
July 13, 2023 | 12:23 pm CDT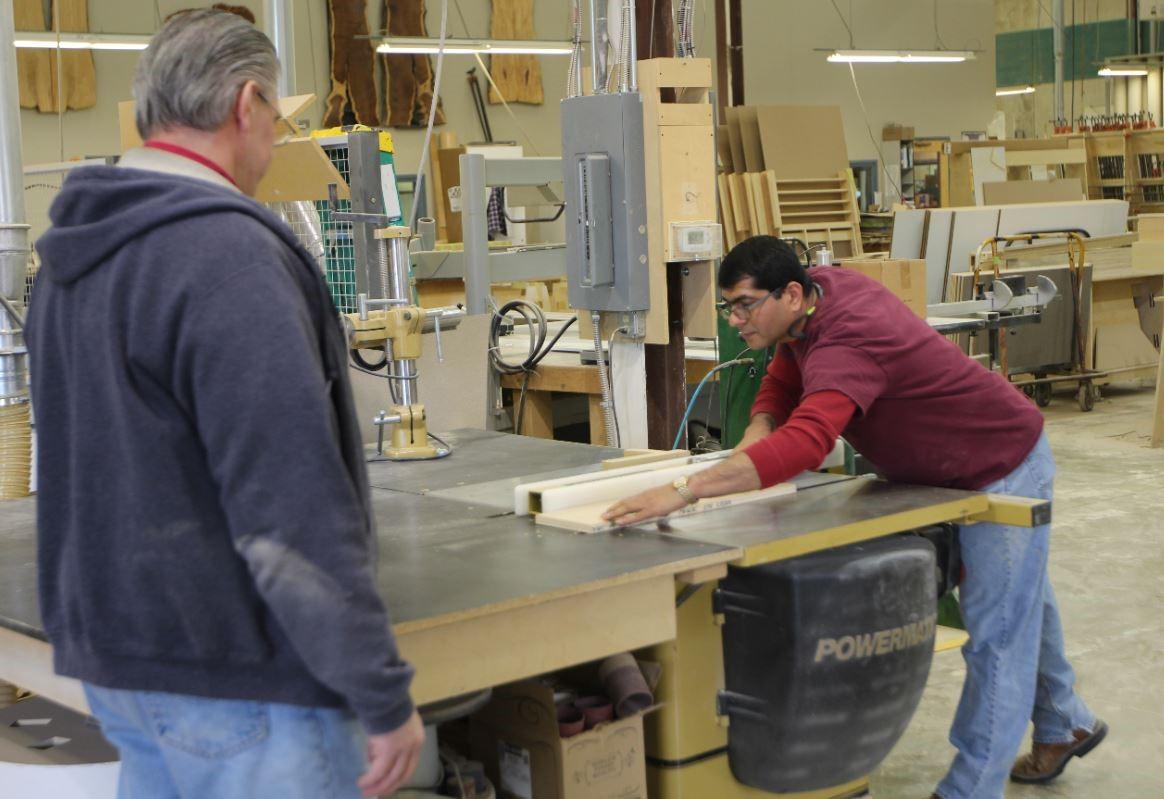 Photo By WCA
LINCOLN, Neb. — Wood product manufacturers looking for a solution to recruit, train, and retain skilled production employees should consider becoming a MANufacturing member of the Woodwork Career Alliance of North America.
The WCA MANufacturing membership is designed for forward-thinking woodworking companies willing to train, evaluate, and reward employees for growing their skill sets. The modest annual $250 MANufacturing membership subscription packs a lot of value.
Benefits include:
Credentialing – Develop a more cohesive in-house training program that incorporates the WCA Skill Standards and Passport credentialing system. Create individual employee pay incentives based on achieving measurable objectives in expanding their skill sets, making them more valuable members of your production team.
Training Tools – Gain access to online employee training materials, including instructional guides and videos created by seasoned woodworking educators.
Evaluator Training -- WCA will train selected employees online as in-house Accredited Skill Evaluators to administer your credentialing program.
Customization -- Optional customization of the program to fit your company's needs including development of new skill standards to match your production equipment.
Promotion -- Use of the WCA logo and brand on your website and communications. Make a bold statement to current and prospective employees, as well as your customers, that your company is committed to incorporating industry-vetted skill standards in your training program.
"The Woodwork Career Alliance was launched to develop a professional credentialing program to rival well-established programs in automotive, metal working, welding, and other skilled trades," said WCA President Scott Nelson. "The WCA's formative years were spent developing woodworking Skill Standards and credentialling programs. Over the last decade, hundreds of high school and postsecondary school woodworking programs have used the WCA Skill Standards to teach their students how to safely set up and operate key woodworking machinery based on industry best practices.
"We are now in the process of placing greater emphasis on working with professional woodworking companies of all sizes and types to adopt the WCA credentialing system to train their workforce," Nelson added. "The ultimate goal is to help woodworking companies create career paths for production employees by rewarding them for improving and expanding their skills, and thus value to the company."
Greg Larson, vice president of the WCA, said new online training programs are being developed that MANufacturing members can choose to use at an additional cost. "We are close to launching an online training module focused on math, measuring, and layout, important prerequisites for aspiring woodworkers. We plan to follow that up with modules devoted to topics including milling and machining, adhesives, and cabinet construction."
MANufacturing is one of three major membership categories of the WCA. The other two are EDUcation™ and INDustry™ Sponsor.
Learn more and join the WCA as a MANufacturing member.
About the Woodwork Career Alliance
The Woodwork Career Alliance of North America was founded in 2007 as a 501(c)(3) non-profit corporation and is governed by a volunteer board of directors. The WCA's mission is to develop and administer a unified set of Skill Standards for the wood products industry. Since 2011, WCA has developed observable and measurable performance standards and assessments for more than 300 woodworking machine operations. In addition, WCA has issued over 5,000 Passport credentials, a portable, personal permanent record documenting each holder's record of woodworking skill achievements. More than 160 high schools and post-secondary schools throughout North America are WCA EDUcation™ members and a growing number of woodworking companies have joined the WCA as MANufacturing™ members. To learn more about the WCA and how to get involved with its programs, including sponsorship opportunities, visit WoodworkCareer.org.
Have something to say? Share your thoughts with us in the comments below.