Woodcraft joins Patriot Woodworker to help Wounded Warrior family
December 27, 2019 | 9:11 am CST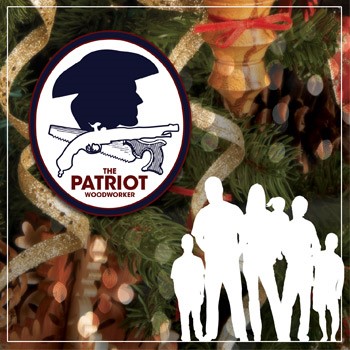 PARKERSBURG, W. Va. -- The Patriot Woodworker organization exceeded its $1,500 fundraising goal to provide a Merry Christmas for a Wounded Warrior and his family. Woodcraft is one of three retailers who support the annual project.
Each Christmas season the Patriot Woodworker adopts a family through Operation Ward 57, a nonprofit organization that supports wounded, injured and ill service members, veterans and their caregivers with outreach programs.
Patriot Woodworker then sells raffle tickets for products donated by Woodcraft, Laguna and Easy Wood Tools. The total raised for 2019 is $2,085.
"This year we had a unique situation," Patriot Woodworker founder John Morris said. "The family we are supporting is to remain anonymous.Hardships and conditions the family has and are undergoing prevent us from disclosing the identity of the family. Our adopted family has already gone through enough with the father serving our nation and the family paying a great price."
The father and husband in this family served in the U.S. Army and is now 100 percent disabled with varying issues from PTSD (Post-Traumatic Stress Disorder) to physical injuries including Traumatic Brain Injuries. As a result of his disabilities, the wife and mother in this family is now a caregiver, as well as a parent and spouse. In addition to the parents, this family includes a son in his late teens, two pre-teen sons and a toddler daughter.
Morris said the money raised through this project is paying for gifts that are already on their way to the family, and Patriot Woodworker will provide a gift card for the family to enjoy a holiday meal.
"Woodcraft is happy to support this project. We wish to bring some holiday joy to a disabled veteran and his family through the efforts of the Patriot Woodworker organization," President and CEO Jack Bigger said.
Four names were randomly selected from the raffle ticket buyers to win the four prizes. Winners are Michael Curtis, WoodRiver Standard Block Plane with Adjustable Mouth from Woodcraft; Peter Tomlinson, a WoodRiver V3 #4 Bench Plane from Woodcraft; Al Berube, a Laguna 14-1/2 inch Bandsaw from Laguna; and Cliff Rohrabacher, a 3-piece set of Mini Hollowing Tools from Easy Wood Tools.
The Patriot Woodworker is a woodworking community with an emphasis on sharing and learning the skilled craft of woodworking and all of its related disciplines. Although the group supports veterans and active duty military personnel both here in the United States and in Canada, being a veteran is not a prerequisite to join. To learn more, see http://thepatriotwoodworker.com.
For more information about Woodcraft, see http://woodcraft.com
Have something to say? Share your thoughts with us in the comments below.