Wisconsin Skills USA competition tests student cabinetmaking proficiency
May 16, 2016 | 2:50 pm CDT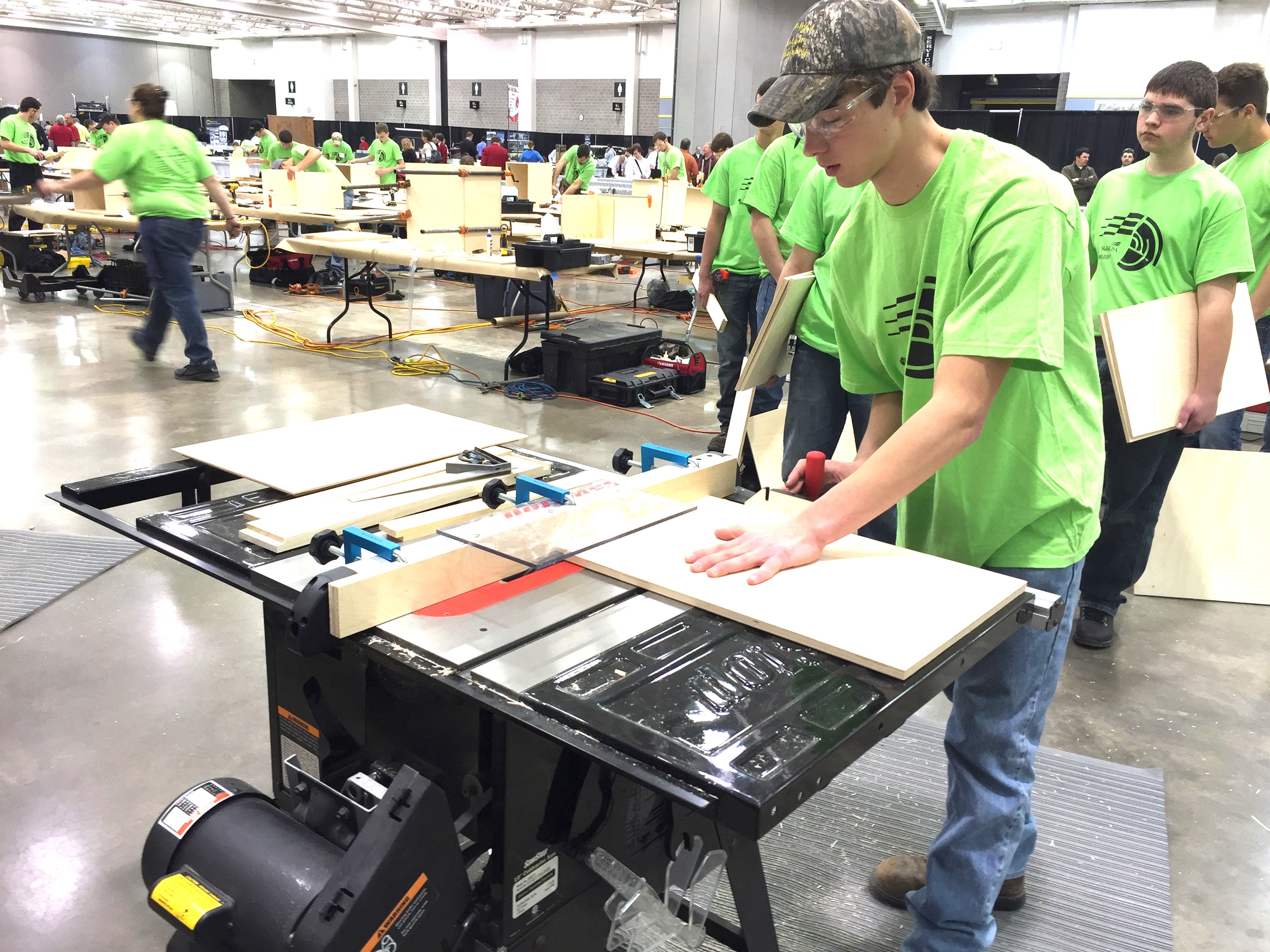 MADISON, Wisc. -  High school and college/post-secondary students from all over the state took part in the annual Wisconsin SkillsUSA cabinetmaking competition at the Alliant Center in Madison.
The Wisconsin state-level event is part of March and April the run-up to the national SkillsUSA Championships, a competitive event showcasing the best career and technical education students in the nation. Contests run locally throughout the U.S. continue through the state and national levels. This is a multi-million-dollar event that occupies a space equivalent to 16 football fields. In 2015, there were more than 6,000 contestants in 100 separate events. Nearly 1,500 judges and contest organizers from labor and management make the national event possible.
SkillsUSA heads to Louisville, Ky., June 20-24, 2016, for the 52nd annual National Leadership and Skills Conference (NLSC), a showcase of career and technical education students. More than 16,000 people — including students, teachers and business partners — are expected to participate in the weeklong event.
The philosophy of the Championships is to reward students for excellence, to involve industry in directly evaluating student performance and to keep training relevant to employers' needs.
The Wisconsin technical education students who participated constructed a special tool box using detailed drawings, complex parts, and few basic tools over a period of just a few hours.
A team of judges monitored the students' progress. The work began in mid-morning and finished mid-afternoon. At the end of the day, the judges chose three college/post-secondary winners and three from the high school group.
AWI-Wisconsin co-sponsored the event. Josh Bartlett, business development manager with Franklin Adhesives & Polymer, a division of Franklin International, acted as technical chair.
"For this year's project, AWI-Wisconsin selected a tool chest, which incorporated several layout, cutting and assembly challenges simulating a real-world production environment," Bartlett said.  "At the close of the event, each contestant had a functional keepsake that will be a proud reminder of the competition."
All contestants received a prize package courtesy of Milwaukee Electric Tool Corp. Winners from the post-secondary division were:
1st – Quinn Roberts, Madison College
2nd – Ross Vanis, WITC Rice Lake
3rd – Ashley Bickel, Madison Area Technical College
High school winners were:
1st – Jacob Stamm, Hartford Union High School
2nd – Luke Guldan, Marshfield Senior High School
3rd – Graham Welch, Oconto Senior High School
Out of the 35 contestants, 10 were students at college/post-secondary schools and 25 were from Wisconsin high schools.
Judges were: Mark Lorge, Fox Valley Technical College; Dave Nigbor, Lannon Millwork; Todd St. Martin, Wisconsin Built, Inc.; and Bert Christensen, Westosha High School. Jerry Finch, Fox Valley Technical College (retired) was the foreman/judge.
Sponsors for the competition were: Fox Valley Technical College; Franklin International; Sierra Forest Products;  Creative Laminates; Innovations Custom Door; Wurth Baer Supply Co.; Schulist Custom Cabinets, Inc.; O'Keefe Inc.; Kreg Tool Co.; John G. Weber Co.; Frank Paxton Lumber Co.; Central Wisconsin Woodworking Corp.; Wisconsin Built, Inc.; Amerhart;  US Duct; Madison College; Finchworks, LLC; Brunsell Lumber & Millwork; Senco; and Milwaukee Electric Tool Corp.
Have something to say? Share your thoughts with us in the comments below.