Williams-Sonoma: Another U.S. Furniture Factory?
February 7, 2013 | 8:03 pm CST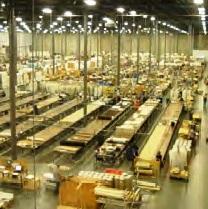 Williams-Sonoma is seeking a furniture manufacturing operations manager for a manufacturing center in City of Industry, CA. The posting, made last month, is accompanied by a number of other production and distribution related positions in City of Industry.
This position is described as "responsible for providing strong leadership and managing associates in the manufacturing plant," working with "plant management to plan and prioritize daily workload and achieve established productivity standards and goals; ensure that all products are manufactured at the best acceptable standards possible. . . to maximize the productivity of the departments while ensuring quality and adhering to and complying with all safety policies and laws; work closely with frame packing, quality and expeditor to make sure that the furniture is being produced in a timely manner."
Sutter Street Manufacturing in Claremont, NC is Williams-Sonoma existing U.S. furniture production subsidiary. Originally opened in 2007, it employs 300, with production centered around upholstering. Plans were announced in 2008  to create 820 jobs and invest $2.7 million in the plant, with the State of North Carolina providing $8.96 million in tax incentives over 10 years.
"While Sutter street represents just a fraction of our overall business, it demonstrates how success can go hand-in-hand with supporting people and communities," says Williams-Sonoma in its 2011 sustainability statement. "This idea applies both in the U.S. and throughout the world, and we believe that Sutter Street holds lessons for how we can support other communities where our products are made." The company imports around 61 percent of the goods it sells through its various units such as West Elm and Pottery Barn.
Have something to say? Share your thoughts with us in the comments below.