Vet turns hardwood offal into swords and shields and awesome wood goods
November 9, 2022 | 12:27 pm CST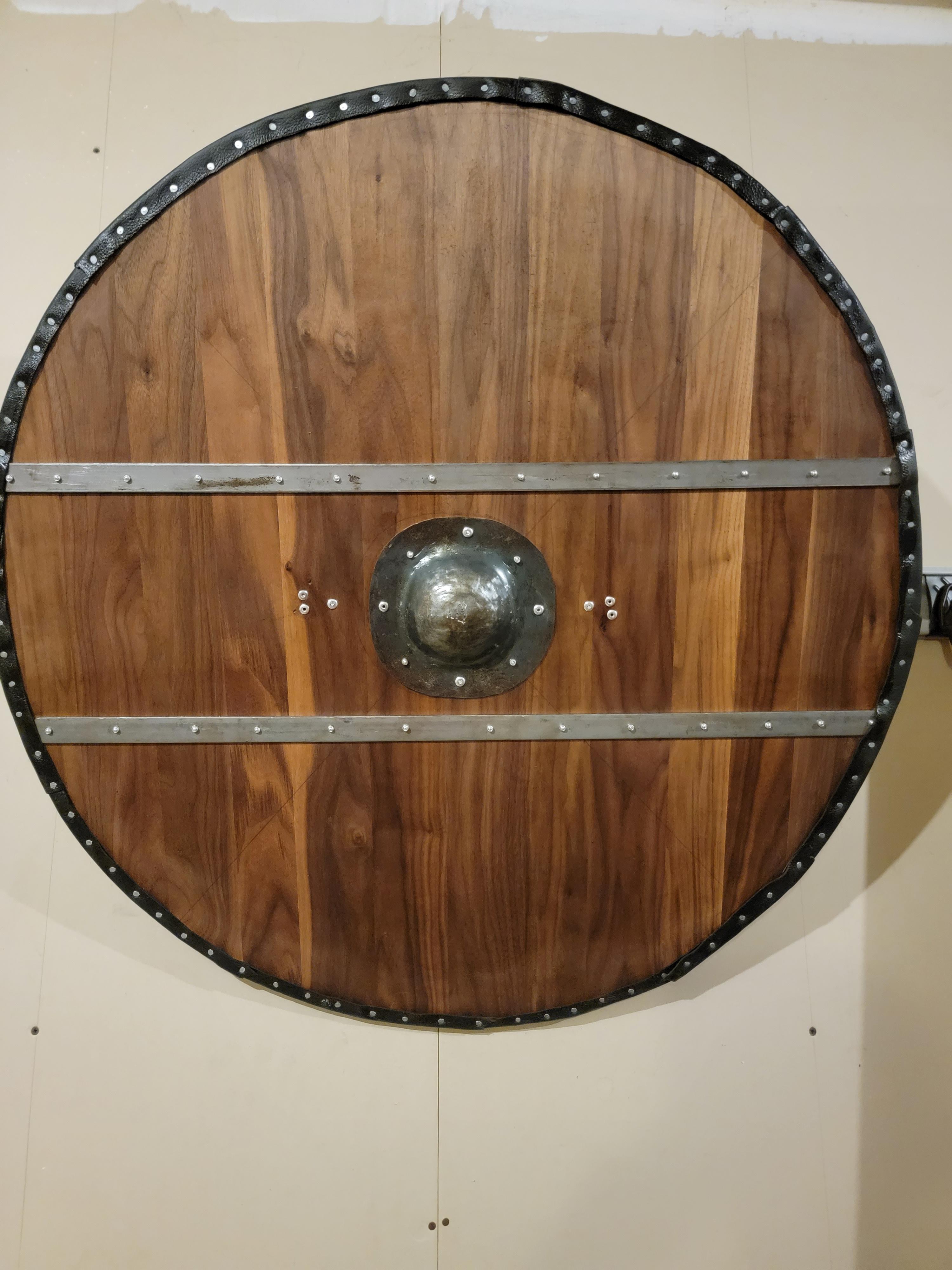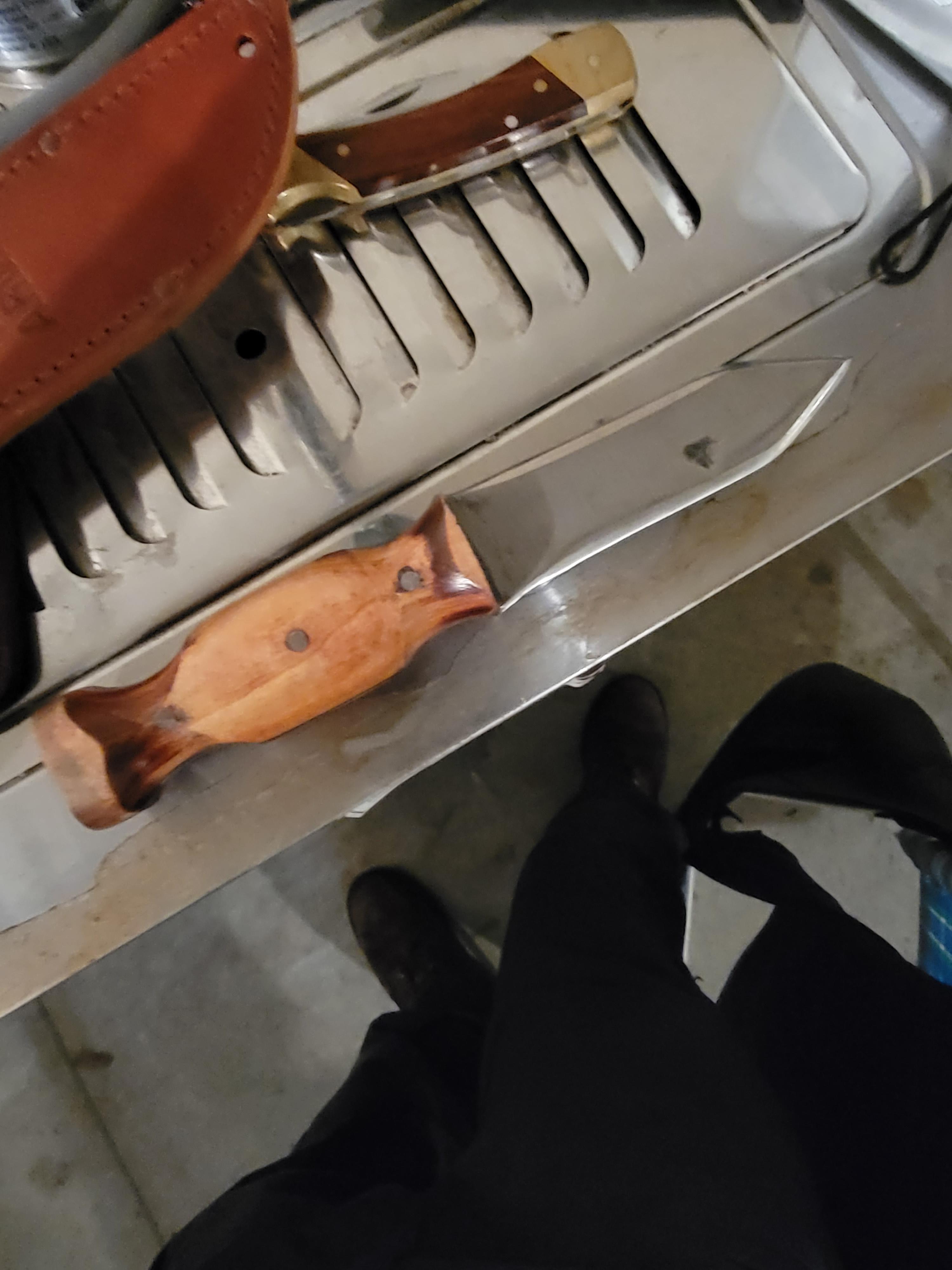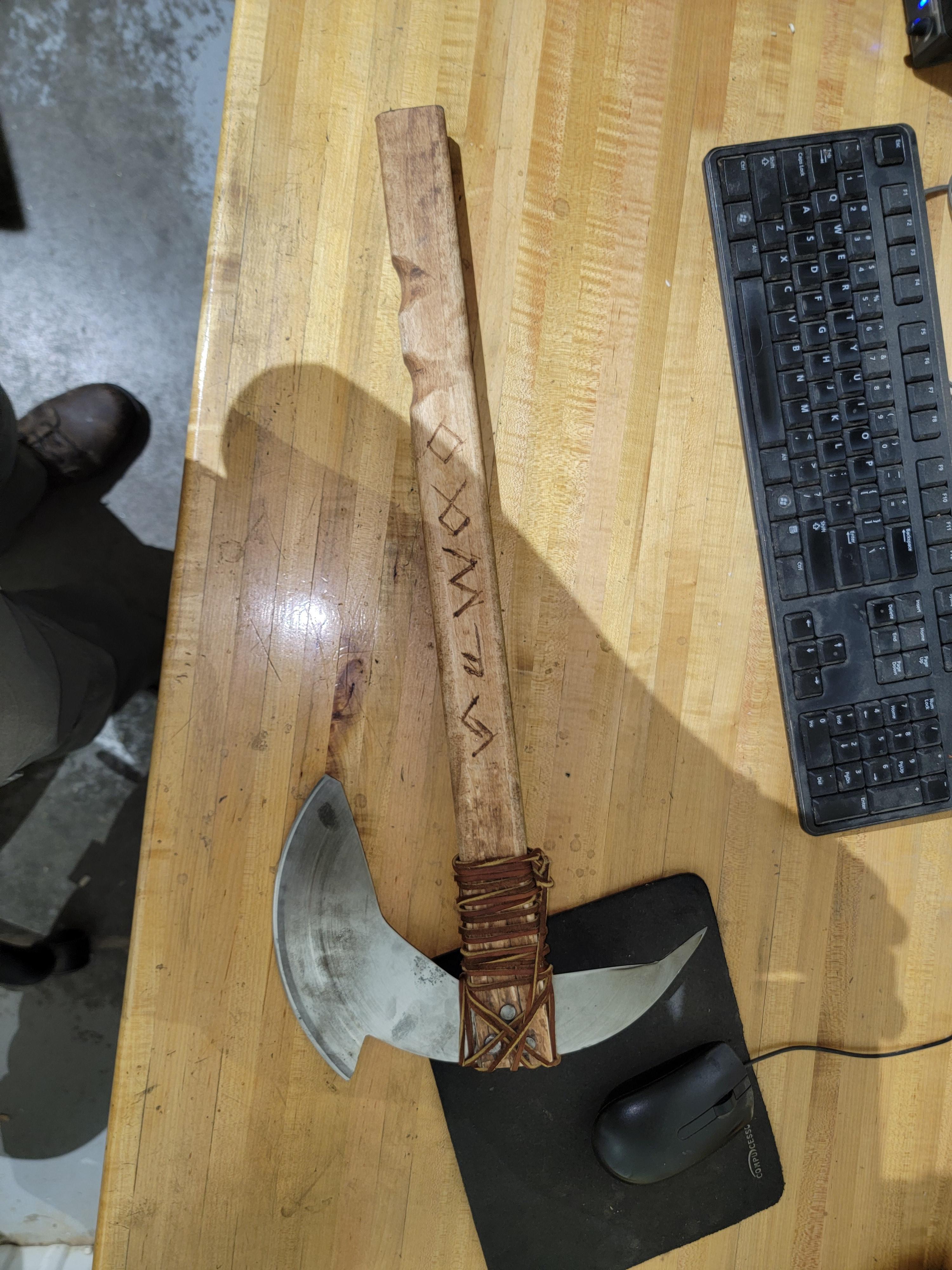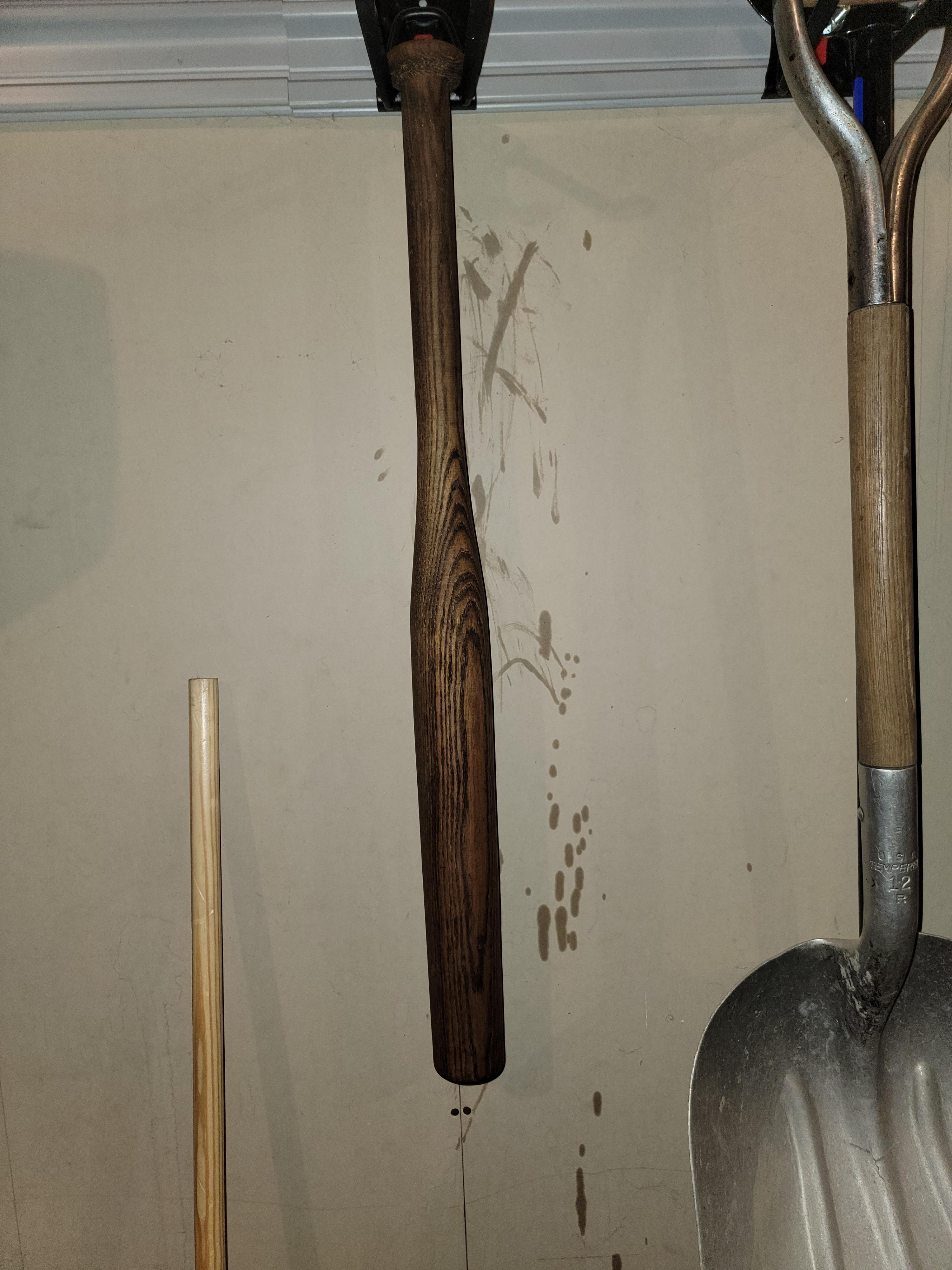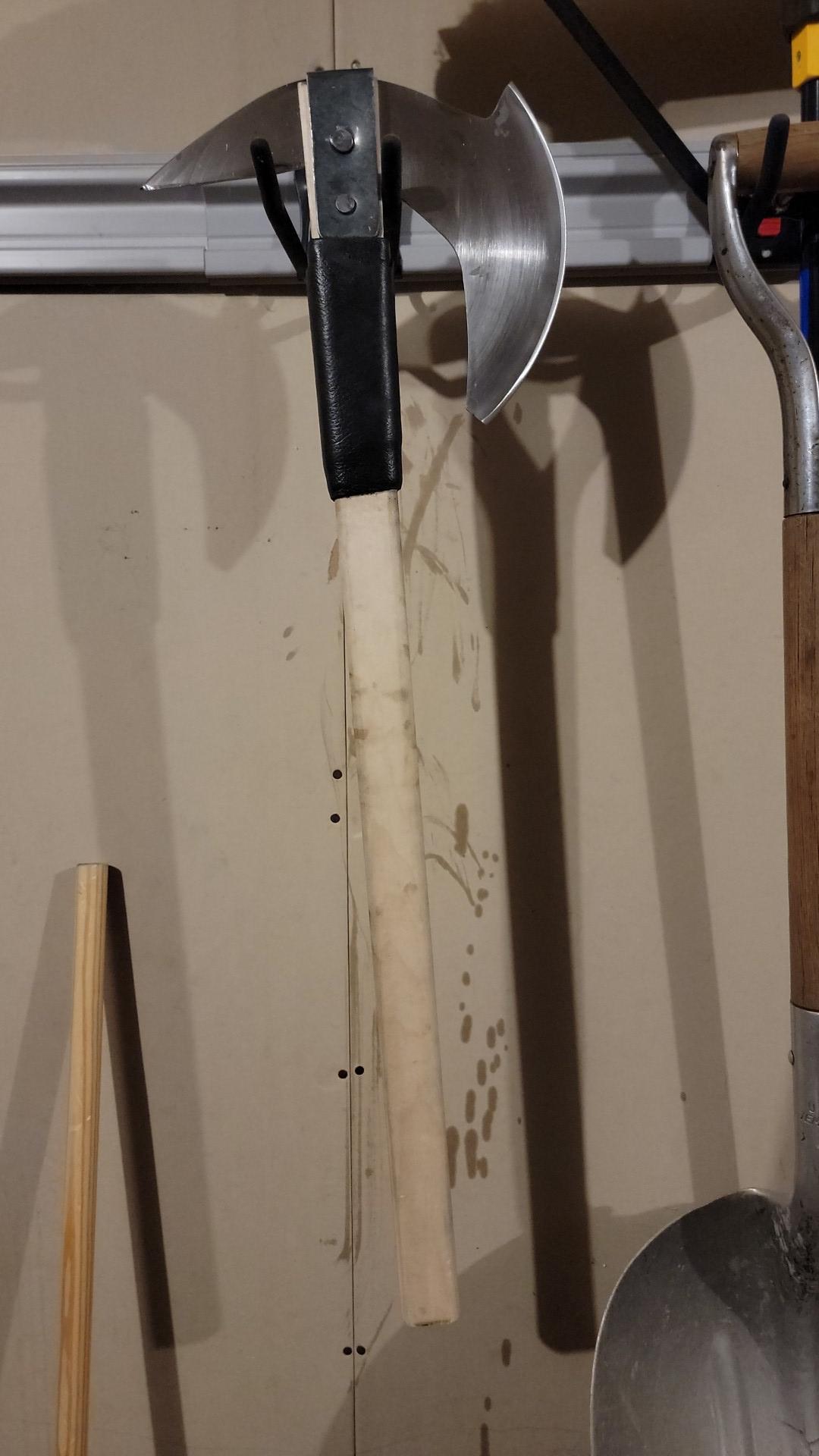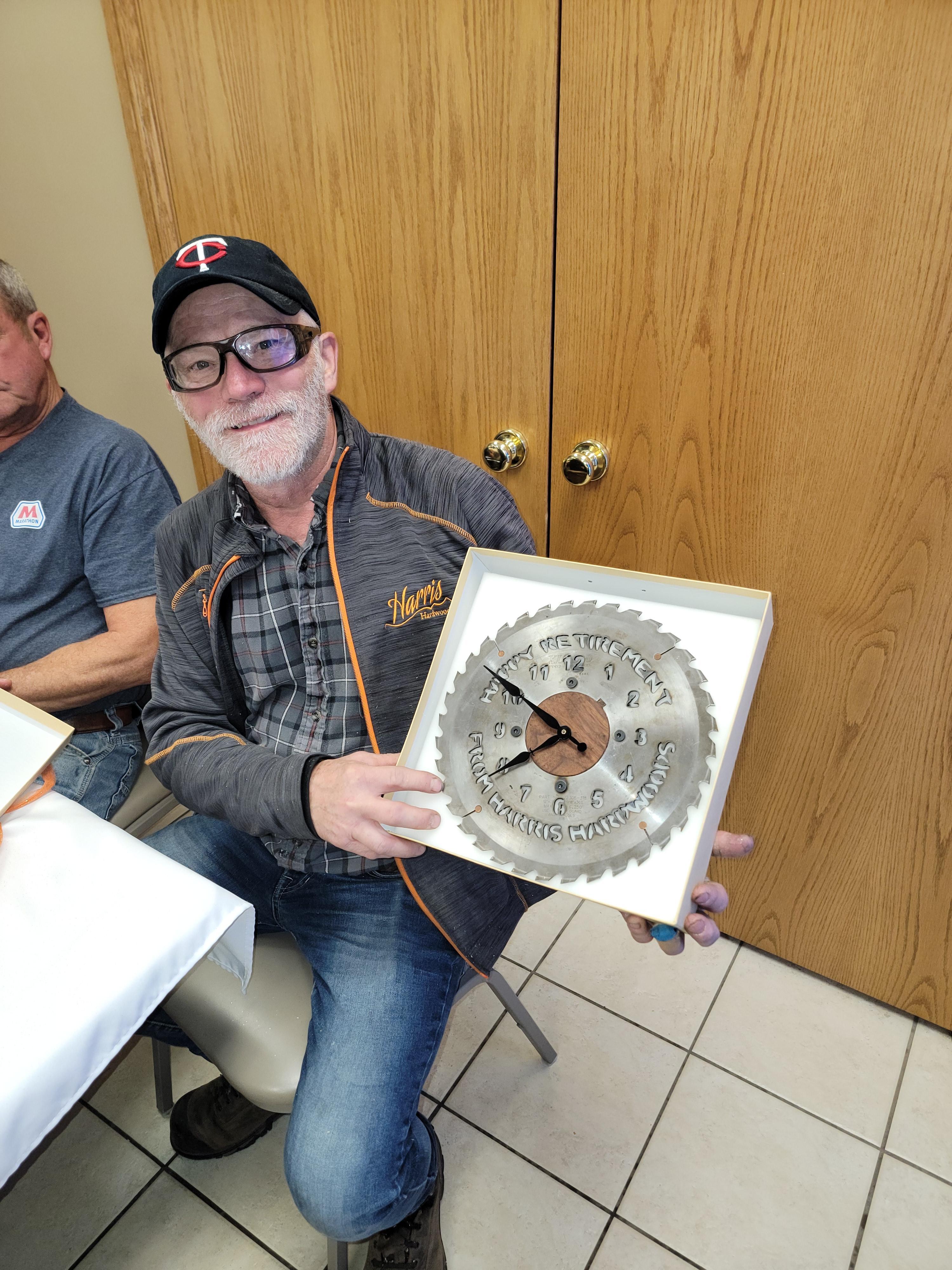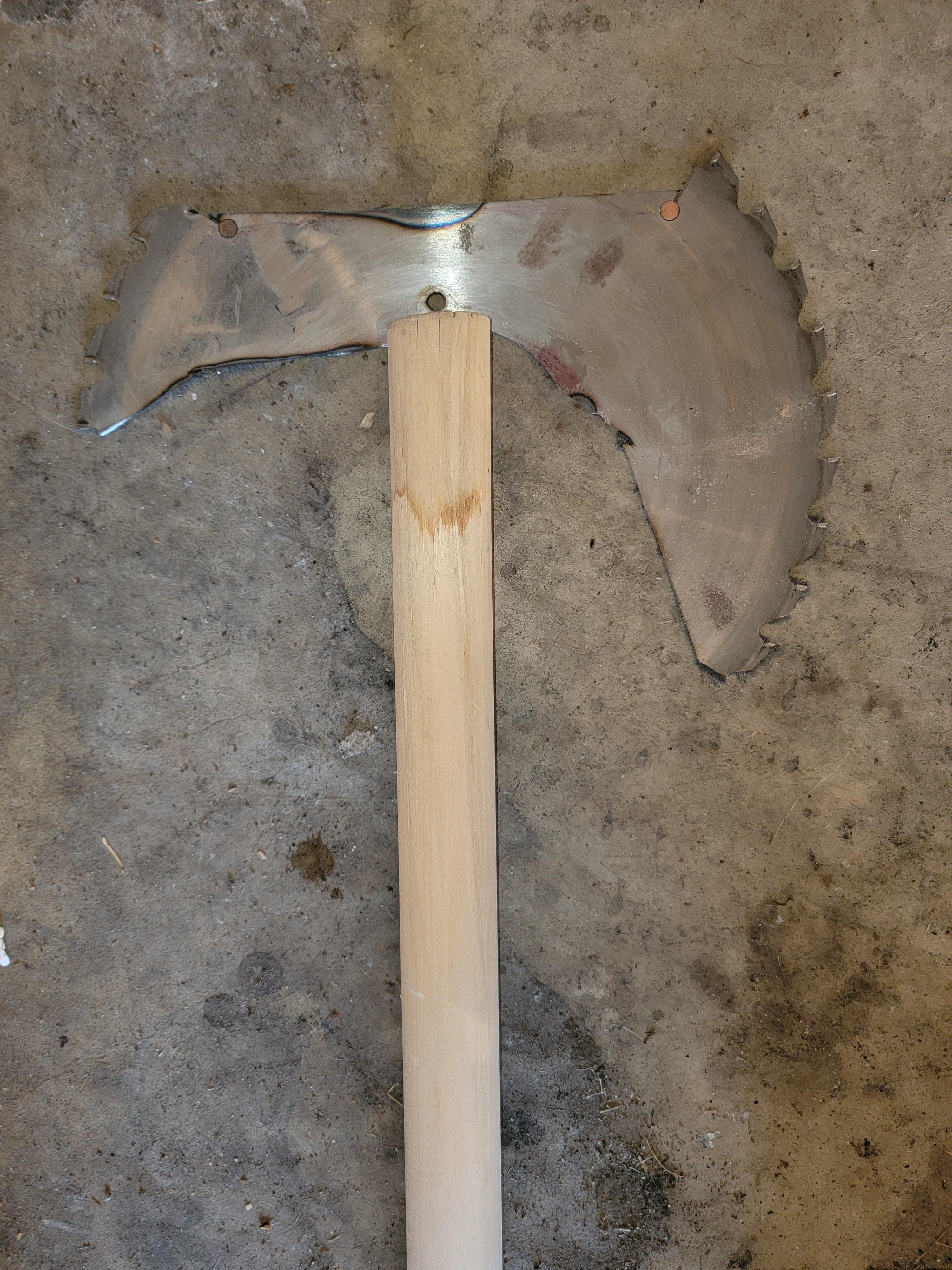 Brandon Askin was walking by the bin where metal waste is discarded when he saw a saw blade that was to be trashed. The production manager for Harris Hardwoods in Foreston, Minn., is not a person that likes to discard things that can be reused.
"The saw blade was too dull to sharpen anymore," said Askin. "And I know the saw blades are incredibly expensive and they are made of very good, high-quality steel and I didn't want to just throw away a perfectly good saw blade."
So, he took the saw blade and a chunk of scrap Walnut that was going to be turned into sawdust and made a clock out of the waste materials. Askin presented the clock to the company's recently retired rough mill supervisor, Terry Miller. 
"The sawblade is from the machine that Terry worked on for about a decade," said Askin. "The wood in the center is a solid chunk of Walnut that I grabbed up off the floor and did all the routing and milling so it would fit in the sawblade arbor."
Askin is a U.S. Army veteran that served four years in the military including doing a tour in Afghanistan. He learned welding and metal fab after the Army at DCI Inc. and started college in 2014 at St. Cloud State University, St. Cloud, Minn., where he earned a degree in Manufacturing Engineering Technology.
"That is how I entered the wood business," he said. Starting at Harris, he brought with him a mix of both metal fab and wood fab skills, which helped him build the projects that would be gifted to colleagues and family.
Working with a mix of metal and wood materials can be difficult, said Askin. For instance, to mill out the back for the clock mechanism, he had to modify his drill press just to hollow out the wood so that the clock mechanism would seat flush.
Among the other projects that Askin made in his garage is a 3-ft diameter shield made from a solid walnut panel. The shield is trimmed in black leather that came from a leather jacket that he wore in high school. "The shield has an actual handle and is a fully functional shield."
He also has made several axes and knives, which he said are very difficult to create. "You have to form and cut and shape and sharpen the steel before you can even get started on the woodwork," he said. "And then, you have to have the wood mate and marry into the steel which means you have to blind drill essentially all of your connecting points and cut pins and rivet the pins into the wood without cracking it. There's a lot of finesse and detail that goes into every one of these projects."
When it comes to what he wants to create, he says the "material usually drives the decision."  He looks at the shape of the material and what other components he has available. "The plan comes together as I'm just staring at the material. I ask myself, 'What's the best use of this piece?' and that is what drives its final shape."
He also likes to match the items he makes to the person. "I made a Viking axe for my tool room technician  because he reminded me of a Viking."
When he discusses his work, Askin sounds as much like an artist as he does a metal and woodworker. Does he consider himself an artist? "No," he said. "I consider myself a man who doesn't like to throw anything away."
Have something to say? Share your thoughts with us in the comments below.