Upholstered Furniture Maker H.M. Richards Expands Operations
June 9, 2015 | 2:45 pm UTC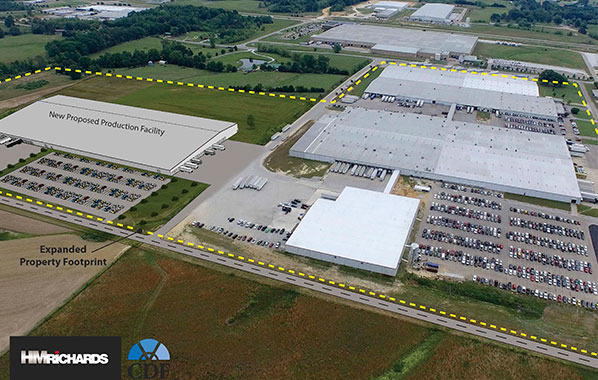 Photo By H.M. Richards
GUNTOWN, MS — Upholstered furniture manufacturer H.M. Richards is investing $8 million to expand  operations at its facility in Guntown, MS. The expansion is expected to create 500 jobs.

Founded in 1997, H.M. Richards currently has 977 employees. For the expansion, the residential furniture maker is purchasing land adjacent to its 900,000-square-foot facility to build the new plant.
H.M. Richards' upholstered furniture products are distributed through major furniture and department stores throughout the U.S. and Canada. The company also produces licensed home brand products under the Cindy Crawford Home and the Sofia Vergara Collection names.
"Today is a fantastic day for Lee County and North Mississippi as H.M. Richards expands its presence in our state and announces hundreds of new jobs for the area's workers," Gov. Bryant said. "The company could have chosen to expand elsewhere, and the fact the H.M. Richards team chose its Guntown location speaks volumes about the strength of Mississippi's business climate and furniture industry and about the productive workforce throughout the region and entire state. I wish the company many more years of success in Lee County."

Funding assistance was provided by the Mississippi Development Authority for infrastructure needs, site preparation, electrical needs, parking lot improvements, and workforce training. Also assisting were the Community Development Foundation, Lee County, Appalachian Regional Commission, and Tennessee Valley Authority.

"We are thrilled to partner with Gov. Bryant and the state of Mississippi, the Mississippi Development Authority, the Appalachian Regional Commission and the Tennessee Valley Authority, as well as the Community Development Foundation," said H.M. Richards Vice President of Manufacturing Thomas Wells. "We are grateful for the support, and their combined efforts persuaded us that the expansion of our existing facility is the right decision at the right time."
The groundbreaking ceremony. Photo: Mississippi Development Authority

 
Have something to say? Share your thoughts with us in the comments below.