Updated survey charts pandemic impact on woodworking industry
November 5, 2020 | 3:53 pm CST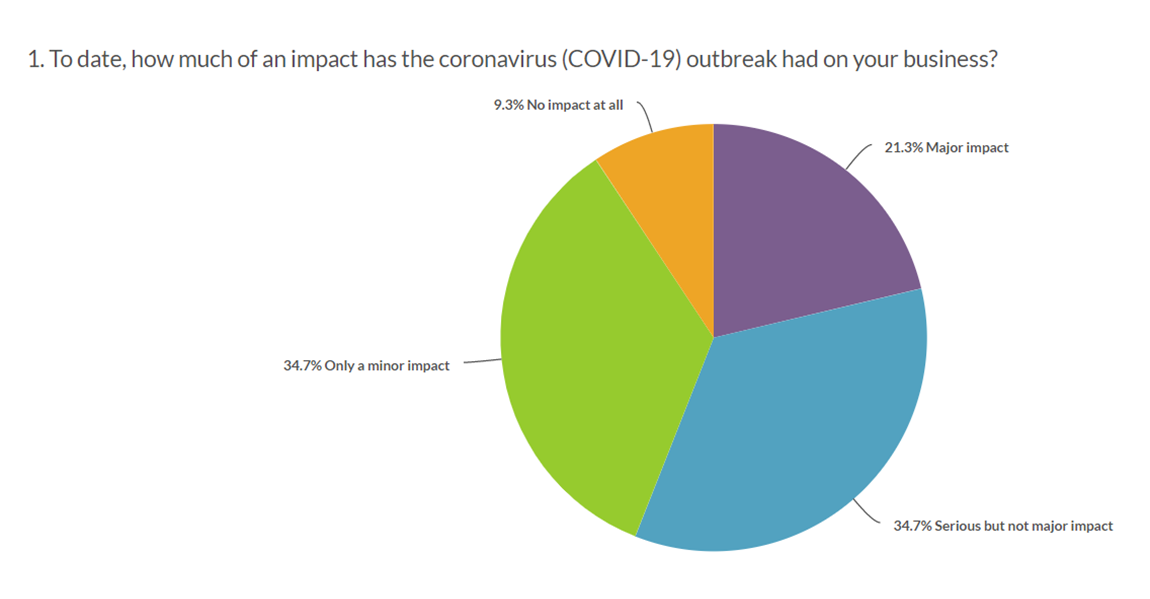 Perceived impact of the COVID-19 pandemic on the woodworking industry is decreasing even as there seems to be a new surge in the virus itself, according the latest survey results from Woodworking Network.
When Woodworking Network first surveyed the woodworking industry about the pandemic in March, some 36.5 percent predicted it would have a major impact on their businesses. Today, that number has dropped to just 21.3 percent.
The number who predicted the impact would be serious but not major is relatively unchanged, going from 35.8 percent in March to 34.7 percent in the October survey. By contrast, respondents who predicted a minor impact in March (23.7 percent) swelled to more than third (34.7 percent) in October. Similarly, the percentage who saw no impact from the pandemic in March (4.1 percent) has more than doubled to 9.4 percent in the October results.
Specific impacts
When it comes to specific impacts from the pandemic, disrupted schedules were cited the most by respondents in March (69 percent) and in October (61.8 percent). More respondents cited disrupted supply as an impact in October (53.7 percent) compared to March (46.8 percent).
While more than half of respondents reported loss of business in March (55.1 percent), for October, that number has dropped significantly to 47.8 percent. Similarly, the impacts of mandated shutdowns (39 percent in March) dropped to just 26.5 percent in October. Cancelled orders plagued more than a third of respondents (34.5 percent) in March but have dropped to 26.5 percent in October.
Actions taken
The most common actions taken by woodworking businesses during the pandemic are largely unchanged. Slightly more than half (52.8 percent) in March and 48.7 percent in October changed work procedures. Some 41.6 percent in March curtailed business travel, which is comparable to the 40 percent reported in October.
Some numbers have come down. Remote working was reported by 31.3 percent in March and 29.3 percent in October. Reduced work hours were listed by 34.3 percent in March but only 25.3 percent in October. Reduced workforce was reported by about a third of respondents in March (32 percent), but that number dropped to 22.7 percent in October.
The biggest change came from shops that reported they reduced public hours in March (50 percent). That plummeted to just 18 percent in October. Similarly temporary business closures were reported by 23 percent in March but only 11.3 percent in October. And while some 6.9 percent reported an indefinite shutdown in March, just 1.3 percent reported that in October.
Testing positive
Just as in March, the vast majority of respondents still report no positive COVID-19 tests in their businesses, but that number has gone down from 97.5 percent in March to 79.3 percent in October. Businesses reporting one positive infection are up from just 1.4 percent in March to 12 percent in October. Those with two positive reports are up to 2.7 percent in October compared to just 0.2 percent in March. Companies reporting three or more positive COVID-19 tests are up to 6 percent in October, compared to 0.9 percent in March.
Outside contacts
Many companies initially limited outside contacts to combat the virus. In the March survey, 52.8 percent reported limiting all face-to-face contacts, and that is up to 58.7 percent in October. In March, 41.6 percent reported taking initial contact-limiting measures but relaxing them later. Not so in October when only 20 percent reported doing so. Nearly a third (31.3 percent) reported instituting no face-to-face contact in March, but that was down to just 18 percent in October. About a third (32 percent) said in March that they made no change to how they handled outside contacts, but that number dropped to 18 percent in October.
Supplier interactions
The status of relationships with suppliers appears mostly unchanged from what it was in March. Back then about a third (33.6 percent) said they were still receiving regular orders and shipments, which compares favorably with the 33.3 percent who reported that in October. While some 19.4 percent in March reported delays and backorders from their suppliers, that number is up slightly to 23.3 percent in October.
On the plus side, shipping disruptions, which were reported by 31.3 percent in March, were reported by only 18.7 percent in October. Similarly reduced orders are down from 28.8 percent in March to 14.7 percent in October. Shops who accelerated their ordering to make up for expected shortages or delays was unchanged at a little over 7 percent. And the number who reported being completely cutoff from some supplies is down from 8 percent in March to just 1.3 percent in October.
Mandatory closures
Government-imposed mandatory closures affected many woodworking businesses, but most have reopened. Nearly half (47.2 percent) said in March that they had no mandatory closure. That number climbed to 70 percent in October. About a quarter (25.3 percent) say they did have to close have now reopened. Only 1.3 percent say they are still closed.
Employee issues
Woodworking businesses have had to enact a number pandemic-driven measures to deal with employees. Nearly three-quarters (71.3 percent) report they are now working with safety measures in place. Some 11 percent report enacting minor layoffs, but the same number also report they have brought employees back after minor layoffs. Only 7.3 percent report major layoffs (compared to 32 percent in March), and 10 percent say most or all of their employees are back after initial major layoffs.
Paycheck Protection Program
Many woodworkers were anxious to get government aid during the pandemic. Nearly half of the survey respondents (49.3 percent) say they applied for loans under the Paycheck Protection Program and were funded. Some 4 percent said they applied but were not funded. Another 38.7 percent said they didn't qualify for the program, and 8 percent said they didn't hear about it in time to apply.
For those who did receive the loans, 70.3 percent said they are seeking 100 percent forgiveness for the loans. Another 2.7 percent are seeking 50 to 75% forgiveness, and 1.4 percent applied for less than 50 percent forgiveness. More than 25 percent said they did not apply for forgiveness.
Outlook for 2021
Woodworking businesses remain optimistic. A majority, 54.7 percent see a strong business outlook for 2021. More than a quarter (27.3 percent) predict a slow recovery in 2021. Only 16 percent see reduced business in the year ahead. Some 6 percent are uncertain about 2021.
Back in March, nearly 3 percent of respondents were considering a permanent shutdown of their business in reaction to the pandemic. In October, 2 percent say they are considering that.
The October survey was based on 150 completed responses from an initial sample size of 40,247 surveyed. That results in a 6.71 percent margin of error with a 90 percent confidence level.
To watch a recorded webinar about the results, go to https://attendee.gotowebinar.com/recording/3882814673306337288
To listen to a podcast about the results, go to https://www.woodworkingnetwork.com/podcasts/sick-sickness
Have something to say? Share your thoughts with us in the comments below.