Update: Furniture and wood products contract
November 1, 2022 | 1:23 am CDT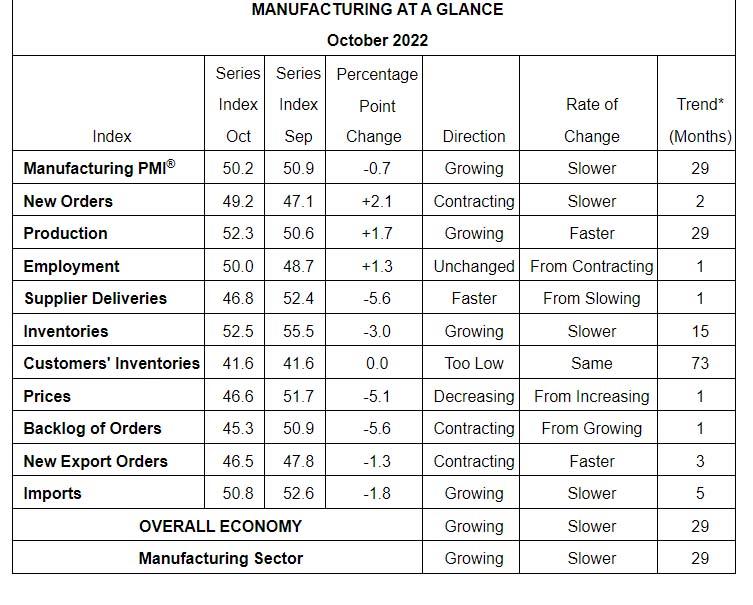 Note: This story has been amended to correct information on October's new orders for the furniture and wood products' industries. 
TEMPE, Ariz. -- Economic activity in the manufacturing sector grew in October, but furniture and wood products manufacturing were not one of the industries that grew. Overall, the economy achieved a 29th consecutive month of growth, say the nation's supply executives in the latest Manufacturing ISM Report On Business.
According to the report issued by Timothy R. Fiore, CPSM, C.P.M., Chair of the Institute for Supply Management (ISM) Manufacturing Business Survey Committee, furniture and wood products were two of the manufacturing industries that reported contraction in October,
Eight manufacturing industries reported growth in October, in the following order: Apparel, Leather & Allied Products; Nonmetallic Mineral Products; Machinery; Petroleum & Coal Products; Transportation Equipment; Miscellaneous Manufacturing; Plastics & Rubber Products; and Electrical Equipment, Appliances & Components. 
The 10 industries reporting contraction in October compared to September, in the following order are: Furniture & Related Products; Wood Products; Paper Products; Textile Mills; Printing & Related Support Activities; Fabricated Metal Products; Chemical Products; Primary Metals; Computer & Electronic Products; and Food, Beverage & Tobacco Products.
Overall, in October, the Manufacturing PMI registered 50.2 percent, 0.7 percentage points lower than the 50.9 percent recorded in September, according to Fiore.
"This figure indicates expansion in the overall economy for the 29th month in a row after a contraction in April and May 2020," he said. "The Manufacturing PMI figure is the lowest since May 2020, when it registered 43.5 percent. The New Orders Index remained in contraction territory at 49.2 percent, 2.1 percentage points higher than the 47.1 percent recorded in September.
The Production Index reading of 52.3 percent is a 1.7-percentage point increase compared to September's figure of 50.6 percent. The Prices Index registered 46.6 percent, down 5.1 percentage points compared to the September figure of 51.7 percent. This is the index's lowest reading since May 2020 (40.8 percent). 
The Backlog of Orders Index registered 45.3 percent, 5.6 percentage points lower than the September reading of 50.9 percent. After one month of contraction, the Employment Index was unchanged at 50 percent, 1.3 percentage points higher than the 48.7 percent recorded in September. 
The Supplier Deliveries Index reading of 46.8 percent is 5.6 percentage points lower than the September figure of 52.4 percent. This reading, the index's lowest since March 2009 (43.2 percent), ended a streak of 79 months in 'slowing' territory. The Inventories Index registered 52.5 percent, 3 percentage points lower than the September reading of 55.5 percent. The New Export Orders Index reading of 46.5 percent is down 1.3 percentage points compared to September's figure of 47.8 percent. This is the index's lowest figure since May 2020, when it registered 39.5 percent. The Imports Index remained in expansion territory at 50.8 percent, 1.8 percentage points below the September reading of 52.6 percent."
Fiore added, "The U.S. manufacturing sector continues to expand, but at the lowest rate since the coronavirus pandemic recovery began. With panelists reporting softening new order rates over the previous five months, the October index reading reflects companies' preparing for potential future lower demand.
In the meantime, demand eased. Survey highlights include:
New Orders Index remaining in contraction territory,
New Export Orders Index below 50 percent for a third consecutive month and at a faster rate of contraction,
Customers' Inventories Index remaining at a low level, with the same reading as in September and,
Backlog of Orders Index slipping into contraction.
Output/Consumption (measured by the Production and Employment indexes) improved month over month, with a combined positive 3-percentage point impact on the Manufacturing PMI® calculation.
The Employment Index shifted from contraction to a reading of 50 percent (unchanged), and the Production Index increased by 1.7 percentage points, staying in modest growth territory.
Business Survey Committee panelists' companies are continuing to manage headcounts through hiring freezes and attrition to lower levels, with medium- and long-term demand still uncertain. Inputs — defined as supplier deliveries, inventories, prices, and imports — mostly accommodated growth. The Supplier Deliveries Index indicated faster deliveries and the Inventories Index dropped 3 percentage points as panelists' companies continued to manage the total supply chain inventory. The Prices Index decreased for a seventh straight month and fell into contraction territory, which should encourage buyers.
"Of the six biggest manufacturing industries, three — Machinery; Petroleum & Coal Products; and Transportation Equipment — registered moderate-to-strong growth in October.
"Manufacturing expanded for the 29th straight month in October. Panelists' companies continue to carefully manage to hire, month-over-month supplier delivery performance was the best since March 2009, and the Prices Index indicated decreasing prices for the first time since May 2020. Like in September, mentions of large-scale layoffs were absent from panelists' comments, indicating companies are confident of near-term demand. As a result, managing medium-term head counts and supply chain inventories remain primary goals. With the decline in the Backlog of Orders Index, buyers and sellers will begin to shore up order books and order streams to reduce share loss in the medium-to-long term," said Fiore.
Have something to say? Share your thoughts with us in the comments below.