UMaine to unveil world's first bio-based 3D printed house
November 16, 2022 | 3:40 pm CST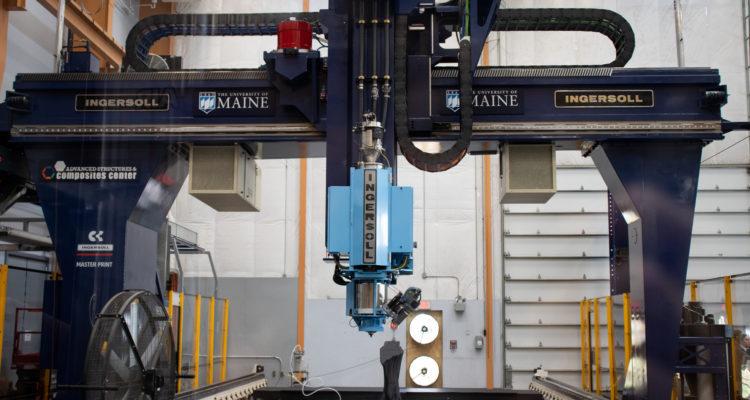 Photo By UMaine
On Nov. 21, the University of Maine Advanced Structures and Composites Center (ASCC) will unveil BioHome3D, the first 3D-printed house made entirely with bio-based materials, will unveil the world's first bio-based 3D printed house.
. BioHome3D was developed in partnership with the Maine Housing Authority and the U.S. Department of Energy-funded Hub and Spoke program between the UMaine and Oak Ridge National Laboratory.
The 600-square-foot house, prototyped to help address the affordable housing crisis, features 3D-printed floors, walls, and roofs. Wall and roof insulation are also made from wood. Even floor tiles are made from recycled materials.
Woodworking Network reported in August that the UMaine team, working in partnership with researchers at the U.S. Department of Energy's Oak Ridge National Laboratory, developing a prototype weatherproof and insect-proof single housing unit, being built in collaboration with the Maine State Housing Authority (MaineHousing) at the ASCC's "Factory of the Future," 
The 3D printing of homes helps solve issues associated with labor shortages. The use of local wood in the printing process addresses supply chain issues. The precision of the printing process nearly eliminates construction waste.. Using the advanced manufacturing processes developed at UMaine, future low-income homes can be customized to accommodate accessibility requirements, efficiency requirements, and aesthetic preferences.
The unveiling event is 10:30 a.m.–1 p.m., Nov. 21, at UMaine Advanced Structures and Composites Center, 35 Flagstaff Road, Orono. Please arrive at 10 a.m. to be seated.
Members of Maine's Congressional delegation, including Senators Collins and King, Gov. Janet Mills, MaineHousing and other state and local leaders, U.S Department of Energy representatives, University of Maine System, and University of Maine leadership will join an audience of stakeholders to discuss the critical implications of this research and development
initiative related to affordable housing.
Have something to say? Share your thoughts with us in the comments below.