Timber frame and CLT floor highlight Fastenal's new Minnesota HQ
December 7, 2021 | 8:39 pm CST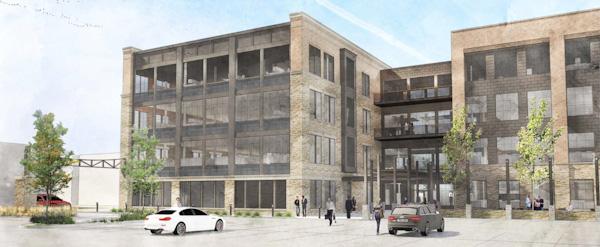 WINONA, Minn – Fastenal, distributor of wide-ranging industrial and construction products, opened the doors to its new 97,600-square-foot corporate office. 
Designed by The Kubala Washatko Architects (TKWA), the mass timber frame building reflects an environmentally conscious design, including locally sourced Winona stone and mixed media building materials, the company said. 
In addition to the timber frame, the building also features cross-Laminated Timber (CLT) flooring and locally sourced stone materials.
Intended to look like a hundred-year-old building from afar, the building blends into Winona's historic landscape. Up close, modern features tout Fastenal's manufacturing and supply capabilities. From exposed X-bracing right down to every single nut and bolt, Fastenal products can be seen incorporated into the building.
C.D. Smith Construction of La Crosse, Wis. managed the 16-month construction project. The original building concept consisted of a steel frame core. With a growing focus on building sustainability and advancing occupants' health and well-being, the project team at C.D. Smith and TKWA proposed an alternative mass timber frame.
Intrigued by the concept and benefits it would provide, Fastenal moved forward with the mass timber design. "It's fascinating to learn about biophilia in architecture," Johnson shares. "The wood gives our new building energy and a vibe of its own. People want to stay longer because the environment is appealing. It has also promoted bigger thinking and innovation. So much so that we are now looking at how to incorporate things we've learned on this project into our other locations." 
 
Have something to say? Share your thoughts with us in the comments below.