Students compete in California cabinetmaking, woodworking contests
June 10, 2019 | 9:10 am CDT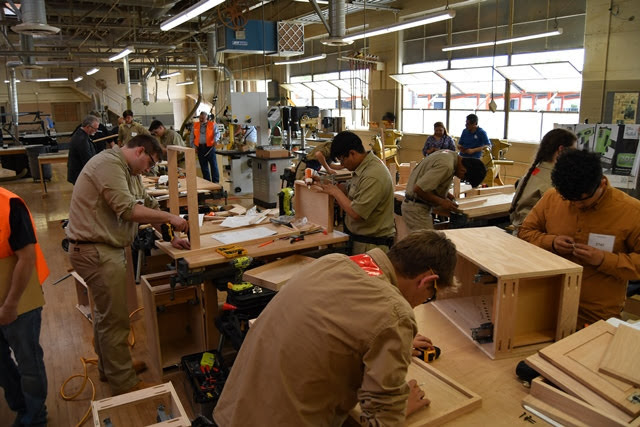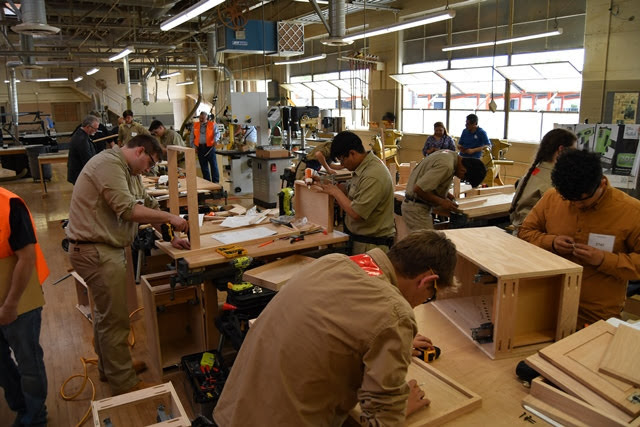 ANAHEIM, Calif. -- SkillsUSA California hosted the State Cabinetmaking and Introductory Woodworking competitions at Chaffey High School in Ontario, California.
Gabriel Chavez of Monache High School in Porterville received the highest score and the Gold medal in the state high school Cabinetmaking competition and has been invited to represent California at the SkillsUSA National Leadership & Skills Championships Louisville, Kentucky, June 24-28, 2019.
Staff and industry volunteers from the Association of Woodworking & Furnishings Suppliers (AWFS) assisted as contest coordinators, judges, and with overall contest support.
More than $10,000 in contest supplies, tools, and giveaways for students were donated by: Blum Inc., Castle, Inc., Colonial Saw/Lamello, Decore-ative Specialties, Drawer Box Specialties, Edgebanding Services Inc. (ESI), Grex Tools, Hafele, Kemp Hardware, Royal Plywood, and Society of Wood Manufacturing (SWM), a chapter of AWFS.
Sixteen students from 10 schools across the state competed in the Introductory Woodworking contest. This contest is intended to introduce students to the SkillsUSA competitive environment and encourage them to return to compete in the Cabinetmaking contest the following year.
Contestants are given a set of plans to construct a wall cabinet with an inset door and drawer. They had access to chop saws, a Blum Minipress P, Grex air nailers, power drills, and hand tools to create the component parts and assemble the wall cabinet in a six hour time span.
 
The 2019 SkillsUSA California State Cabinetmaking competition hosted 17 students from 11 different high schools across the state. Students competed for medals and the opportunity to represent California at the upcoming SkillsUSA National Championships.
The students built a storage cart that tested their skills using various woodworking machinery. Students had access to the table saw, router table, edgebanding machine, sliding panel saw, miter saw, and hand tools. Karl Frey from Colonial Saw introduced the students to the Zeta joinery system with a contest loan of a Zeta machine and a donation of Tenso connectors for all the Cabinetmaking students. Local Blum representative John Cleland assisted the students in attaching their hinges using a Blum Minipress P and helped contestants install Blum Movento drawer slides. Decore-ative Specialties donated the beautiful solid oak doors and drawer fronts for the contest, saving the students' time and enhancing their projects.
Cabinetmaking contestants had about three hours to review the plans and just six and a half hours to finish the project. Contest judges used criteria such as accuracy of measurements, safety, and use of tools and machinery to determine the scores. The contestants were allowed to take home their finished cabinets after the event.

Materials for both contests were donated by Royal Plywood of Cerritos, California. In addition to Movento slides and drawer hinges, Blum provided the students with tape measures, Pozi screwdrivers, and pencils. Drawer Box Specialties provided pre-made dovetail drawer boxes that the students assembled during the contest. Hafele America donated the catch latches for the Intro contest door, and hubless casters for the Cabinetmaking contest.  ESI donated the edgebanding and the knobs for the drawer and door were provided by Kemp Hardware. Prize packages for the top medalists were provided by members of the Society of Wood Manufacturing.
AWFS thanked the team of volunteers who contributed their time to plan, organize, and execute the contests:
Saúl Martín, Architectural Woodworking Company – Cabinetmaking Contest Coordinator
Imelda Torres – Cabinetmaking Contest Support and Photography
Jorge Garcia, Chaffey High School – Cabinetmaking Judge
Jim Irving, Drawer Box Specialties – Cabinetmaking Judge
Tony Fortner, Cerritos College – Cabinetmaking Support
Gabriel Tidwell, Cerritos College – Cabinetmaking Support
Juan Falcon, Falcon Arte Calado – Cabinetmaking Support
Alicia Mendez, Falcon Arte Calado – Cabinetmaking Support
Paul Fiala, Grex Power Tools – Cabinetmaking Support
Karl Frey, Colonial Saw – Cabinetmaking Support
John Cleland, Blum Inc. – Cabinetmaking Support
John Paine, Blum Inc. – Cabinetmaking Support
Roy Castillo, San Jacinto High School – Introductory Woodworking Contest Coordinator
Jordan Clarke, Bellflower High School – Introductory Woodworking Judge
Matt Postrel, SkillsUSA California Contest Alumni – Introductory Woodworking Judge
Richard Simms, SkillsUSA California Contest Alumni – Introductory Woodworking Support
The project plans were developed by SWM and drafted by AWFS Education Manager Adam Kessler, along with support from Saúl Martín of Architectural Woodworking Co.
The Society of Wood Manufacturing, a chapter of AWFS, raised $500 towards Gabriel Chavez's travel expenses. Gabriel competed against other top scoring high school competitors from other states. Rounding out the Cabinetmaking medalists, Jordan T. Moote of San Marcos High School earned Silver and Ryan Smith of Paso Robles High School earned Bronze. In the Introductory Woodworking contest, Francisco Sarabia Valdez of Cordova High School (Rancho Cordova) won Gold, Luke Method of Reedley High School received Silver, and Carla Aguilar of Fontana High School received Bronze.

In January and February, Cerritos College, Royal Plywood and SWM members supported the SkillsUSA California Regional woodworking contests. Over fifty high school students competed in the regional Cabinetmaking and the Introductory Woodworking contests combined in the Southern California events. The Cabinetmaking contestants prepared a bill of materials and built a laptop tray with a drawer, while the Introductory Woodworking contestants built a shelf with coat hooks during the three hour contest. Royal Plywood provided over $1,000 in material for the two region 3 (Los Angeles area) woodworking contests. A team of industry professionals and students from Cerritos College volunteered their time to develop the contests and serve as contest coordinators, judges, saw monitors and assisted with other critical aspects of the contest execution.
To learn more about SkillsUSA woodworking or participate in future SkillsUSA California woodworking events, please contact Adam Kessler at adam@awfs.org for more information.
Have something to say? Share your thoughts with us in the comments below.