South Shore Furniture recalls chest of drawers due to tip-over hazard
May 9, 2019 | 3:33 pm CDT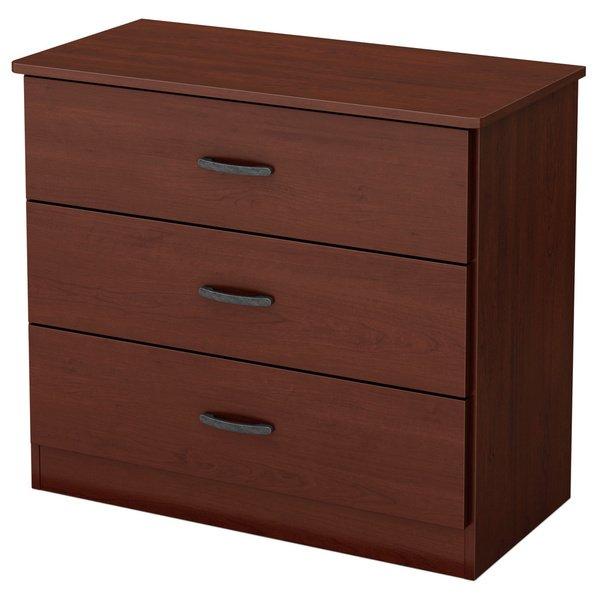 South Shore Industries Ltd., of Canada has announced a recall involving Libra style three-drawer chests of drawers sold in nine colors. Each drawer has one metal handle. The model number is printed on a label on the back of the chest. The chests measure 27½-inches high by 31¼-inches wide and 15½-inches deep and each weighs about 56 pounds.
Some models of the three-drawer chests were also sold as part of a three-piece bedroom set that also included a bed and nightstand.  Only the three-drawer chests in the bedroom sets are included in this recall.
Consumers should immediately stop using any recalled chest that is not properly anchored to the wall, and place it in an area that children cannot access. Consumers should contact South Shore to select one of the following recall options:
Consumers can receive a full refund with free pick-up of the chest; Consumers can also remove the drawer slides from one side of the chest and receive packaging along with a prepaid shipping label from the company to mail in the drawer slides for a full refund; or consumers can receive a free tip-over restraint kit and can request a one-time free in-home installation of the kit
South Shore has received two reports of tip-over incidents involving the recalled chests of drawers. One report stated that a child received bruises on his leg and scratches. Another incident reported a fatality involving a two year-old and an unanchored, empty three-drawer chest.
The chests were sold online at Walmart.com, Amazon.com, Target.com and other online retailers from October 2009 through July 2018 for about $60. Call South Shore toll-free at 855-215-4932 from 8 a.m. to 5 p.m. ET Monday through Friday, or online for more information.
The U.S. Consumer Product Safety Commission is charged with protecting the public from unreasonable risks of injury or death associated with the use of thousands of types of consumer products under the agency's jurisdiction. Deaths, injuries, and property damage from consumer product incidents cost the nation more than $1 trillion annually. CPSC is committed to protecting consumers and families from products that pose a fire, electrical, chemical or mechanical hazard. CPSC's work to help ensure the safety of consumer products - such as toys, cribs, power tools, cigarette lighters and household chemicals -– contributed to a decline in the rate of deaths and injuries associated with consumer products over the past 40 years.
Federal law bars any person from selling products subject to a publicly-announced voluntary recall by a manufacturer or a mandatory recall ordered by the Commission.
https://www.cpsc.gov/Recalls/2019/south-shore-furniture-recalls-chest-of-drawers-due-to-serious-tip-over-and-entrapment#
Have something to say? Share your thoughts with us in the comments below.