SawStop lauds ITC ban on Bosch Reaxx saw as rule goes into effect
March 28, 2017 | 8:49 am CDT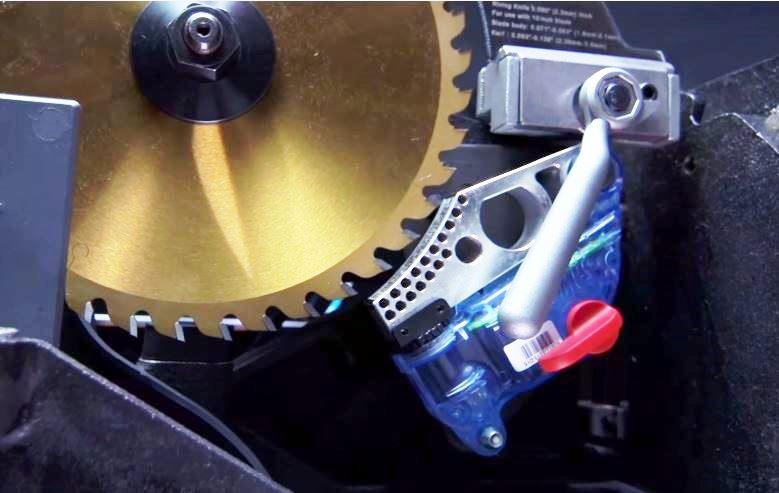 SawStop officials applauded enactment of an order from the U.S. International Trade Commission banning importation and sale of Bosch Reaxx saws because they violate SawStop's patents.
Following a 60-day review period, the ITC order went into effect March 27. It directs U.S. Customs officials to exclude Bosch Reaxx table saws, and components for those saws, including replacement gas cartridges, from entering the United States. The ITC issued an order (ITC Investigation No. 337-TA-965) to Robert Bosch Tool Corporation saying Bosch must "cease and desist from conducting any of the following activities in the United States: importing, selling, marketing, advertising, distributing, transferring (except for exportation), and soliciting United States agents or distributors for imported [Reaxx] table saws and components thereof."
"We have defended our innovation, our hard work, and our investments in developing SawStop technology," said Dr. Stephen Gass, SawStop's president, "and we will continue to protect our intellectual property. We are grateful for the U.S. patent system for encouraging and protecting innovations, and we look forward to continuing to supply the market with safer saws."
However, Bosch officials have vowed to appeal the ruling to the Federal Appeals Court. Although they acknowledged the ruling as it was about to go into effect and said they will no longer sell imported saws and parts, the company said it would continue to support previously sold saws. Specifically, Bosch released a statement saying it would provide replacement gas cartridges that are made in the United States rather than being imported, thus avoiding the ban.
SawStop originally filed the claim with the ITC, charging that the Bosch Reaxx saw violated a number of patents owned by SawStop for safety saw technology. SawStop pioneered technology that senses flesh contact with the blade of a table saw and uses a spring-loaded system to immediately stop the blade and drop it below the saw table to stop serious injury. Bosch's Reaxx saw also detects flesh contact with the blade and uses a high-powered gas cartridge to propel the saw mechanism below the table without stopping or damaging the blade.
Bosch's technology violates two of SawStop's patents, according to the ITC ruling, but Bosch officials continue to maintain their saw does not violate any patents and say they will appeal.
Established in 1999, SawStop pioneered interactive saw safety technology, first trying to license the technology to existing saw manufactures. Eventually, the company began manufacturing its own saws, incorporating the SawStop safety system, which have become very popular in the marketplace. Demonstrations of the system using a hot dog are famous in online videos and draw crowds at trade shows. SawStop's Jobsite Saw, introduced in 2015, is directly competitive with the Bosch Reaxx saw, which was introduced in 2016.
Have something to say? Share your thoughts with us in the comments below.