REPORT: Furniture market continues to grow
February 11, 2022 | 6:12 pm CST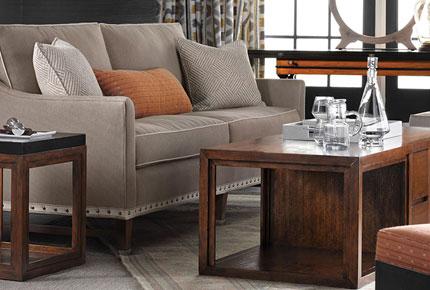 TEMPE, Ariz. – Despite continuing issues with labor shortages and supply chain issues, the economy including the furniture and related products market segment continued to grow, according to the Manufacturing ISM Report On Business.
According to the report from the Institute for Supply Management, economic activity in the manufacturing sector grew in January, with the overall economy achieving a 20th consecutive month of growth.
The report was issued Feb. 1, 2022, by Timothy R. Fiore, CPSM, C.P.M., Chair of the ISM Manufacturing Business Survey Committee.
"The U.S. manufacturing sector remains in a demand-driven, supply chain-constrained environment, but January was the third straight month with indications of improvements in labor resources and supplier delivery performance," said Fiore. "Still, there were shortages of critical intermediate materials, difficulties in transporting products and lack of direct labor on factory floors due to the COVID-19 omicron variant."
As one respondent in the furniture and related products industry put it: "Bookings continue to increase as we are still dealing with a shortage of labor and supply chain issues."
The 14 manufacturing industries reporting growth in January — in the following order — are: Apparel, Leather & Allied Products; Furniture & Related Products; Miscellaneous Manufacturing; Nonmetallic Mineral Products; Machinery; Electrical Equipment, Appliances & Components; Food, Beverage & Tobacco Products; Transportation Equipment; Primary Metals; Fabricated Metal Products; Computer & Electronic Products; Chemical Products; Petroleum & Coal Products; and Plastics & Rubber Products. The only industry reporting a decrease in January compared to December is Paper Products.
Furniture reported growth in several categories, including new orders, production, in which it led all industries,  employment, supplier deliveries, higher inventories, order backlogs, and imports. See the Manufacturing at a Glance chart below for more information. 
On the negative side, the furniture and related products segment was one of 17 industries paying increased prices for raw materials.
According to the report, the January Manufacturing PMI registered 57.6 percent, a decrease of 1.2 percentage points from the seasonally adjusted December reading of 58.8 percent. This figure indicates expansion in the overall economy for the 20th month in a row after a contraction in April and May 2020. 
"Manufacturing performed well for the 20th straight month, with demand and consumption registering month-over-month growth. Meeting demand remains a challenge, due to hiring difficulties and labor turnover at all tiers. For the third month in a row, Business Survey Committee panelists' comments suggest month-over-month improvement on hiring, offset by backfilling required to address employee turnover at a higher rate, supplier performance and improvements in the transportation sector," says Fiore.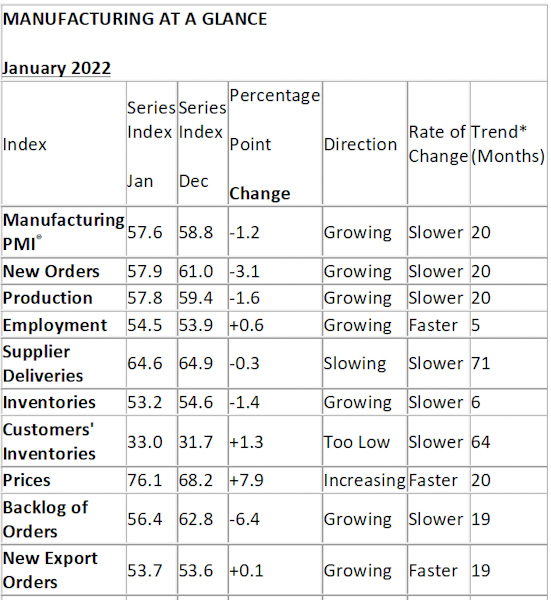 Have something to say? Share your thoughts with us in the comments below.