Premier EuroCase Introduces High-Gloss Acrylic Five-Piece Doors at AWFS
July 30, 2015 | 2:02 pm CDT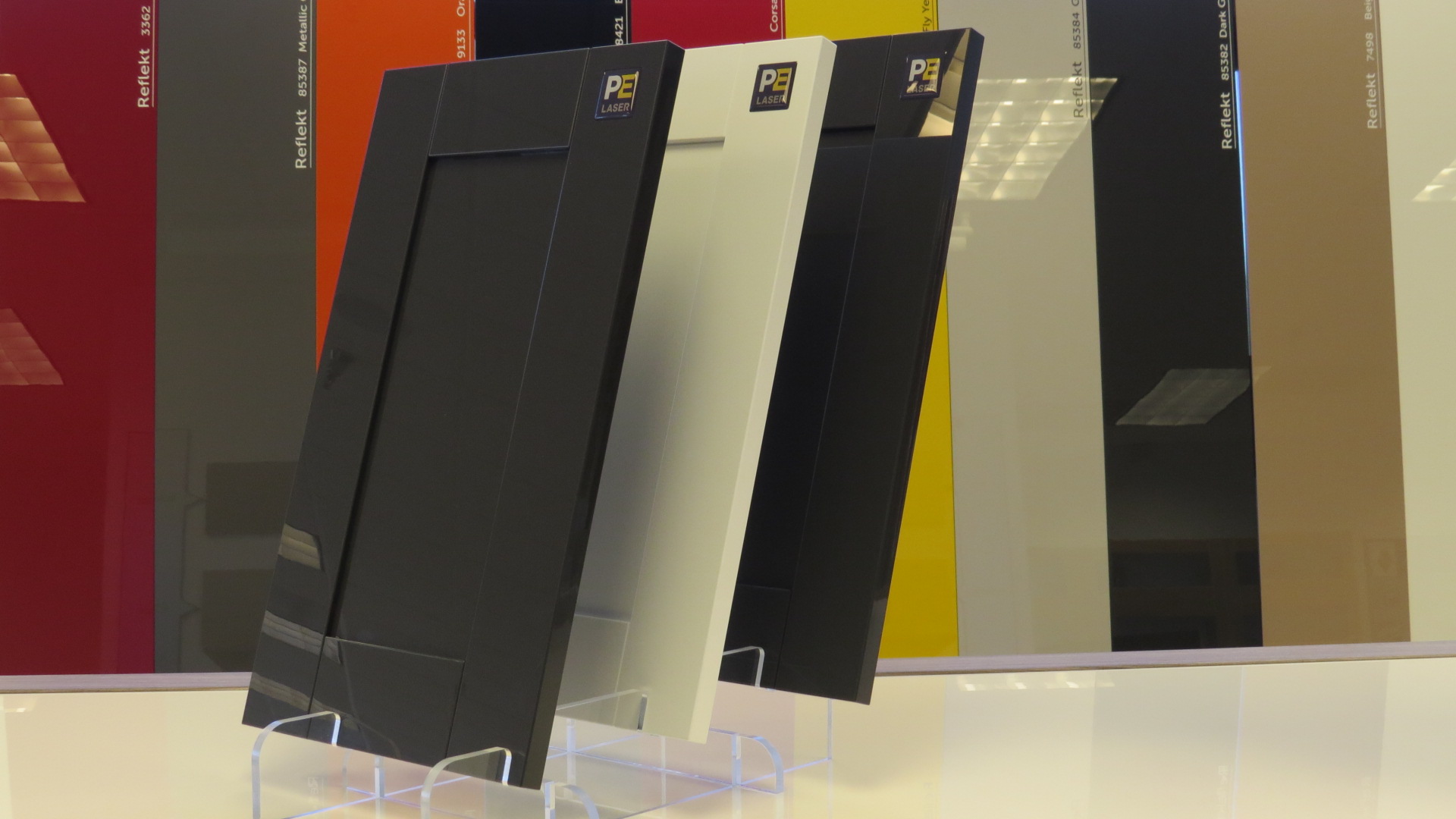 DENVER, CO – Premier EuroCase is the first to introduce a high‐gloss acrylic five‐piece door as a new design option to the woodworking industry. Premier showcased the new application of their innovative Reflekt high‐
gloss product line at the AWFS Fair in Las Vegas from July 22 – 25, 2015.  
The expansion of the Reflekt product line to include a five‐piece door is a result of Premier's ingenuity, process intelligence and superior manufacturing capabilities. The door components are PUR laminated inside a certified
Class‐100 cleanroom to guarantee each piece is as close to perfect as technologically possible. The horizontal rails and vertical stiles that compose the frame are laser edgebanded to create a seamless look from panel to
edge. When the Reflekt high‐gloss frame and panel insert are assembled together, the five pieces create dimension with the modern look of mirror gloss, but in the traditional shaker door style. This high‐gloss acrylic five‐piece door developed by Premier expands design opportunities beyond what the market currently offers in high‐gloss products.
"Five‐piece doors are not new to the industry, but high‐gloss acrylic five‐piece doors are." Andy Wilzoch, President of Premier EuroCase said. "It was exciting to introduce our new product at a large woodworking event
such as the AWFS Fair. The quality of our Reflekt high‐gloss material and innovative approach to the five‐piece door had an overwhelming positive response from industry professionals."  
Premier's Reflekt five‐piece doors are available now in 16 colors with matching edgebanding, and with solid or glass inserts. All materials are stocked in‐house for an unmatched manufacturing speed and one of the
industry's fastest lead times.  
About Premier EuroCase:
Headquartered in Denver, CO, Premier EuroCase is a privately‐held, full service panel processor that has been specializing in laminating, manufacturing, and innovating since 1987. For more information, visit
www.PremierEuroCase.com
.
Source: Premier EuroCase
Have something to say? Share your thoughts with us in the comments below.