Olon's Purdeco panel division ramps up
June 19, 2020 | 3:34 pm CDT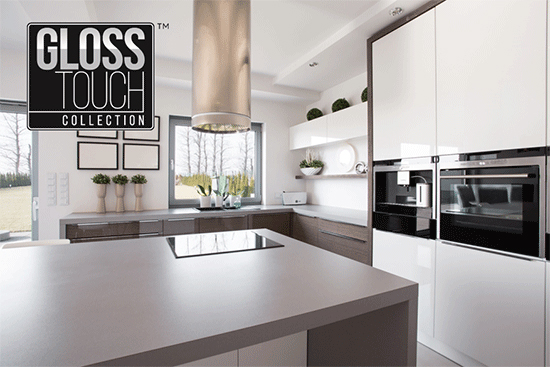 GEORGETOWN, Ont. - Olon Industries' new Purdeco panel division is up and running at two locations: Georgetown, Ontario, and the OL Frontal Solutions plant in Jeffersonville, Indiana. Done in two phases, the investment and installation of equipment are now complete.
"This state-of-the-art equipment is a game-changer for Olon and OL Frontal Solutions," said Sylvain Duchesne, vice president of sales and marketing. "We are no longer limited by offering individual components to the woodworking industry - we can now provide a full program: door and accessory mouldings, center panels, slab doors (in some cases assembled doors at OLFS) and case good panels all in the same color and material."
"We saw an opportunity in specialized surfaces that were not being fulfilled by standard panel producers in North America as well as the 'mixed materials' design trends. Purdeco complements what is already available in the market," said Susan Doherty, product manager. Three collections have been launched under the Purdeco banner, including: Olon's Exclusive VelourTouch Ultra-Matte Panels, GlossTouch High Gloss Panels, and Essentials - Olon's take on a value-added classic painted look. Custom lamination is available at Olon as well, if customers have specific material or substrate requirements.
Olona panel lamination machinery is a heavily automated manufacturing process. "We have installed a robotic system to facilitate panel manipulation and eliminate scratching on the panel surface, even though many of our materials come with a peel coat option." Stu Gwitt, vice president of operations added, "The most unique thing about the equipment is the glue system we have incorporated. The PUR glue technology creates a surface quality that is smooth, durable and second-to-none.?
Headquartered in Georgetown, Ontario, Olon Industries is one of North America's leading single-source manufacturers of components and custom solutions for the furniture and cabinetmaking industries. The company has facilities located in Georgetown, Ontario, Geneva, Illinois, Washington and Jeffersonville, Indiana, and Lexington and Union Grove, North Carolina.
Have something to say? Share your thoughts with us in the comments below.